First Things First: Go read this article about Noah Van Vooren. If you have doubts about the motivations behind sports teams who give special treatment to kids with special needs, this article might change your mind.
Sweet Home Alabama honks this season. I apologize for encouraging you to watch it. If you are watching it in hopes of seeing what life is like here in Mayberry, you'll be sorely disappointed because this crop of guys is nuts. BUT… Sarah Kate's school was featured in last Friday's episode (FACT: the school is only for 4th-6th grades, so clearly that date was staged). One of the little girls ("Sarah") lives on our street, which was kinda fun, and the cafetorium shown is where Sarah Kate performed as both Harper Lee and Juan, soldier of DeSoto. So there's that…
Speaking of Mayberry-on-film, there's a movie filming here right now and Mr. Andi has been hobknobbing with the crew. Despite his questioning, he has yet to determine exactly what a "Key Grip" does.
I care not a whit about the NBA and I have no idea who Zach Randolph is, but I like this video. Mostly because I can totally see Nathan doing what this kid did. 🙂 Of course, Nathan would have flashed him a big toothy grin.
Sarah Kate came home from religious ed on Wednesday with her part for this Sunday's candlelight service. I had already been tipped off that only a few of the kids were going to have speaking parts this year and that she would be one of them. I did not, however, expect her to tell me that she'll be singing "O, Little Town of Bethlehem" and, in fact, I'm not certain that was the actual assignment, because she told me they said she can just say the words to the song if she wants. I am afraid. Very, very afraid.
Speaking of Sarah Kate's inclinations, I forgot to mention what her reaction was to The Play. Yes, I know I'm supposed to stop talking about it, but we're in the BCS National Championship Game, peeps! When Auburn's Chris Davis returned a missed 57-yard field goal 109 yards in the last second of the game to defeat Alabama, she boldly declared her excitement by shouting, "I'll write an essay about it!"
I can only hope that her future includes a career in prize-winning journalism.
What is wrong with this picture?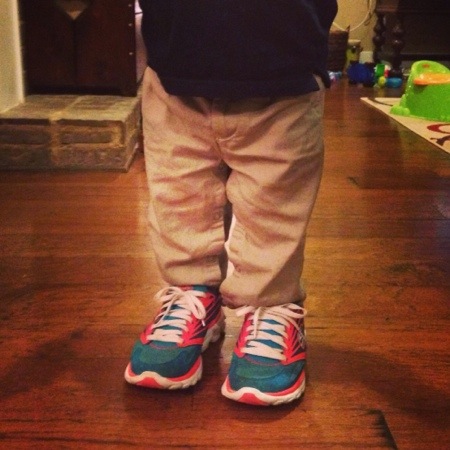 Have a great weekend!
This post was inspired by and is linked to Conversion Diary's 7 Quick Takes.