I have a lot to say about the clinic visit – too much for one post. Today I'll share an update on what we learned and what's ahead for Sarah Kate; Tuesday I'll share more personal thoughts.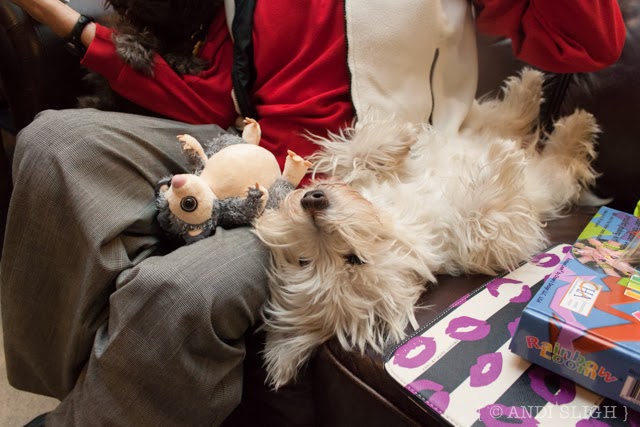 If you've been reading at least since the fall, you know that Sarah Kate has struggled the past few months. I've known for a long time – on an intellectual level – that this day was coming, but until it finally arrived I don't think I really Got It. Maybe I was in denial, maybe I didn't understand, or maybe I had simply been lulled after years of good outcomes into believing the bad stuff was behind us.
If you've been reading for a lot longer, you know that Sarah Kate underwent selective dorsal rhizotomy (SDR) one week after her third birthday – eight years ago this month. For most parents, SDR is an opportunity to make functional gains; for the orthopedist it's a way to keep the deformity wolves at bay. Ideally, it's both.
She's been lucky.
The expectation following SDR is that the patient will be able to achieve one additional level of functionality. For instance, if the child uses a walker, the expectation is that she'll be able to walk with canes. If she uses canes, she should be able to walk independently for short distances. Sarah Kate was using a walker at the time of her SDR; she threw away the canes six months later and has never looked back.
SDR is the only surgery Sarah Kate has ever had. Most kids with the spastic diplegia form of cerebral palsy have orthopedic procedures around the age of seven and again near the onset of puberty. Although she had some setbacks around age seven, she was able to avoid surgery and sailed along smoothly – right up until this fall.
Her luck has finally run out.
In clinic on Tuesday, we first saw a physical therapist, not for therapy, but for a clinical visit. Her name is Lisa and she's seen Sarah Kate off and on ever since she was two, including during her post-SDR rehab period. Next, we saw Dr. Doyle, the orthopedist. Each of them formed an opinion of what they felt was the best course of action, and then they came together to discuss it.
They weren't in agreement.
Lisa was in favor of a more aggressive approach – a bone-and-tendon procedure that would involve moving Sarah Kate's kneecap downward – while Dr. Doyle wasn't sure the potential negatives of that approach outweighed the potential reward and instead advocated a no-bones-involved approach of lengthening the hamstrings and hip flexors and stapling the growth plate at the knee to force it to grow straight.
I know, right? Neither option sounds all that awesome.
They went back and forth for awhile, with both making good points, until they finally decided that they needed more information. A clinic visit can't be a wholly objective affair, because they are relying at least in part on their observations of Sarah Kate's movement at one (small) point in time. Twenty steps down a hallway seems simple, but cerebral palsy is a complex condition and a tweak in one place causes a change someplace else.
Ultimately, they agreed that they would be comfortable making a recommendation if they had a more detailed picture of her walk, and because they've just recently begun gait analysis in Birmingham, they suggested we go to a gait lab with a longer history and lots of experience – and to do it during the month of February but no later than early March.
Can you guess where this is going?
Yep, that's right – we're headed to Minnesota in the winter! As it turns out, Gillette Children's in Minneapolis-St. Paul is the place to go, so in a few weeks Sarah Kate may finally realize her (admittedly short) lifelong dream of seeing snow! I could do without the white stuff myself, but maybe a good Minnesota blizzard will cure her of any desire to move north later. 🙂
After the gait analysis results are in, we'll commit to a plan. The intent is to schedule the surgery for April to give her enough time to recover and begin rehab at the start of the summer so that she will be "done" (using that word loosely because there is no such thing as "done" when it comes to CP) by the time school starts.
But wait! There's more…
We also saw Dr. Mendoza, the rehab specialist. Although rehab medicine has played a pretty big role in the past, at this point she's mostly filling in the gaps. She wants to try Botox one more time, but we have to wait until after the gait analysis so as not to skew the results, so that will happen in mid-March. She also prescribed Sarah Kate a set of knee immobilizers to wear at night while sleeping. We've gone the knee immobilizer route before with limited results – Sarah Kate's legs would spasm and she would reflexively remove them in her sleep – but maybe we'll have better luck this time.
She also prescribed oral baclofen, an anti-spasmodic muscle relaxer, for nighttime use. The purpose of it is to make her more comfortable (spasms are none too helpful when you're trying to sleep…), which should help her rest easier, and a good night's sleep is good for anybody. 🙂 My hope is that she'll better tolerate the knee immobilizers this go 'round, which will help them do what they're supposed to do, which is stretch her hamstrings.
So there you have it – the nuts and bolts of our clinic visit (which might end up being literal nuts and bolts in the form of staples in her knee – hardy har har…).
What? Too soon?
No engaging narrative, very little emotion, a pretty awful attempt at humor, probably tedious to read – I'm sorry! – and I don't even have any tales of Nathan's antics in the clinic because he was a complete angel the whole time, but if I'm gonna keep it real here I need to share the yucky parts.
Oh, and as you've probably realized by now, that "Playing Possum" photo at the top has nothing to do with anything in the post. I just threw it up there because it makes me laugh – and this post needs a few laughs. But here's your teasers: one of tomorrow's snippets is going to be an SDR flashback involving Lisa that gave me a little chill, and Tuesday I'll be back with a different take on the clinic visit – my thoughts and Sarah Kate's.