Last Sunday, after the fun run, Sarah Kate was sitting on the curb eating and a young lady who is a member of L'Arche sat down next to Sarah Kate and started talking to her. She noticed that Sarah Kate was a little cold, so she loaned her fleece jacket to her. We learned that her name was Sarah and spent a few moments talking to her before we headed out, and I hoped we would see her again – possibly at next year's First Light event.
Yesterday, I picked up the plaque I received for completing the Back-2-Back Challenge and noticed there was something on the back. All of the plaques (as well as the First Light medals) are handmade by L'Arche members. The writing on the back was accompanied by a photo of our new acquaintance Sarah. It was her bio – she designed the First Light logo and hand-painted my plaque.
If you're looking for a great half (or full) marathon to try, First Light in Mobile is held the second weekend of January every year. The weather is (usually) great, the entry fee is cheap, the course is flat and fast, and the medals are handmade by special people. It's even a Boston Qualifier if you're one of those speedy types. Now that I've missed one Walt Disney World marathon weekend – the first in several years – it'll be a lot easier to do it in the future, so First Light may become an annual event for me.
But I do have one complaint: the race timing. It's not a chip-timed race, unfortunately, but the field is small enough that you can start at the front with the gun without too much trouble. I didn't have a goal time since I ran the Mississippi Blues half marathon the day before, but when I was in the last mile and saw I would likely come in between 2:05-2:06 I decided to kick it up a notch to see if I could get in under 2:05.
Here's the rub: I looked up at the clock as I was going under and it said 2:04:55 but the official race results say 2:05:11. The official race photographer got a shot of me already across the line with the clock above me clearly reading 2:04:56. It doesn't much matter to me, but if I were trying to qualify for Boston…not cool.
I'm not looking forward to Tuesday. Sarah Kate will be seeing the orthopedist and the rehab doctor. The past several times these visits have been fairly routine, but not this time. We are going to find out what, if anything, can or should be done to help her out with the tween growth spurts.
For those of you who watch Hart of Dixie and have occasionally seen the ladies on the show wearing the Easter-egg colored antebellum dresses, I have proof that It's a Real Thing down here. They are known on the west side of the bay as the Azalea Trail Maids; on the east side of the bay the group is known as the Dogwood Trail Maids. It's actually a big honor to be chosen – the maids are high school seniors who serve as official ambassadors for the area, promoting tourism and southern hospitality.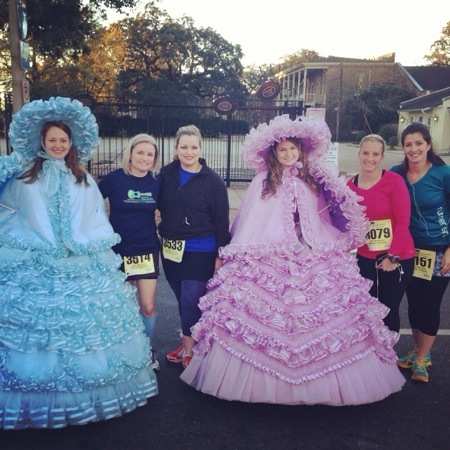 We only thought it was bad when Nathan got up in the darkness and came to our room. Now he gets up in the darkness, goes into Sarah Kate's room, and brings Stella with him to our room. It's now a daily occurrence to, at 5:00 am each day, have two adults, a three-year-old with ants in his pants, a Westie, and a schnoodle in our queen-sized bed.
Remember when I said I had chosen three saints using Jen's generator this year, because I kept forgetting to write them down? Well, apparently I am too smart for my own good. I discovered all of three of them in open tabs in my browser on my phone – I left the tabs open so I wouldn't forget who they were, and then…I forgot that I did that.
Yesterday was my birthday, and in true Andi fashion, I once again ruined Mr. Andi's surprise. He surprised me with an engagement ring in May of 1995, and try as he might (on every possible occasion) to surprise me in the almost nineteen years since, I always ruin it. I don't mean to do it, it just happens. My most recent foil was getting a Sodastream for Sarah Kate for Christmas; he had planned to pick one up for my birthday.
This year he knew that I knew what he was getting me, so instead of the gift being the surprise, it was the placement/discovery of the gift. The first thing I do when I get up every morning is head for the bathroom, so he snuck it in there early before I woke up. Unfortunately, Daisy woke up and barfed on the bathroom floor at 3:00 am, so after I cleaned that mess up I used the bathroom. As a result, I didn't go into the bathroom when I woke up and went straight to the kitchen instead.
I didn't find the gift until Mr. Andi was already at work.
Have a great weekend!
This post was inspired by and is linked to Conversion Diary's 7 Quick Takes.