It's been almost a week, and I'm still blown away.
After the disaster that was the First Light Fun Run last month, I wasn't sure Sarah Kate would be able to complete the Disney Kids 1-Mile, part of the Princess Half Marathon Weekend. In fact, "I wasn't sure" is the understatement of the year – my level confidence she would be able to do it was approaching zero. I asked The Godfather (Mike), my friend Katie's dad, if he would walk with us in case I needed help getting her back to the finish. Mike agreed, and suggested that he push the transport wheelchair that we always take with us to Disney alongside her – it could be Sarah Kate's personal "sag wagon."
The race began at 8:45 – fifteen minutes before park opening.
Mike pushed her to the start, and when the gun went off she stood up and started walking. She was dead last from the beginning, but she was moving pretty quickly – much better than at First Light – so I was cautiously optimistic. The course is mostly out-and-back from the parking lot into the backstage area then into Epcot, and we hadn't even made it into the public portion of the park before the lead runners were coming back toward us.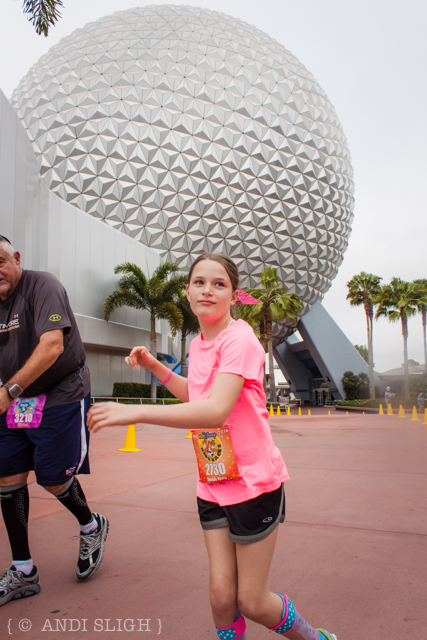 Mike dutifully followed just behind and to the side of her, pushing the wheelchair, while I snapped photos and regularly checked RunKeeper on my phone to see what her pace was. She was holding between 18:00-19:00 per mile, which was amazing. As we made our way past, cast members extended a high-five; she slapped their hands as she went by, maintaining her steady pace.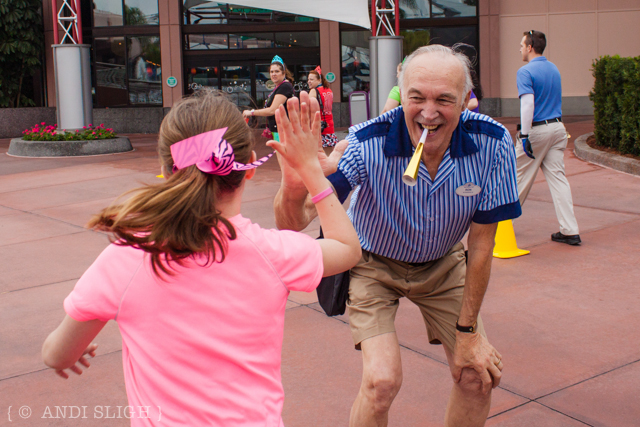 As she approached the turnaround point at the entrance to World Showcase, she began to slow down. I noticed her left knee turning inward, and I began to worry. She was still moving, though, and she wasn't complaining.
As we made our way past, cast members began collecting the cones behind us marking the course. By this time, Epcot had opened for the day and the first park guests were walking toward us. When she'd completed about two-thirds of the course, she asked me, with hesitation in her voice, "Momma, can I maybe not ride in the wheelchair, but push it?"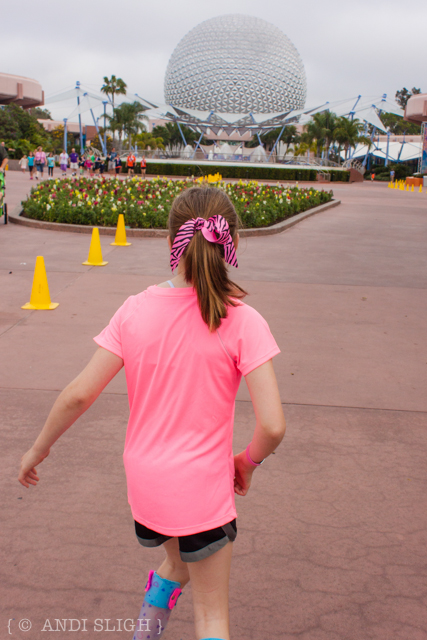 With the support of the wheelchair, she picked up the pace again.
The closer we got to the front of the park, the more cast members we saw, as they were strategically placed to assist the early-comers to Epcot. One man hurried over to her with a Minnie Mouse cap and placed it on her head as she went by. A few minutes later, a lady removed a small Goofy "Good Job!" medallion from around her own neck and placed it around Sarah Kate's.
As we got close to the turn into the backstage area, a group of cast members clapped and called encouragement; their efforts did not go unnoticed by the park guests who had just arrived, and a small crowd gathered to watch and join in as she went by. We made our way backstage, and were joined by two cast members on bikes who would escort her through the rest of the park.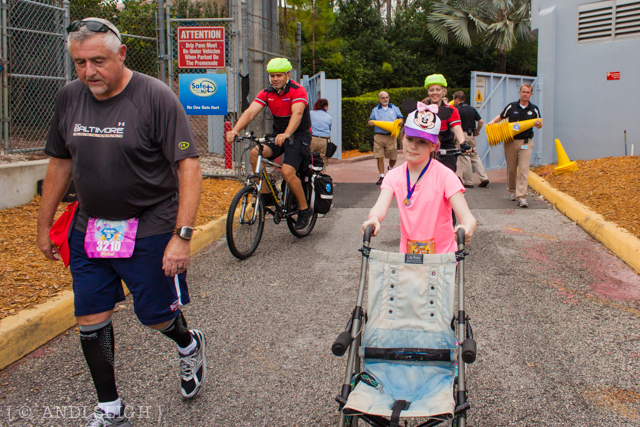 As we exited the gates, the finish area was mostly blocked from view, but we could hear the PA system, and the announcer, Carissa Bealert, saying something about a "special athlete" who was preparing to finish. We rounded the corner and the finish line came into view – I could see people watching and politely clapping. I asked Sarah Kate if she wanted me to take the wheelchair from her so she could finish without it, but she declined … and began to run instead.
A lady from runDisney ran up to me and asked her name. I had to raise my voice to a near-shout for her to understand me, and then she sprinted off toward the stage. Carissa Bealert announced Sarah Kate's name and asked the crowd to give her some encouragement – I wish I could remember exactly what she said, but it's all a little hazy. The polite clapping became an undeniable roar, and I looked to my left to see – as best I could through tears – that the entire grandstand was giving her a standing ovation.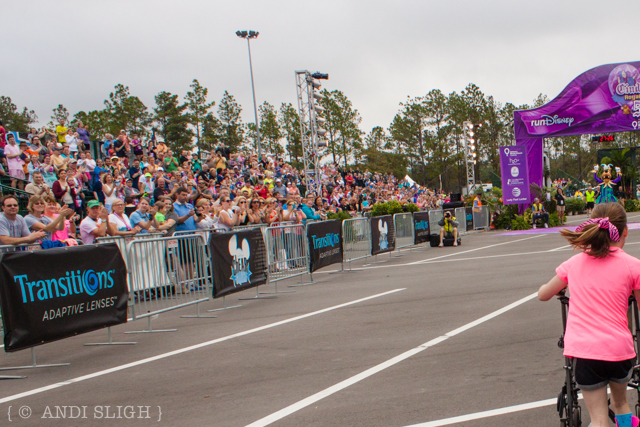 If Sarah Kate noticed, she didn't let on, and she continued running, pushing her chair toward the finish line, where Goofy waited in court jester attire to escort her through the purple archway.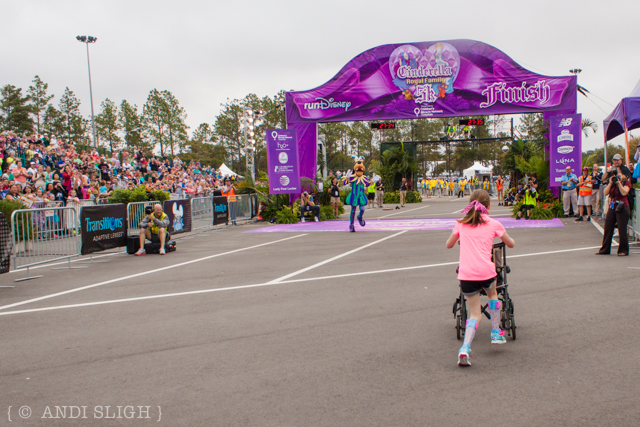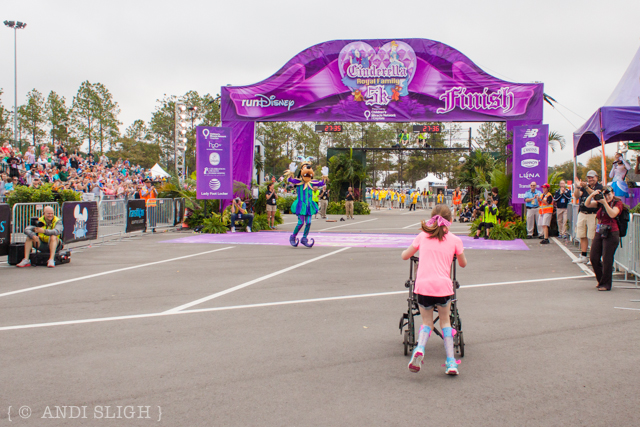 She made it across, got a hug from Goofy himself (sometimes it pays to be last!), and climbed back into the wheelchair that had given her wings just a moment before. She had completed the course in 26 minutes – not her best time, but greatly improved from January, and she finished (Hallelujah!)2
A race volunteer placed her hard-earned medal around her neck, and as she posed for a few photos, I raced back down the finish straightaway to find Katie and Nathan for his 100 meter race.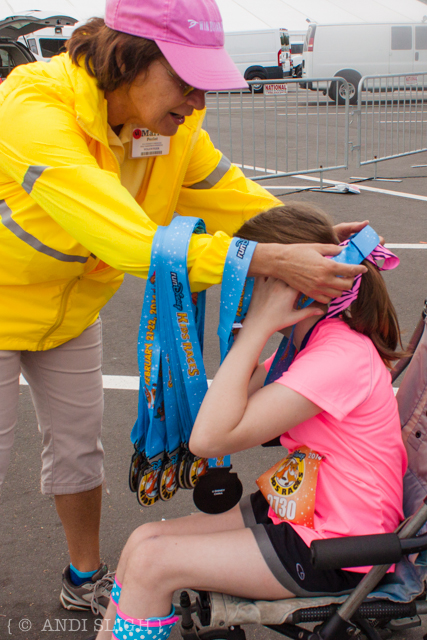 I still don't know how to describe what happened.
The morning began with eight of my wonderful ROTE friends – Janice, Niki, Dana, Megan, Jen, Jenny, Carrie, and Katie – giving Sarah Kate a Minnesota/surgery care package, complete with a knitted hat/scarf combo for the cold weather and a generous Amazon gift card for her Kindle (not to mention a little happy for Nathan and a generous Starbucks gift card for me). There is no better feeling in the world than to be loved – and to have your children loved – by friends.
I had no idea that an hour later, I'd be crying again, this time not because of the love of friends, but because of the collective encouragement of hundreds of strangers. But even that wasn't the end of the story.
On Saturday afternoon, my sister texted me a screen shot of the status update of a lady in Atlanta. The woman is a friend of her sister-in-law who happened to be in the grandstand at the kids races on Friday morning. At 9:18 a.m., just after Sarah Kate finished, she posted the photo below with the following caption: This young lady brought me to tears! If you do nothing else today take a stroll because you can! She just completed a mile!
As I was reviewing the photos from the race, I was surprised by how many of the spectators were photographing her with their cameras and phones. I can understand the clapping and cheering – some people wanted to do it, and some others joined in, like people do, because everyone else was doing it. But what motivated strangers to record the moment and take it with them?
I don't have an answer, and I'd bet the answer isn't a simple one. Marathons (and half marathons) are about overcoming challenges – reaching for a goal that seems unattainable. Disney is a favorite destination for first-timers and the Friday events draw a lot of families. I believe many of these people saw Sarah Kate as a symbol of the road they had traveled to get where they were, with The Main Event coming up on Sunday.
And of course, everybody loves an underdog.
1
Because no empirical evidence exists to indicate that Sarah Kate is the Most Awesome Kid in the (Entire) World, "The World" can be taken to mean the World Showcase of Epcot on Friday, February 21 or Walt Disney World. But I don't mean that. 🙂
2
Dead Last Finish is greater than Did Not Finish, which trumps Did Not Start