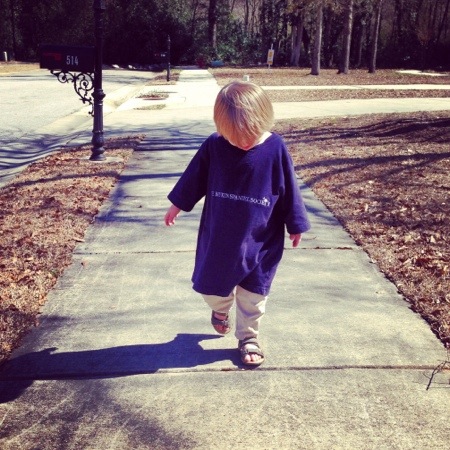 When Sarah Kate aged out of early intervention at three years old, she qualified for public (i.e., developmentally delayed) preschool, just as Nathan did seven years later. We opted not to send her, choosing to place her in private preschool instead, because our philosophy was that because she would need to learn how to navigate the "real" world eventually, she might as well start young. She wasn't delayed socially or cognitively, and she was advanced in speech, so we didn't think the developmental preschool was the best choice.
Sarah Kate's physical therapist tried hard to talk me out of it.
Her rationale was that because Sarah Kate excelled in those areas, she would be a big help to other children in the class who had social, cognitive, and/or speech delays. I wasn't convinced – in fact, I never seriously considered sending her – because I felt that my only responsibility was to Sarah Kate, not the other children.
It was a selfish choice and I knew it, but I didn't care.
Fast forward seven years: Nathan aged out of early intervention last March, and we opted to send him both to private preschool and public (i.e., developmental) preschool. As I've mentioned before, he's been the only kid in his developmental preschool class since August, so he's gotten a lot of personal attention and he talks a lot more there because he hasn't been intimidated by other children who speak well (when he doesn't). It's been fantastic.
Fantastic, that is, until now.
A new child joined his class last week. I don't know much about him, and even if I did I wouldn't share what I know publicly, but I do know one thing: his presence had a negative impact on Nathan. I don't want to say too much or get into the weeds, but I will say that not only did he clam up, he expressed fear – something we've never seen from him before.
My first instinct was to get him the heck out of there.
My second instinct was guilt for feeling that way. I recalled that long-ago day when I refused to allow Sarah Kate's strengths to benefit other children, and my practical mind told me that Nathan's social skills could benefit this new child. But my momma-bear brain worried about what we risk losing if he stays.
I advocate continually for acceptance of people with disabilities, not just because it's important for my two children, but because I truly believe that every person has a purpose, every person has gifts, and every person brings something to the world's table. I also believe that every child deserves an education.
Those are pretty thoughts, but this is real life.
As much as it pains me to admit it, I don't want Nathan in preschool with this child – especially since they are the only two in the class. I'm not pulling him out at this time – my hope is that things will improve and drastic action won't be necessary – but I'm prepared to do so if I don't like the way things are going.
And I feel terrible about it.
What is my responsibility to the special needs community? If I pull my child out of preschool because I don't want him in there with another child with special needs, am I a hypocrite? Should I feel guilty because I'm not willing to offer up my child's gifts to help another?