I got a great email this week from Laura-Lee Minutello, Ms. Wheelchair Florida 2012. She has completed a number of races – 5Ks, 8Ks, and 10Ks – and was registered for the Princess Half Marathon last weekend. Her training didn't go as well as she had hoped, so she knew she wouldn't be able to finish, but she showed up, anyway. When she sagged and was ready to drop out, a runner on the course pushed her a little bit further.
Disney runners are awesome!
People have asked what Sarah Kate thought about the race. In typical Sarah Kate fashion, she took it all in stride. When I asked her (before I sat down to write these snippets) what she thought about it, she said, "I thought I did awesome!"
One of the ladies at the physical therapy office (Mr. Andi took Sarah Kate this week, so I wasn't there) saw the post yesterday and had this to say: She was so humble about the race when I saw her this week! We didn't get all the details just I ran. I finished. I got a medal and some people were cheering for me!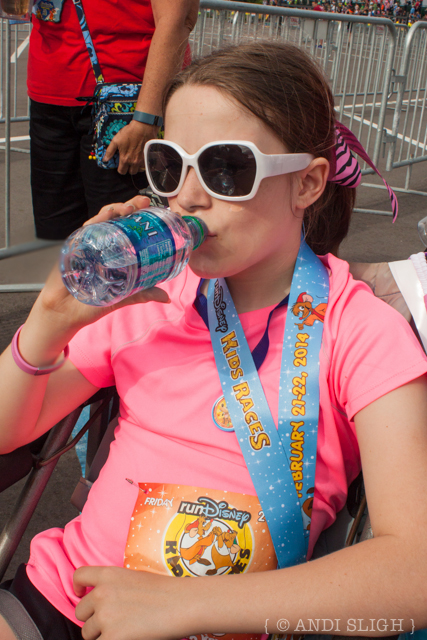 In case you were wondering, Nathan did, indeed run the 100 meter kids race. It was his third time at that distance (he did the diaper dash in 2011, as well). He didn't quite attract the same crowd reaction that Sarah Kate did, but his race was memorable in its own way. I'll post his photos on Tuesday.
Speaking of Nathan, we went to the Magic Kingdom on Sunday and Mickey Mouse was a big hit. Lots of smiles and the exclamation "Mouse!" over and over again.
When the family just ahead of us in line was visiting with Mickey, he was so enthralled with Mickey that he kept looking back and forth from me to Mickey ("Mouse!") Evidently, the family ahead of us was spending a little too much time with Mickey for his taste, so he yelled out, "GO!" (actually, "DOH!") in their direction.
And speaking of the Magic Kingdom, we experienced both Fast Pass Plus and the new Disability Access Service card last weekend. I won't do a full review of either, as we had a group of nine and were only in the park for 5-6 hours, but from what I was able to ascertain, both work really well.
A new girl has moved into the preschool, and Nathan is making his move. After being the lone kid in the class at his developmental preschool for, oh, six months, three kids have been added in the past couple of weeks. He's still very unsure about the one child (and I'll be honest – I'm kind of unsure about him myself), but one of the new arrivals is a cute little girl. He seems to be quite taken with her, according to his teacher.
That sounds about right.
 THANK YOU to everyone who shared yesterday's post and sought out (or sent) photos from the race. It meant so much to me to have such wonderful crowd support for Sarah Kate, and the magic just keeps going with all of the shares and comments and new photos.
Have a great weekend!
This post was inspired by and is linked to Conversion Diary's 7 Quick Takes.