I picked something a little odd to give up for Lent – and it's been a challenge. I'll admit to being a bit of a slacker in that I didn't have any (good) ideas before Lent began. Giving up Dr. Pepper has been one of my mainstays, but I've gotten to the point where I don't drink that much of it anymore, so it didn't seem like much of a sacrifice. On Ash Wednesday, I was sitting in my car, stopped at a traffic light, checking my email and it dawned on me: I should remove email from my iPhone for Lent.
I did it that day, and it's been a surprisingly effective sacrifice. It's not a true hardship for me not to be able to access my email by phone, but it's been a little tricky at times and it's caused me to realize Just. How. Much. I was checking my email throughout the day. In fact, I'm so bad about it that I think I may permanently ditch email from my iPhone. I don't think my attachment to my email is a good thing.
I discovered this week that Nathan has been tweeting for me again. This time, instead of declaring to the Twitterverse that I am watching Storage Wars (which I don't think I've ever seen), he was posting screenshots from The Sims Freeplay game. So if you saw various Sims doing their thing on my Twitter feed lately, rest assured: it wasn't me. I may be a really bad tweeter, but I'm not THAT bad.
How did Nathan spend his birthday, you ask? Did we throw an elaborate party? Shower him with gifts? Make his day so special he'll never forget it? Not even close. He went to preschool, got a haircut, and went out to dinner with his family. We didn't even have gifts, other than the ones the grandparents shipped here.
Mother of the year, I'm not, because we went to the local hibachi place and that was how we defined "birthday party." It wasn't even a Plan, but a pseudo-last minute decision (for the record, today he'll have cupcakes at preschool, so I'm not a total loser mom – I don't think).
Nathan has been to hibachi before, but not in over a year so we weren't sure what he'd think.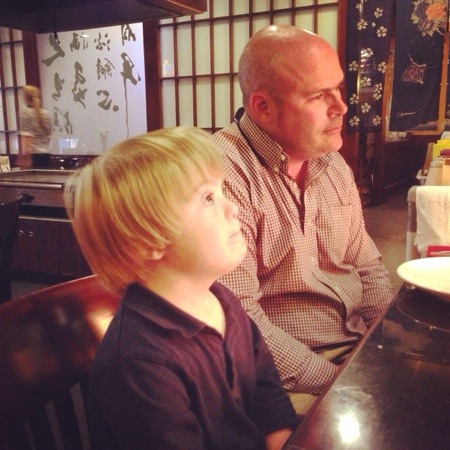 Even after going, I'm still not sure what he thought about the whole thing.
He seemed to like the fire, but he was especially taken with the chopsticks. He worked and worked and worked and worked to try to use them, with limited success, but it was probably a good fine motor workout.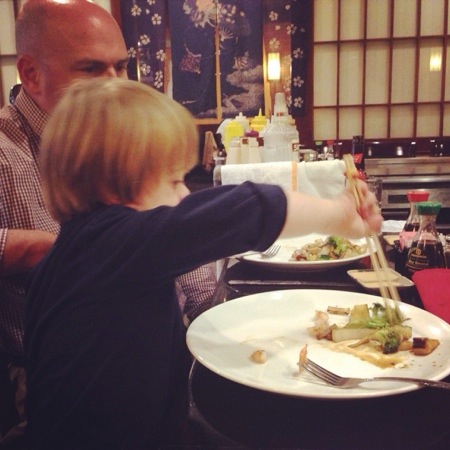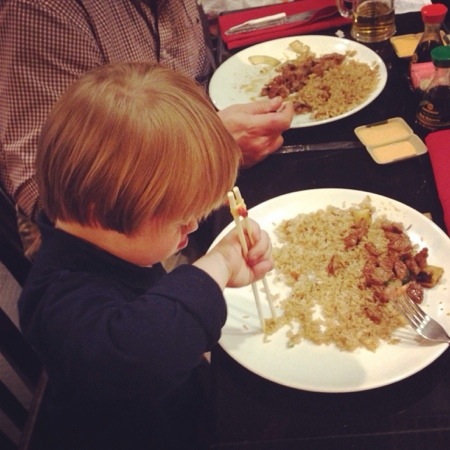 Did you see what Sarah wrote this week about the startle reflex in people with cerebral palsy? Sarah Kate has always had that – though it seems to have improved a lot as she's grown older – and I always just assumed it was a preemie thing (or maybe just a Sarah Kate thing). When the first flame jumped off the grill at the hibachi place, she jumped, and she was the only one at the table who did.
Startle reflex.
While we were waiting on our hibachi chef to show up to cook for us, Nathan played with his straw paper and threw a piece on the grill. Mr. Andi reached over to grab it and discovered – much to his surprise! – that the hibachi grill was hot. Who knew? 🙂
Sarah Kate and I are headed to Minnesota early tomorrow morning. We'll be at Gillette on Monday for the gait study and Tuesday for the ortho appointment then fly back that night. The boys are staying home and will be joined by a grandma for the weekend. I'm starting to wish Mr. Andi was going instead of me, but if I'd sent him I'd be sitting here wishing I was going with Sarah Kate, so…
We've made a list of things we would like to see and do, but at this point hanging in the hotel and being lazy sounds pretty good to me. 🙂
Have a great weekend!
This post was inspired by and is linked to Conversion Diary's 7 Quick Takes.