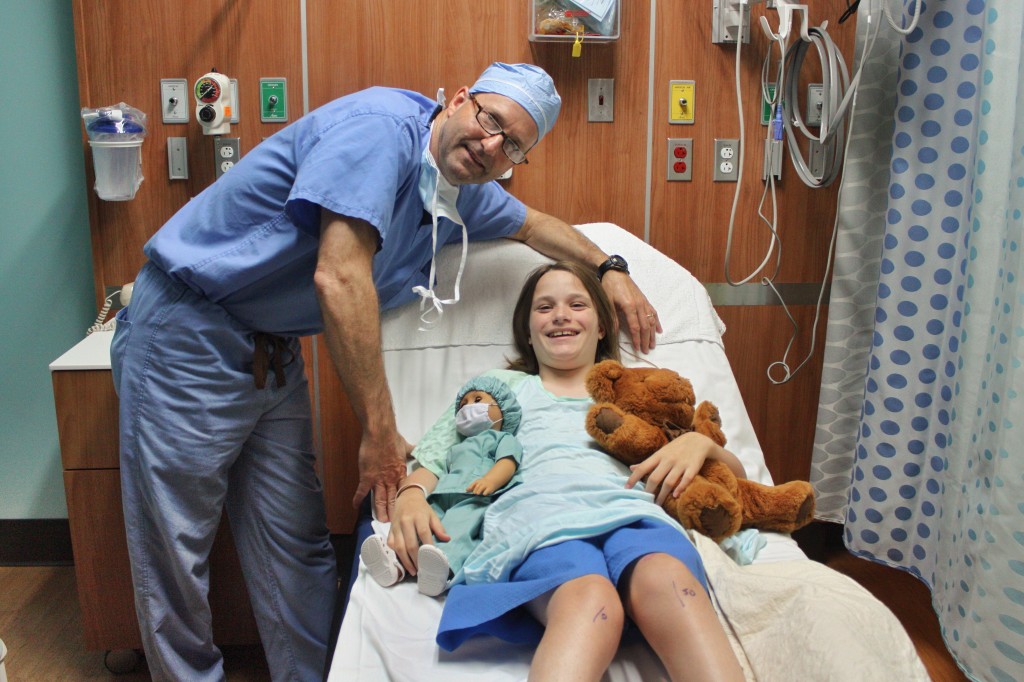 Shin bone connected to the knee bone Knee bone connected to the thigh bone Thigh bone connected to the hip bone Hip bone connected to the back bone…   Dem bones, dem bones gonna walk around. Dem bones, dem bones gonna walk around. Dem bones, dem bones gonna walk around. Now hear the word of the Lord.
If you've been reading for awhile, you know things went off the rails back in September.
Just a few months after I posted an update video showing Sarah Kate's progress – a time when she was looking better than she'd ever looked – she hit the tween growth spurt era. Just like the old song says, everything is connected, so minor issues became major problems and everything went south.
After a few months of ramped-up stretching and a miserable fall softball season, we caved and booked an appointment with her orthopedist – well before she was scheduled to return. He wanted to operate, but was on the fence about what the best option was and recommended she go to Gillette Children's Specialty Clinic for a gait analysis, rather than relying on his visual observations alone.
We went to Gillette last month and returned with a laundry list of issues and recommendations. Before we ever got on the plane to Minnesota, Dr. Doyle's office booked her a surgery date, so very little time elapsed between our trip and her surgery (in case you were thinking that everything happened rather quickly…)
First, a quick recap of Sarah Kate's "problem list" (yep, it's kinda long – and keep in mind that "bilateral" means both legs):
Crouch gait
Bilateral hip flexor contractures (abnormally short hip flexors)
Bilateral femoral anteversion (inward rotation of thigh bones)
Tight hamstrings
Bilateral knee flexion contractures (inability to fully straighten knees)
Bilateral knee valgus deformity (misaligned knees – i.e., "knock-kneed")
Bilateral patella alta (high kneecap)
Bilateral tibial external torsion (lower legs rotate outward)
And a brief list of Gillette's recommendations:
Distal femoral extension osteotomy
Patellar advancement
Botox of the psoas
Possible tibial internal rotation osteotomies
Sarah Kate's surgery was performed at Children's of Alabama in Birmingham on Wednesday, April 9 by Dr. Scott Doyle. She's seen him since she was two – beginning in spasticity clinic when she was recommended for selective dorsal rhizotomy – but only for regular checkups. She has been fortunate to not require any prior orthopedic procedures.
Dr. Doyle opted for the first three of Gillette's recommendations, but decided against the tibial osteotomies. Gillette was on the fence with those, and Dr. Doyle didn't believe they are necessary. If he's proven wrong at some later date it could be done then (please, no!) Following is a brief description of each procedure.
Distal femoral extension osteotomy:
He made an incision just above the knee across the front of the thigh and removed a wedge of bone from her femur. The leg was then straightened and twisted a bit then reattached to itself using a metal plate and screws. The plate can stay in permanently, but often they are removed later for the patient's comfort. I've clipped a couple of images (courtesy of Gillette) – you can find more, including example X-rays, here.

Patellar advancement:
He made an incision on the front of the leg just below the knee, pulled the patellar tendon tight, and sewed it in place (sometimes in this procedure the tendon is actually detached from the bone and reattached further down, but the risk of tearing with that option is too great for a child like Sarah Kate who is growing).
The actual procedures took about four hours – two hours per leg – and once you include the pre-op stuff, anesthesia, and recovery, Sarah Kate was in the surgical unit for the better part of a day. She is in casts from her thighs all the way down to her toes, with her feet cast in a flexed position to keep her hamstrings stretched. Although Dr. Doyle indicated that he was able to straighten her legs fully post-surgery, she was cast with a slight bend in her knee to help transition her muscles. She will be recast this week into full extension. The botox will come later, after she has healed, because the effects only last 3-6 months.

I'm not gonna lie – the first 24-36 hours were pretty terrible.
She had a lot of pain from the procedure, coupled with muscle spasms related to the change in her body. She didn't want to move or to be touched in any way. The spasms were difficult to control – valium and benadryl were the medications they used to treat them. The other pain responded well to morphine, but…she had a reaction to the morphine that caused her to itch so badly that she cried tears of desperation.
By Friday evening, she had turned a corner but wasn't ready to leave yet. By Saturday afternoon, she was released from the hospital. Birmingham is four hours from Mayberry, so rather than force her to make that long journey, we spent the first two nights post-release at my dad's house a little south of the city and returned home on Monday.
Since we've been home, Sarah Kate's pain has been minimal – she hasn't taken any of the prescribed valium and only took the lortab at night for the first few nights – and her spasms have dissipated. She is learning how to move herself from the wheelchair onto the couch, off the bed, etc., with minimal assistance.
Two(ish) weeks down and four weeks to go…
Want to know more? In part 2, I answered several questions that were posed by readers regarding how she's managing school, what she's able to do, her prognosis, etc.