Yep, I know it's not Friday, the regular Snippets day. But I'm taking a sorta-kinda break from blogging for the next few weeks to regroup, recharge, and tackle some upcoming challenges. I'll still be around here and there, but not necessarily on my typical Tuesday-Thursday-Snippets-SunBeams schedule.
Nathan has picked up a new thing. We aren't sure where the face has come from but it's pretty cute. He's also become a big proponent of finger-to-the-mouth-shushing, and we aren't sure where that came from, either.
Remember the doll I bought Sarah Kate because it looked like Nathan? It's not just the hair, the eyes, and face, the fact that his left shoe never seems to want to stay on, and the rolled-up jeans pant leg. It's the feet, too
How's this for stellar parenting? A couple of weeks ago, Nathan went to school on both Monday and Friday in the same shirt – a green and navy striped number with holes in it and a messed up collar. Oh, and that Friday was picture day.
I love this video about Daniel Velasquez, an athlete with cerebral palsy. His story seems so similar to Sarah Kate's; I hope she can achieve as much.
I followed him on Twitter and was delighted to learn that he's sponsored by Core Power. Fun fact: a friend of mine's family owns a large commercial dairy that supplies milk for Core Power (formerly known as Athlete's Honey Milk).
In addition to being filmed and interviewed for runDisney, Sarah Kate put up her own #whyirundisney video on Instagram. It only took three takes to get it right (really only two – I deleted the second one by mistake!)
And finally … an X-ray of Rapunzel's hand!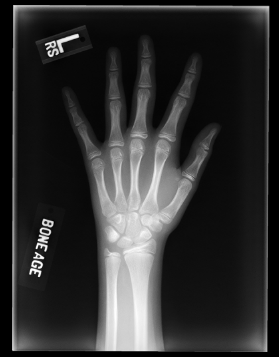 Have a great weekend!
This post was inspired by and is linked to Conversion Diary's 7 Quick Takes.