Was yesterday's Messy Beautiful post not exactly what you were expecting? I know that I promised details on Sarah Kate's surgery but then didn't provide many. I wanted to share a bit about the experience of the surgery first before I jumped into the nuts and bolts, but I believe there's a need for more information about the details (mostly because I couldn't find much information when I was looking…) so I'll do that next week.
Speaking of which, please let me know if you have specific questions about the surgery, its aftermath, the path forward, or anything else and I'll incorporate those into the upcoming posts. Anything goes.
If you saw the sign photos of Nathan in yesterday's post, you probably thought he was an angel at Nana's. Not so. Nana left him alone for about two minutes on Sunday morning – just long enough to reboot the laundry – and came back to this: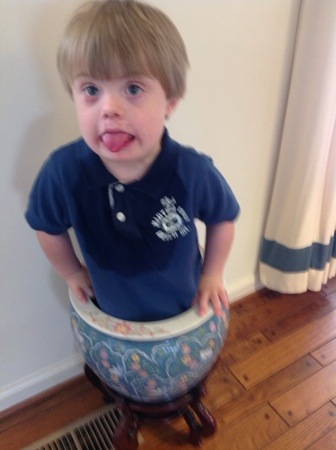 Speaking of Nathan, he's quite taken with the wheelchair. He would gladly play "rally car" around the living room pushing Sissy if we would let him. Sarah Kate learned quickly to set the brakes when she isn't moving.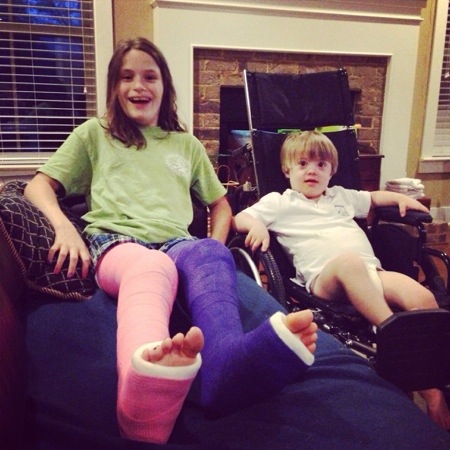 — 5 —
After a couple of days of being self-imposed shut-ins, we ventured out yesterday. Nathan had speech therapy so we dropped him off, ran to Publix for a few things, then came back for him. We're getting better at managing the whole bilateral-casts/wheelchair deal around the house, but leaving it was a different story. Specifically, getting her in and out of the car is a bear. We may not leave home again for awhile, at least not without Mr. Andi.
It's Good Friday! A week ago I wasn't sure we'd all be able to attend Mass for Easter, but it looks like it's going to happen (WOOT!) Over the past few years we've had quite a time of it with the Palm Sunday and Easter masses. Nathan was born the night before Palm Sunday, he was hospitalized with chicken pox (!!!) the week of Easter, etc., etc.
Have you heard about the Ultimate Homemaking Bundle? It's a tremendous bunch of resources – including 78 ebooks, 2 audio flies, 2 e-courses, and 2 printable packs! – for only $29.97. The books cover the topics of homemaking, food, faith, marriage, health, homeschooling, motherhood, breastfeeding, and work/life balance by some wonderful bloggers, including some of my faves – Tsh Oxenreider of The Art of Simple, Mandi Ehman of Life Your Way, and Haley Stewart of Carrots for Michaelmas.
The sale will last for six days only beginning Wednesday, April 23 – I'll remind you again here on the blog on Wednesday and provide a link. FYI – I am an affiliate for the sale, so if you buy a bundle through my link it'll put a few pennies in Sarah Kate's rehab jar. 🙂
Have a great weekend!
This post was inspired by Conversion Diary's 7 Quick Takes.