I'm a pretty dedicated runner. I know some really dedicated runners. But this guy is the most dedicated runner ever. He hasn't missed a day running since I was in the womb, and I'll be on the downhill to 50 next year. Chew on that for a minute…
I accidentally outed Mr. Andi on the blog yesterday. Did you catch it? If you read yesterday's post anytime before 1:02 p.m. central time, you now know what Mr. Andi's real name is. The great irony of this goof on my part is the fact I call him Mr. Andi in many settings other than just on the blog. That's even how he's listed in my phone.
— 3 —
Sarah Kate's first harvest from the raised bed garden is in! She enjoyed her first strawberry last night. Yes, that's one strawberry. A very tiny strawberry. She said it was delicious.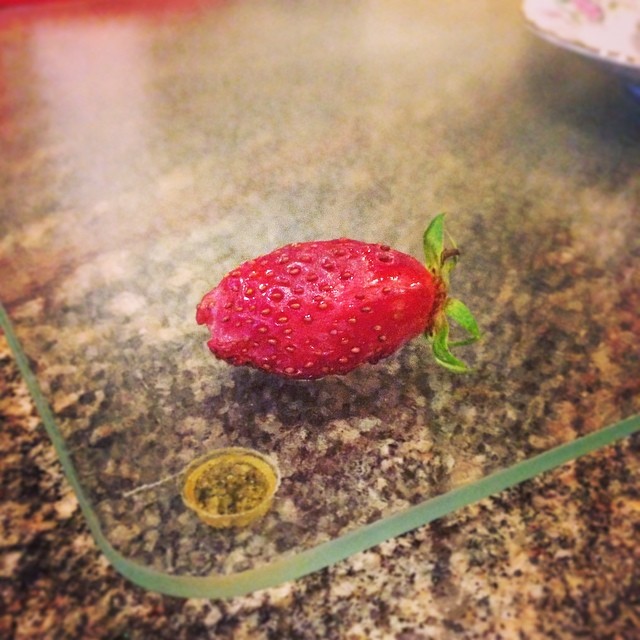 — 4 —
About two hours after I published yesterday's post, I "caught" Nathan in the dining room – flipping through the 2014 scrapbook photo album. I just ordered the album itself and it only has a few pages in it because I haven't yet received the prints of the pages I completed over the weekend. I'm even more motivated now to get caught up.
Looks like we'll have a new family member soon. Our next door neighbors are moving and are concerned about taking their cat with them, as they'll temporarily be in an apartment and he's a roaming tomcat. All I had to hear was, "I'm afraid we're going to have to turn him in" and suddenly the words just spilled out, "Check with me before you do that, because you know how Sarah Kate loves cats…" and now … he's ours. At least he will be soon. Sadly, there are a lot of cats in our neighborhood and I'm not even completely certain which one he is.
When I asked Mr. Andi what he thought about taking in this non-stray cat, his reaction was, "Well, he's probably already crapping in our flower bed, so I guess we might as well feed him."
Responsible pet ownership for the win!
Reading Rainbow is back! I actually never watched it – I could read quite well by 1983 when it first debuted, thankyouverymuch, but my sister is ten years younger so she was three, not thirteen, then, and my mom was a first grade teacher, so I was familiar with the program. I think it's great that people are so enthusiastic about this new web-based version of the program – it was funded through Kickstarter in half a day! Read more here.
Take a look, it's in a book … a Reading Rainbow.
Sarah Kate took some steps yesterday! Slow, tedious, halting, painful steps, but steps nonetheless. She's working hard but she's also having a hard time with The Whole Ball of Wax – she's tired of sitting around the house, she hates taking three hours out of her day to go to Mobile and back for PT, and she's frustrated that she can't ride her bike or do other, simple things. But she's making progress so we're keeping our eyes on the prize and trying not to think about how badly this summer is going to honk.
Have a great weekend!
This post was inspired by and is linked to Conversion Diary's 7 Quick Takes.