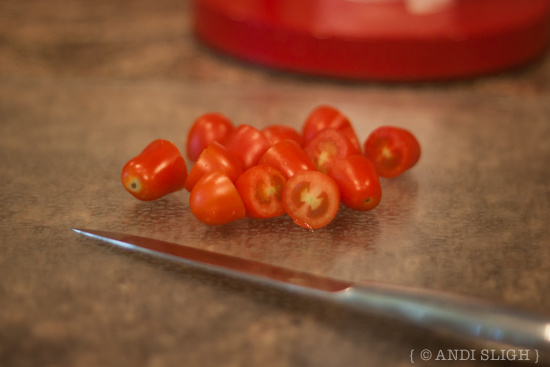 Honestly, I don't give a rip about the raised bed garden.
Mr. Andi is definitely the one with the green thumb around here. For the first two decades of my life, my mom openly mused that One Day I would grow to care about plants and gardening, like she and my Mimi did. It was in my genes! But after I got married and had a home of my own, the realization that I don't have the Green Gene began to set in.
For a few years, when Sarah Kate was a baby/toddler/preschooler, hope sprang anew because I was able to keep a smattering of houseplants alive for a few years, but then we moved and I let the plants die, and that was that. Any tendency toward caring for plants that I had shown up to that point was, after all, more a steadfast devotion to the methods of the FlyLady than anything else, so years ago my mom gave up and diverted all her gardening conversation and wisdom to Mr. Andi instead.
Enter Mr. Andi with his Grand Plan for the raised bed garden.
The main reason for it was to give Sarah Kate something to focus on – a project that she didn't really do much with but could watch grow and flourish and maybe reap the culinary benefits one day down the line. I gave little to no input, so what they ended up with was an eclectic mixture of tomatoes (two kinds!), watermelon, strawberries, squash, okra, basil, rosemary, peppers, and probably a few other things I can't remember.
But I got a little excited when we started seeing grape tomatoes ripening on the vine.
We picked our first few grape tomatoes over the weekend, and the quantity was enough for a snack, but not really for a full meal. Initially I thought I'd just plop them on a salad, but I thought our first tomato harvest needed something a little more special (yet not time-consuming), so I turned to P&Geveryday for an idea. It took only a few seconds before I found the perfect option: caprese skewers.
We had grape tomatoes.
We had basil.
Publix had mozzarella balls.
These is absolutely nothing simpler than these skewers, other than maybe pulling something premade out of the fridge. I cut each tomato in half, slid it on a skewer, followed by a leaf of basil with the underside folded together (or two small leaves with the undersides together), then followed with a mozzarella ball.
And the tomatoes? The best I have ever eaten, no lie. In general, I like things made with tomatoes, but don't eat fresh ones unless they're chopped really tiny – the slimy inner juicy parts kind of gross me out. But these tomatoes were firm and non-slimy. Perfecto!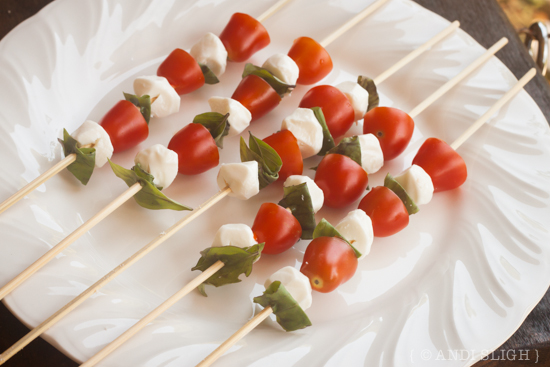 What really set off the caprese skewers, though, was the balsamic vinegar that I drizzled on top. An even better option would be a balsamic reduction (i.e., balsamic vinegar cooked down until it's thickened up a bit), but I didn't want to wait. 🙂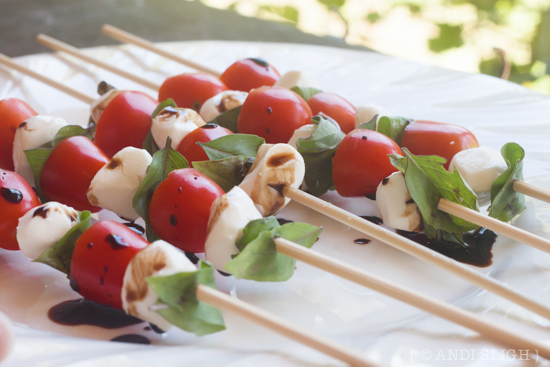 Seriously – how beautiful is that balsamic vinegar on the cheese?
My mouth is watering just thinking about them again. NOTE: astute observers may notice that the basil doesn't look like basil. That's because it isn't. It's cinnamon basil, a fact I failed to discover until I took my kitchen shears outside to trim off a few leaves. Still delicious.
Everyone approved.
(And yes, that is Sarah Kate standing next to the counter… WOOT!)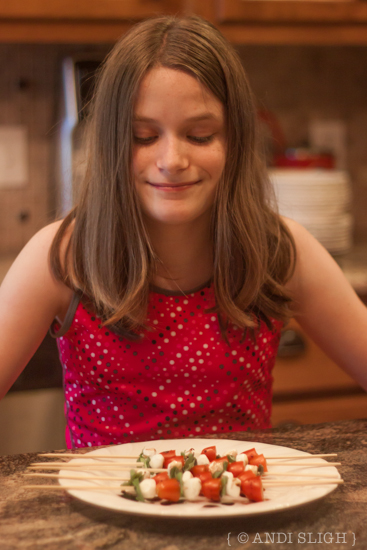 Sadly, we are having a lot less luck with the other tomatoes (I don't remember what kind they are, but they're big. Maybe beefsteak?) They look really great right up until they ripen, then they get all mushy and yucky. The guy at the farming store told Mr. Andi that it's really hard to grow tomatoes here because of the outrageous sub-tropical humidity along the gulf coast region – they basically rot on the vine. 🙁
But! I have an idea!
We'll just pick them early! When I searched "tomato" on P&Geveryday, I found a delicious-looking fried green tomato "BLT" sandwich: crusty bread, fried green tomatoes, bacon, and pimento cheese. Be still my heart!
P&Geveryday is a Pinterest-y type site, created by Proctor and Gamble, that features content on beauty, family, food, health, home, crafts, and more (like gardening!) Unlike Pinterest, it's for real people like me who just want a quick idea for some fresh grape tomatoes (or whatever) – no envy here! Check it out – I'm certain you'll find something (and probably a lot of things) you'll love.
I was selected for this opportunity as a member of Clever Girls Collective and the content and opinions expressed here are all my own.