This past Sunday at Mass, just prior to the homily, our priest introduced a host of visiting seminarians. One is "interning" with our parish for a couple of months this summer, and the other four are visiting this week from the religious order Institute of the Incarnate Word (abbreviated IVE for the Spanish Instituto del Verbo Encarnado) to assist with Vacation Bible School. As I watched each brother being introduced, I was struck by their youth and pondered the idea of young men choosing to follow God into a religious order such as IVE.
When Father Steve finished introducing them, he made an announcement that I had suspected was coming for awhile: a young man in our parish (fittingly named … John Paul) has discerned a call to the priesthood and, following a conversation with the archbishop last week, is the Archdiocese of Mobile's newest seminarian.
Honestly, I don't know this young man very well.
I sing in the choir at the LifeTeen Mass once every six weeks or so, so I sorta kinda know him through that because he is a regular (read: weekly) choir member, but I can only generously call him an acquaintance. Several months ago, our choir leader shared with us that John Paul was discerning a call to the priesthood. My reaction was "Of course he's going to be a priest! He must be the only one who doesn't know it yet!"
But no matter that he may not even know my name – I was so proud and excited for him that my hands were itchin' to start a clappin' before Father Steve even got finished talking. John Paul will presumably be a diocesan priest, but with the names and faces of the four IVE seminarians fresh on my mind, I began to muse a bit on religious orders. And then I got to thinking…
Could Nathan someday be a brother in a religious order?
Not likely – at least, I can't envision it based on what I know today. He's smart in his way, but he's not likely to be "seminary smart," so that makes it a non-starter … probably. But like many people with Down syndrome, Nathan prefers order and routine – a contemplative life might fit well with his personality. I considered the prospect of him living a life devoted to God, in community with other men, working together, and it seemed like a pretty wonderful possibility.
As I was thinking my idealistic thoughts about Nathan's future, I looked over at him, sitting quietly on Mr. Andi's lap. He was studying his hands, looking first at one side, then turning them over to look at the other. As I watched him, he raised his hands to his face, turned toward me, and did this: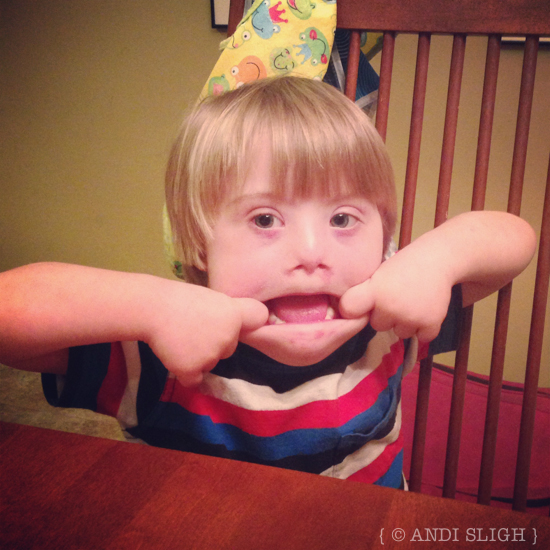 My whole body began to shake with silent laughter. Between the face he made and the holy water he had sipped on the way in, I think maybe he's got a ways to go before he commits to a vocation.
—–
Fun fact: One of the seminarians visiting this week is a Mayberry native. His mother is the Junior High Youth Director and the family is very active in our parish, and … he has hemiplegic cerebral palsy (at least I'm pretty sure he does, as I've never actually asked but after eleven years I'm pretty good at spotting it). And you know what else? His mom is a doppelgänger for my blogging friend, Ellen Seidman, whose son Max has … hemiplegic cerebral palsy.