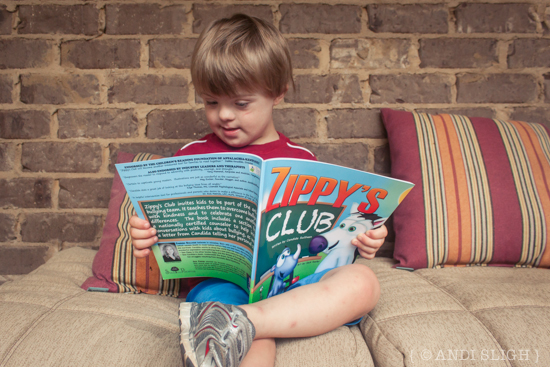 Children's author Candida Sullivan was born with a rare condition, Amniotic Band Syndrome, which usually causes death in the womb. In Candida's case, she survived, though not without visible scars on her hands. When she was a little girl, other children stared and teased her, and after awhile she chose to become a bully to deflect attention from herself.
Eventually, she realized that the way to deal with bullying was by using kindness instead, and her life experiences led her to create the Zippy series of books. Zippy is a zebra born without stripes, and he must face the challenges of being "different". The third book in the series, Zippy's Club
, follows Zippy as he works to overcome bullying with kindness, even as he himself is targeted.
The story is simple, but with multiple layers, and sweet but honest about the emotions involved with being bullied and being the bully, and the potential consequences of remaining a bystander. The book also includes a Christian message, which I appreciated – a rarity in our world today.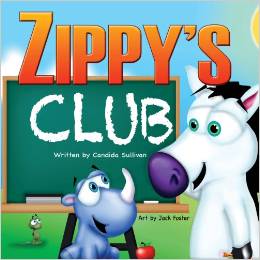 At eleven, Sarah Kate was a little old for the book, but I did ask her to read it and let me know her thoughts. She felt the book was encouraging for younger children, with or without disabilities, and she especially appreciated the included "Note from Candida" at the end where Candida shared her personal story. We both loved the colorful, engaging illustrations, and Sarah Kate said she could definitely see herself reading it with Nathan in the future.
Overall, I enjoyed the book, though if you have a child with a disability I would recommend starting with one or both of the first two in the series, Zippy's Big Difference
and Zippy and the Stripes of Courage
for the full backstory on Zippy before moving on to Zippy's Club.
So much of today's anti-bullying materials today don't (in my opinion) emphasize the most fundamental choice of all – to be kind to others, no matter what. It's an important lesson that all children – and more than a few adults – need to learn.
Want a chance to win your own autographed copy of Zippy's Club
? Just fill out the form below!
Disclosure: I received a free copy of Zippy's Club
 but no other compensation, and all opinions expressed in this review are mine. Links to the books in the Zippy series contained in this post are affiliate links – clicking them and making a purchase will drop a few pennies in the kids' therapy jar.