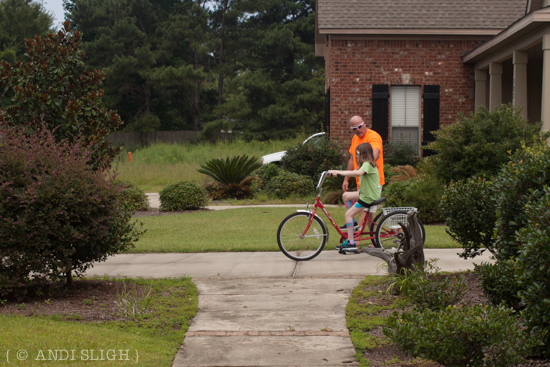 On Sunday morning, we resolved to put Sarah Kate on her bike. Her therapists have been advocating it for a little while, but the last time we tried ended in frustration – mine and hers. I hoped things would go better this go 'round.
They did. Sort of.
It started with me taking her out, strapping her feet onto the pedals with new velcro straps, and easing her down the driveway. She wailed that it hurt her left knee – the problem leg – to bend it and I gave up in frustration, though this time I kept my harsh words to myself. I chose instead to talk to her about stretching and flexibility.
Mr. Andi, sensing fear and a lack of motivation to be the primary factors in Sarah Kate's pedaling failure, declared an end to screen time until she made an attempt to ride her bike. She went inside, weepy but motivated, and stretched.
A short time later they both returned to the driveway.
I stayed back where I could see, but not really hear, what was happening. She made it down the driveway, and I overheard Mr. Andi pointing out to her that she had used her left leg to push the pedal. He suggested that she try to make it to the driveway of the house next door, then turn around and come back.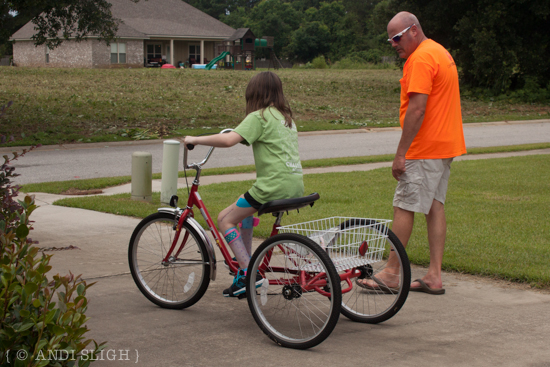 She made the turn onto the sidewalk, and stopped. She pushed her right leg down, but as soon as she felt the bend in her left knee, her left leg tensed up and stopped her forward motion. The cycle repeated itself several times until Mr Andi decided to give her a little pep talk.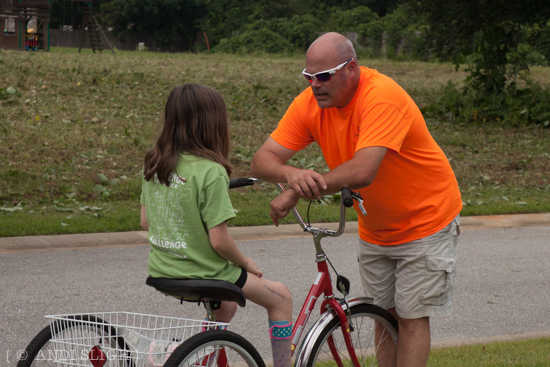 I snuck up behind her with my telephoto lens, thinking that Daddy would have the magic bullet that would get her there, and that's when I saw it: the quivering lip. I turned and headed back inside.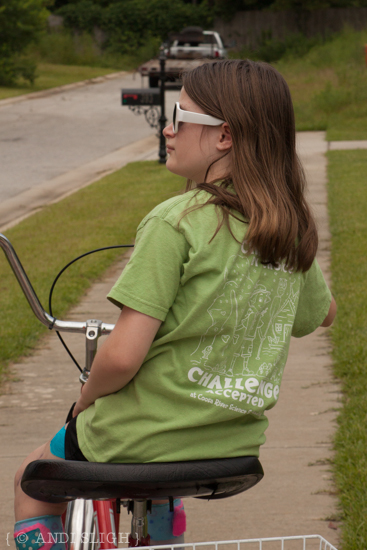 A few minutes later, Mr. Andi came inside where I was working on the computer, and said, ""We need to let this go and have her work with the therapist instead. She just isn't going to be able to do it for us."  I knew he was right.
Freedom is still a little ways away…