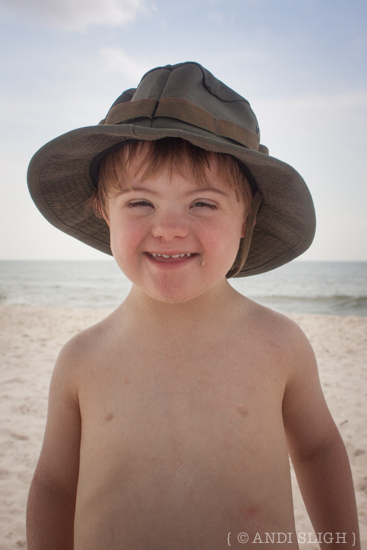 A month ago, I stated that we wouldn't go to the beach this summer.
I was sure the only time my toes would sink in the white-sand beaches and my clothes would smell like the salt air would be the day that my friend Leigh Ann eloped on our favorite beach. Mr. Andi was only slightly more optimistic.
A day trip to the beach for us involves schlepping a lot of "stuff" – chairs, pop-up shelter, snacks, drinks, towels, and sunscreen – because we're close enough to go for the afternoon, but not close enough to just pop over sans "stuff." Neither Nathan nor Sarah Kate do much schlepping, which is fine, but this year presented a new challenge: Sarah Kate not only couldn't schlep, but she needed to BE schlepped. But Mr. Andi's mom was in town this weekend, and we did some quick math and figured we could make it work.
And make it work we did … mostly.
We managed to get all of our "stuff," both kids, and all three adults onto the beach, with everything set up and everybody lathered down with sunscreen.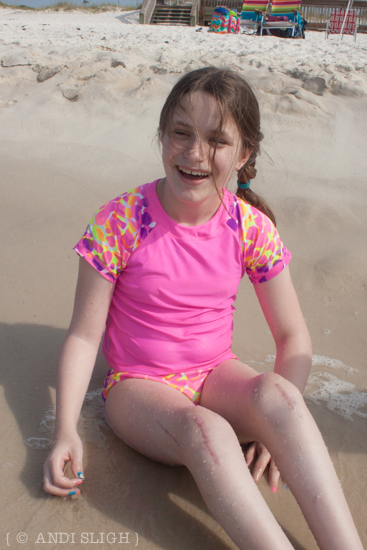 It was nice, but it wasn't ideal.
Nathan had forgotten how much joy can be found in the crashing waves, and resisted going in – or even near – the water after the first time Mr. Andi took him into the surf. Because Sarah Kate is still so unsteady on her feet, she didn't want to go very far into the waves and needed an escort to boot. She tried to stand where the waves were crashing, which then meant that her escort was unstable, as well. She couldn't be persuaded to go further, where the water was a bit calmer.
As a result, both kids spent the day mostly on their bottoms.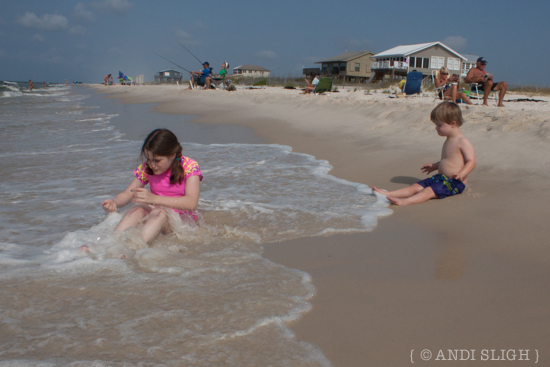 They didn't seem to mind, however. Nathan turned a small hole in the sand into a much bigger one and climbed in.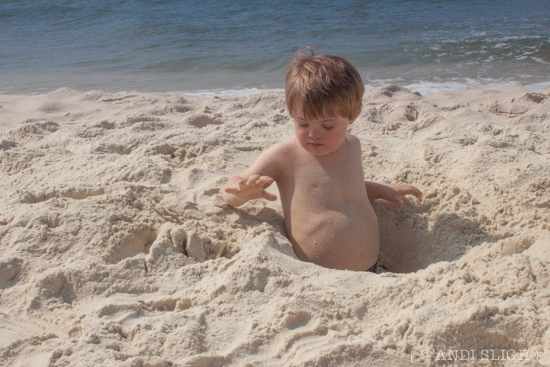 Mr. Andi tried on several occasions to lure Nathan back into the water, but he would have none of it. As a diversionary tactic, he pulled one of his soccer tricks out of the bag and requested a drink – multiple times. Once while he was sipping on his Capri-Sun, a (not very smart) crab approached … and foolishly headed straight for his chair.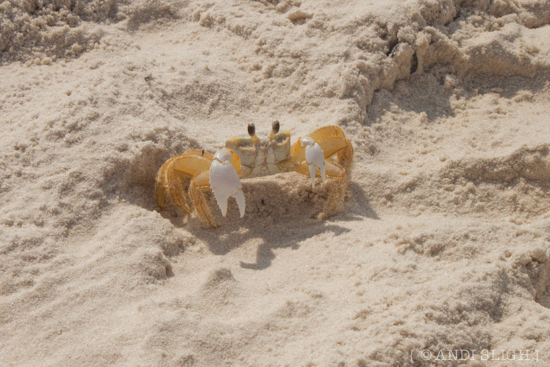 We watched the crab for several minutes, then Mr. Andi and Nathan followed it for several minutes more, until Mr. Andi decided to just pick him up and show him to Nathan. He was delighted, but he wasn't quite sure what to do next.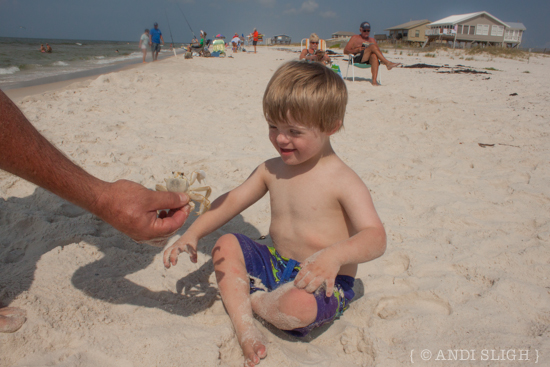 So he threw sand on it…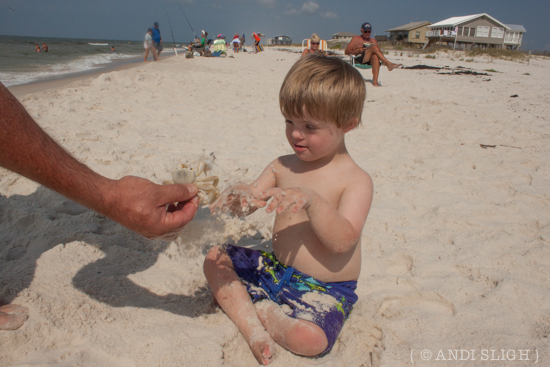 Mr. Crab apparently didn't learn his lesson about small boys on the beach. For the next several minutes, he and Nathan eyed each other suspiciously, until Nathan finally decided to (a) grab him, which elicited an excited utterance from me, and (b) bury him in the sand. After that, Mr. Crab played dead until Nathan lost interest and walked way.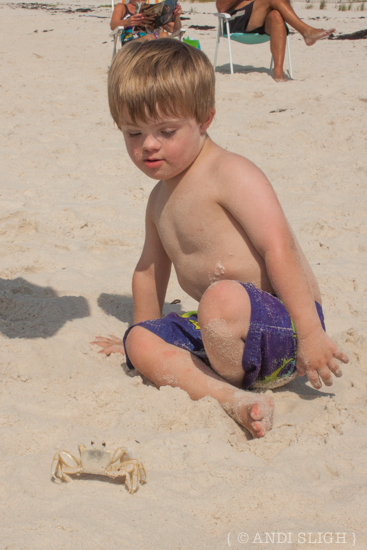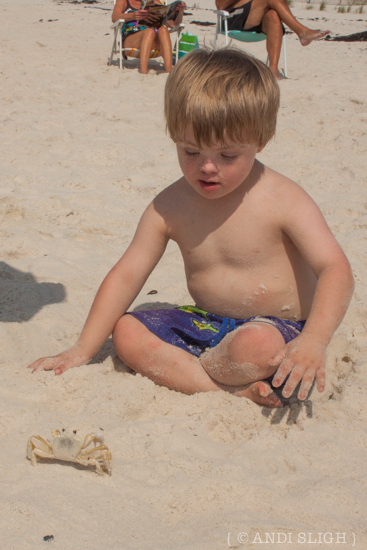 We spotted our old friend, the one-footed seagull, for the third summer in a row (Sarah Kate calls him "Hoppy" though I prefer "Uno"), and offered him and his friends a few Pringles (I know, I know, you're not supposed to feed the seagulls…)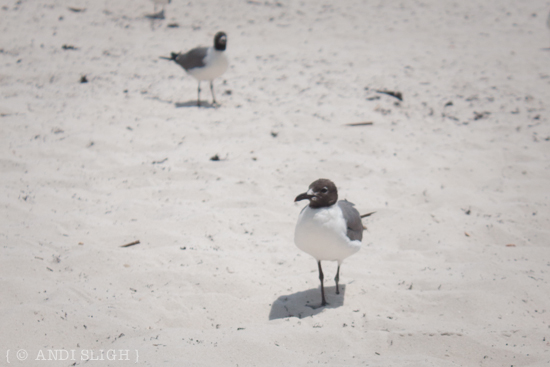 Nathan was eventually persuaded to sit near the water when a lady sitting nearby offered some beach toys, though he still wasn't too keen on the surf.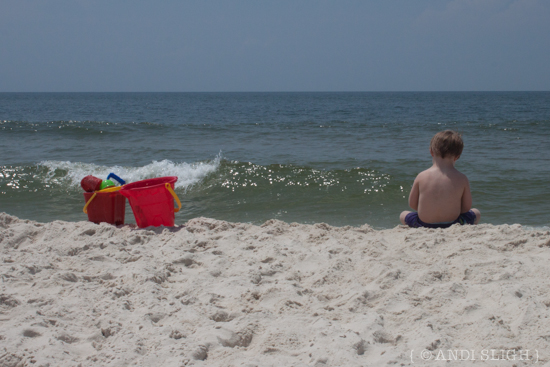 All in all, it was a good day.
We felt like tourists in some ways. We had to think about what to pack and how to do things, which is a lot different from past summers when our beach day prep ran like clockwork. We didn't recognize extended vacationers like we have in the past, and the kids weren't at ease on the sand and in the water.
But it was a beach day I didn't think we'd see in 2014, and it was enough.