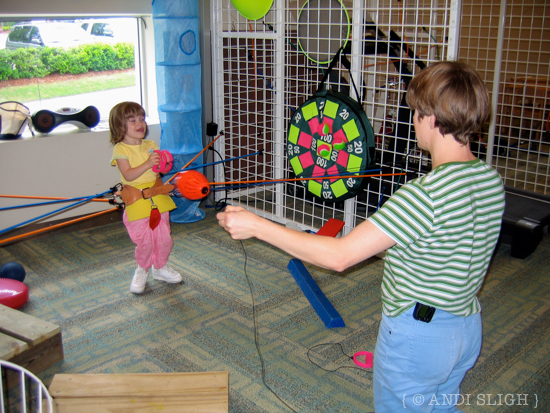 Spider cage. Thera-Suit. Adeli Suit. UEU.
Familiar terms to us, but probably not so much to most people, so how about a quick primer today?
Sarah Kate began an "intensive burst" of therapy on Monday – four hours per day for five days. In the past, she's done several full courses of intensive therapy: four hours per days, five days a week, for three weeks. It's variously referred to as spider therapy, suit therapy, or UEU, but in Sarah Kate's case it's actually been all three at various points in time.
Universal Exercise Unit (UEU)
The UEU is a big box that looks like a cage with only three sides. It uses a system of pulleys for strength training; weights of various sizes (or no weight at all) can be added to the pulleys, allowing the therapist to isolate specific muscles. Sarah Kate's local therapist often uses the weights and pulleys on her in regular therapy. I don't have really great photos of the "spider cage" but you can find others here.
Spider Therapy
Spider therapy is another use of the UEU box, but instead of weights and pulleys, it uses a belt and bungee cords to help children remain upright while performing various activities. The image above shows Sarah Kate "bungee-ed" between two spider cages working on her balance back in 2006 after her rhizotomy; the image below shows her walking on the treadmill while in the spider cage. The bungees can be hooked onto any of the various junctions in the wall of the cage to provide as much or as little support as needed.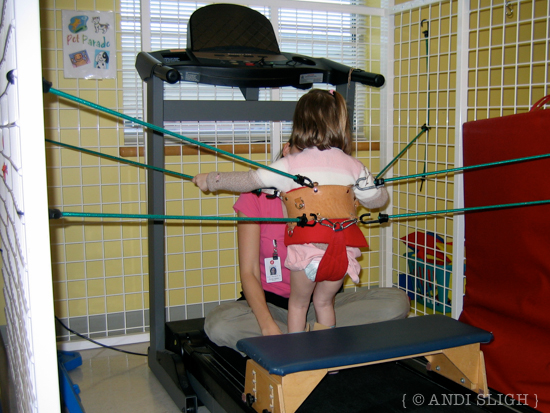 Thera-Suit/Adeli Suit.
The Adeli suit was originally developed for the Russian space program in the early 1970s – its purpose was to counter the effects of long-term weightlessness on the body, but it has been adapted for use in children with motor disorders such as cerebral palsy (the Thera-Suit is a variation of the original Adeli suit, developed specifically for physical therapy in children).
The suit uses a system of elastic bands (sorta like bungees) attached to various positions in various locations with various levels of tension (all patient-specific) on the vest, shorts, knee pads, and shoes of the suit. These bands stabilize the body into the "proper" position and the patient then participates in active movements (like walking, climbing steps, etc.). The brain is retrained to recognize (and, hopefully) correct the body's movement.
The short video below shows Sarah Kate in 2010 using the suit to improve her walking gait and learn to climb stairs:
Intensive Therapy
As I mentioned earlier, Sarah Kate has participated in several rounds of intensive therapy, and all have proven beneficial. In some cases, we saw almost daily improvements throughout the course of treatment; in others she didn't improve significantly during the program but saw rapid increases in her abilities immediately following the program (we attribute it to her acquiring significant strength during the program, then capitalizing on those strength gains afterward).
Most intensive therapy programs start with heat and stretching, then combine UEU, spider therapy, suit therapy, and other traditional occupational and physical therapy activities, personalized for the patient. Goals are set at the beginning of the program, and the therapists work with the patient on specific activities towards those goals. For example, Sarah Kate wants to get back to riding her bike ASAP, and also is interested in trying golf, now that softball is mostly out of her reach – she will work this week on pedaling a bike and swinging a club.
——
Note: I am neither a therapist, nor a physician, just a mom who's been around the intensive therapy block several times. Feel free to ask me anything you want about it, but please don't take this post or any future comments or posts as anything but One Mom's Opinion.