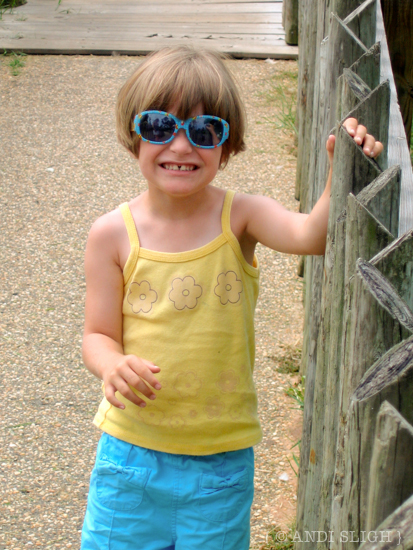 Several weeks ago, I mentioned the idea of adding a "Throwback Thursday"-type post as a regular feature on the blog, since Nathan's entire preschool-hood is documented here in photos but Sarah Kate got the shaft for the first seven years. crickets chirping I scrapped that idea but I've been doing some more organizing of my photos this week and couldn't resist a Throwback Thursday.
Seven years ago this summer, Sarah Kate was just a couple of months older than Nathan and we traveled from north Alabama down to the Alabama Gulf Coast beaches. It was our preferred vacation getaway, but instead of a tiny condo on the tourist strip, we rented a small duplex off the beaten path, a few blocks from the beach – partly so we could bring our new puppy, Daisy, and partly so Mr. Andi would have somewhere to park his (then very tiny) boat for fishing.
We had no idea that trip would change our lives.
Our little duplex was in a neighborhood, and we had chosen to vacation in late August after school started back. It was on the corner at the entrance to the neighborhood, and the bus stopped every morning to pick up kids for school. It reminded us that, once upon a time, we had entertained the idea of living near the coast, but we never acted on it. Mr. Andi wasn't happy with his job, so we decided he'd give it until the end of the year then look elsewhere if things didn't pick up (his job then was heavily tied to real estate development, which never picked up…) By February, we were visiting Mayberry, looking at houses.
But in August of 2007, we were playing on the beach.
Please, physical therapists, pay no attention to the forbidden W-sit…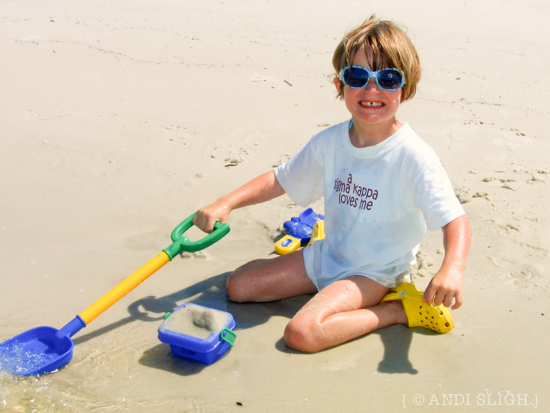 And visiting the Alabama Gulf Coast Zoo (i.e., The Little Zoo That Could from the show on Animal Planet) – yes, that is Chucky that Sarah Kate is looking down on!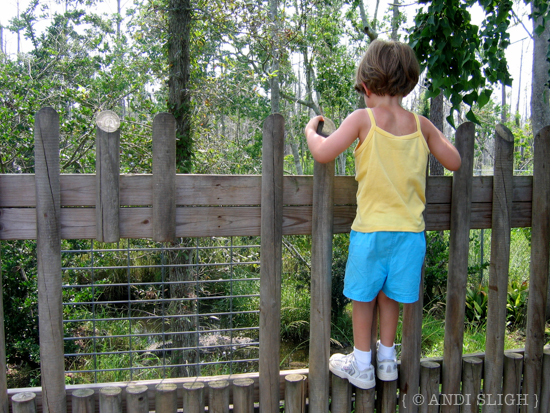 And generally sweating our hineys off in the outrageous humidity that is coastal Alabama…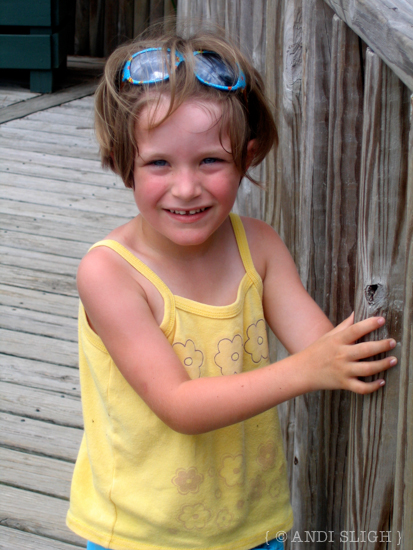 And trying our hands at a little putt-putt… I'm pretty sure this was the first time Sarah Kate ever played putt-putt; now she's considering taking up golf when she's a little more comfortably mobile.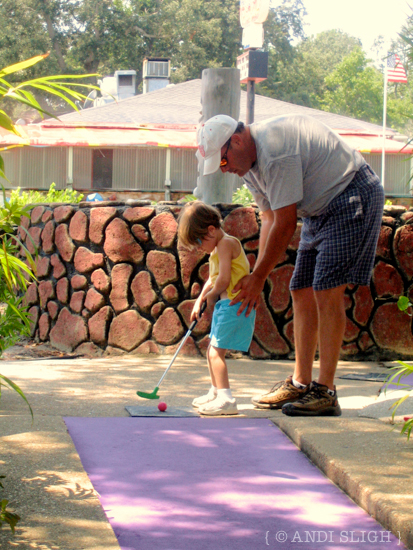 And enjoying steamed royal red shrimp at what was our favorite seafood place (which has since relocated…we never missed going there when we came down on vacation,but haven't eaten there a single time since they moved).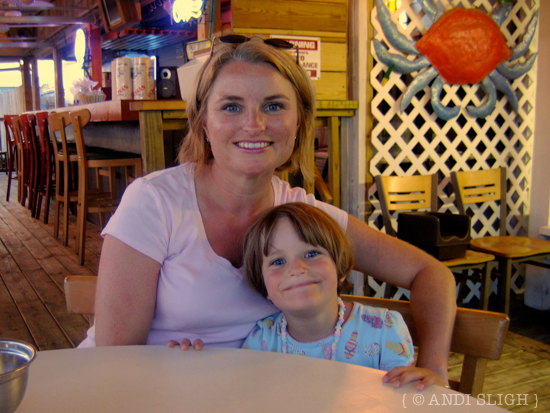 Seven years. A lifetime passed in the blink of an eye.