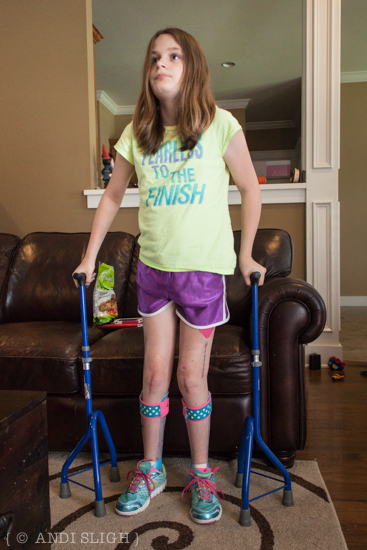 No matter where I go these days (which, admittedly, isn't that many places) or who I talk to, the question I always get is "How are things going?" What people mean, of course, is how is Sarah Kate doing – has she recovered from the surgery, is she progressing in therapy, and so on. I respond with a smile and something to the effect of … she's doing well … it's a slow process but she's working hard … we can see improvement almost every day … she'll get there …
All of which are true.
But there's more to the story that I hold back, because I don't want to be The Mom Who Whines or The Ungrateful Wretch or The Lady Who Shares Too Much when all people want is a simple answer to the question of how she is doing. All is not going as smoothly as my smile and reassuring comments would indicate. Yes, she is working hard and yes, we see improvements nearly every day, and yes, she will get there, but the process is excruciatingly slow and difficult, and complicated by "issues" – financial, emotional, and Nathan-al.
In order to conserve as many of our allotted physical therapy visits as we can (she gets a max of 30 covered by insurance each year), Sarah Kate only goes to PT twice a week, rather than the three times normally recommended following a procedure like this one. To make up for it, she does an at-home program three times a day. The at-home program can be done in about 30-45 minutes (so minimum 90 minutes a day), but that 30 number is only if we really hump it. It's no fun.
And guess how often Nathan turns into a demon child?
If you guessed "three times a day" then DING! DING! DING! you're a winner. Bonus points if you added "for 30-45 minutes each time." When I'm working with Sarah Kate is when he chooses to splash in the toilet, throw handfuls of dog food, escape to the garage to play with ant poison, make off with Sarah Kate's walker, or (fill in the blank mischief). The preschool he attended the past two years opted not to have a summer program this year, so he's desperate for attention and I can't fully give it to him during the day.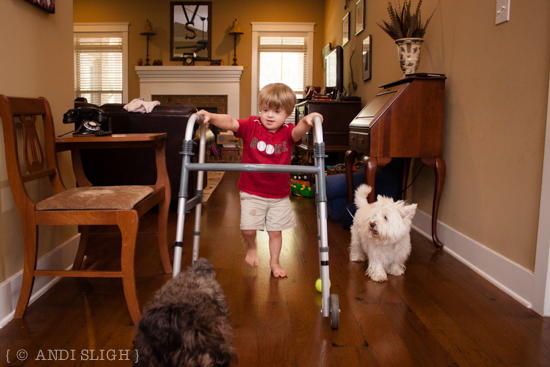 The clock is also ticking on the potty training – August 21 is the drop dead date, as his preschool has a new director this year who may not be as forgiving as the previous one. But if we're running back and forth to Mobile for therapy, how am I supposed to commit a week or more to being at home to get it done?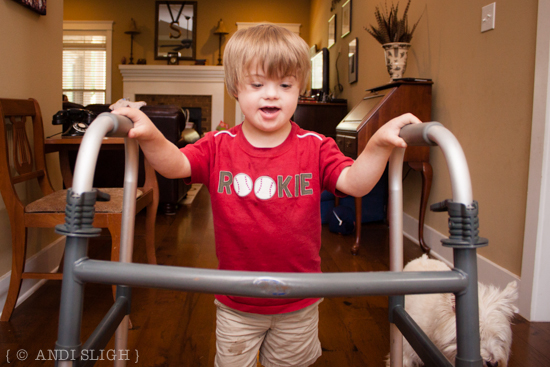 Sarah Kate is eleven.
Which you all knew already, but it bears repeating, because you know what happens to girls at age eleven? Mood swings. I'll be the first to say that my daughter is a sweet, loving, (mostly) compliant child whose mouth is decidedly less "smart" than a lot of tweens I've heard tales about in the last year or so. BUT… about every third day in our house she has a meltdown along the lines of, "WHY IS MY LIFE SO HARD???" and I get it, I really do, because she used to hop on her bike and go down the street to see Neighbor Boy S or walk across the driveway to hang with Neighbor Girl H. Now she has to wait for Neighbor Boy S to show up, and Neighbor Girl H's family recently moved out of the neighborhood.
In the beginning, I attempted to soothe her with … look how far you've come … think how much better things will be once you are through all this therapy … you're losing your friend but you're gaining a cat … and so on. Now I've reached the point where I'm just all I know, baby. It sucks. Cry it out. Because really, what else can I say, (other than "offer it up" which lost its charm after the first several attempts)?
And shall we talk about insurance?
Actually, let's not, because we've got a benefits appeal pending, and just the thought of it makes me want to take a swig of the leftover valium Sarah Kate was prescribed for her muscle spasms after surgery. KIDDING! Sort of…
In the main, things are going well. We're seeing progress, and although it feels slow in the moment, looking back over the past several weeks she's actually moved forward rather quickly. But it's hard to be going back and forth from the house to the PT office when everyone else we know is spending their summer at the pool, taking off to the beach for the day, or just enjoying hanging out in the yard. I can't manage both kids at the pool or the beach, so we stay home, and only one of the two kids wants to hang out in the backyard.
But every few days, something happens that makes it seem worth it.
On Monday afternoon, Sarah Kate's physical therapist, Cheryl, pulled out a pair of canes for her to try. Sarah Kate panicked – completely freaked out. Didn't want to use the canes. Tears. Wailing. Fear. We brought them home to practice on our own, and later that same night, this happened:
And then just 48 hours after Cheryl gave her the canes, this happened: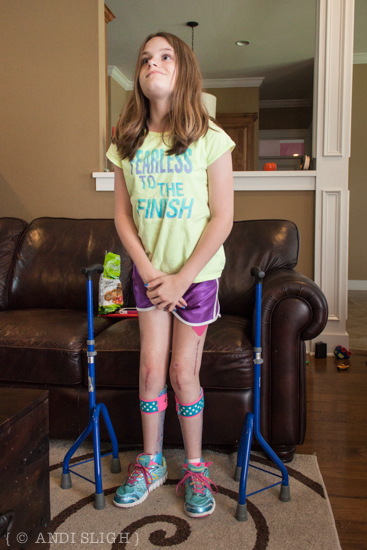 So how are things really going?
It's messy, and beautiful, and wonderful, and awful. All at once, with no end in sight.