The little guy was supposed to be the tough one.
After four years of having Nathan mostly at home, messing stuff up and making it oh, so difficult to get things done, Nathan started pre-K on Monday. Six hours per day, five days per week. I thought I would be sad or lonely or … something. But each day, Nathan walks right in with nary a glance back, and when I pick him up and see the bag of laundry "homework," I am simultaneously thrilled to see him and thankful that his erratic potty goings-on were someone else's problem for six hours.
No, he is not the hard one. She is.
On Monday, Sarah Kate emerged from her room for her first day of sixth grade with one purple cane, despite us having agreed that she would use the two blue tripod canes at school. I inquired, but ultimately let her do what she wanted. She is eleven now, I told myself, she needs to learn some lessons on her own. On Tuesday, the blue canes reappeared without a word.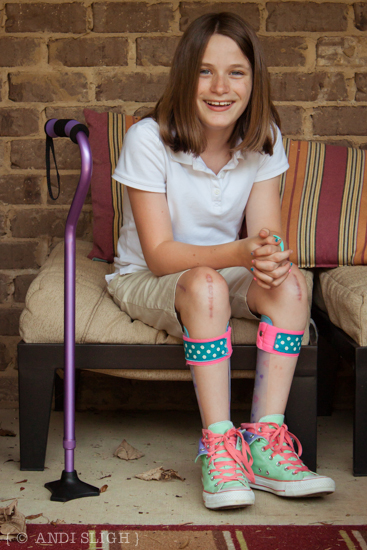 On Wednesday morning, I lingered for a long time in the parking lot watching her walk to the door. She's not going to make it, I thought. A couple of hours later, the school nurse called. The amount of walking she's having to do each day is more than double what she'd been doing before school started. The nurse didn't think she was going to be able to make it to class and took her backpack from her.
The nurse and I discussed some options, but I told her that I wanted to leave it up to Sarah Kate. When I picked her up in the afternoon, she told me how she had come up with a great idea for how to handle all the walking. It was the same idea the nurse and I had settled on, but she didn't know that. She chose her own path.
We thought the summer rehab would be the hard part.
We were wrong.
For eleven years, I have pushed and pushed and pushed some more, and it worked. Sarah Kate is a hard worker and motivated. We pushed especially hard this summer, and it paid off – her doctors told us last week that she was way ahead of where they thought she would be at this point. But when the nurse described the combination of grim determination, pain, and near-tears on Sarah Kate's face when she encountered her – only halfway to her classroom, which is the absolute furthest point from the drop-off in the school – I realized something.
It's time to give her permission to rest.
Two weeks ago, I was one of a few bloggers invited to preview the video for a new song, "Promise", by Tori Amos and her daughter, Natashya. It's a beautiful song about mothers and daughters that brought me to tears. A collection of photos of Sarah Kate and I over the past eleven years, set to "Promise" follows. It tells a story that is still unfolding, though some chapters are complete – for better or worse. Click the video to watch or go here.
All mothers can relate, and for those of us with a daughter who needs extra help, it's a powerful reminder to be there no matter what, but to always give her the help (or the push) that she needs … and no more. It's not that Sarah Kate doesn't need me anymore, she just needs me in a different way.
Can't all we moms of tween daughters relate?
—–
"Promise" is from Tori's current album, Unrepentant Geraldines. You can find it on iTunes, Amazon and Google Play. Click below to see Tori and Natashya's video, or visit Tori's YouTube channel for this and all six blogging mom "Promise" videos.
Disclosure: One2One Network sponsored today's post, but the message is all mine, and I received no compensation for participating. I just fell in love with the song and we were thrilled to be a part of the project.