My mother-in-law brought a small tent with her last weekend. She set it up in the backyard and both kids climbed in – Nathan sans undies because … potty training. I looked at Mr. Andi and asked, "Over/under on 15 minutes." He claimed "over" and I ducked inside to grab my phone to use as a timer.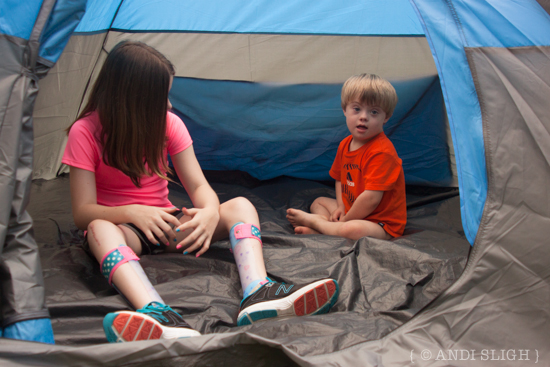 Before I even got it set … pee pee in the tent. Mr. Andi lost.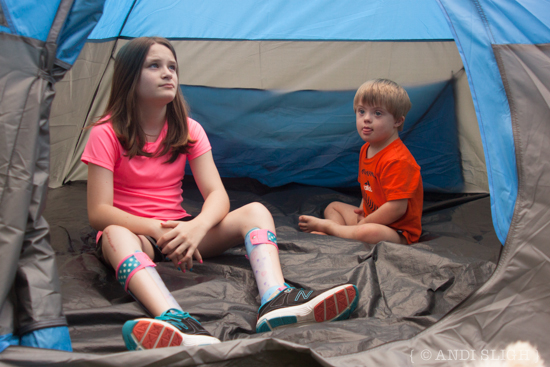 You saw the photos of Nathan and the crab on Tuesday, but did you see the video? It's short and sweet, I promise.
I don't know how I stumbled upon them, but I am in love with these Saint Softies! How cute are they?
They have well known ones like St. Francis de Sales, older ones you don't hear much about anymore like St. Catherine of Alexandria, new ones like St. Kateri Tekakwitha, and many I've never heard of before (which I will avoid specifically noting lest I expose my ignorance unnecessarily). Adorbs!
The Coke marketing people are brilliant. Nathan spotted his name on a bottle of Coke in the grocery store the other day, so of course I had to buy it. Then I spotted one that said "Sarah" and grabbed it, too. Do you know how often I buy Coke? Almost never. They've been sitting on the counter just like this all week because now I don't want to drink them.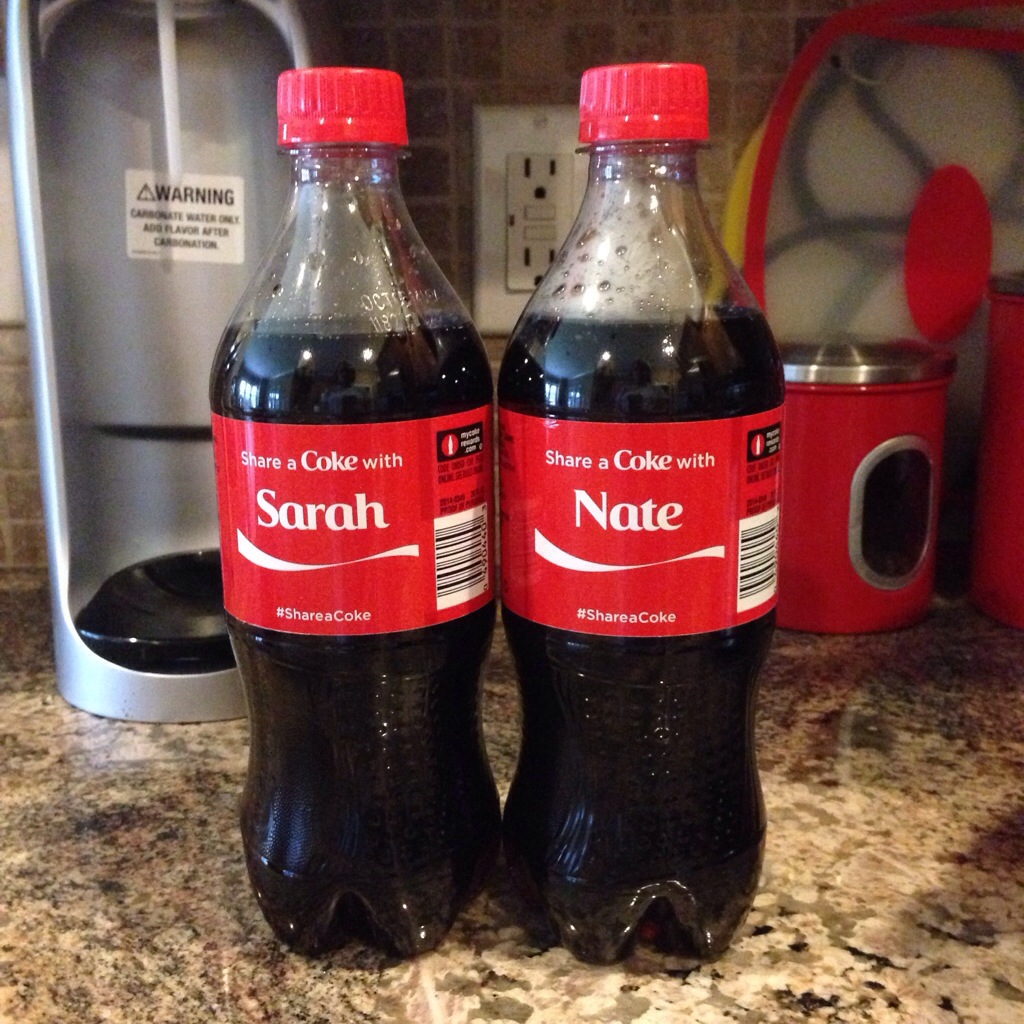 POTTY UPDATE: The good news is that Nathan is consistently using the big potty at home, and has made several successful short trips (read: 30 minutes or less) out of the house without accidents. The bad news? If I put underwear on him for more than a half hour he pees (or worse) in it. Can I send him to preschool without pants? No? Then we still have some work to do…
Our college-softball-playing friend Abbey knew that Sarah Kate pulled for the University of Alabama softball team to win the Women's College World Series back in the spring, and decided to contact them and tell them about Sarah Kate, her love of softball, and her inability to play this year because of her surgery. Earlier this week, a giant package arrived on our doorstep for her.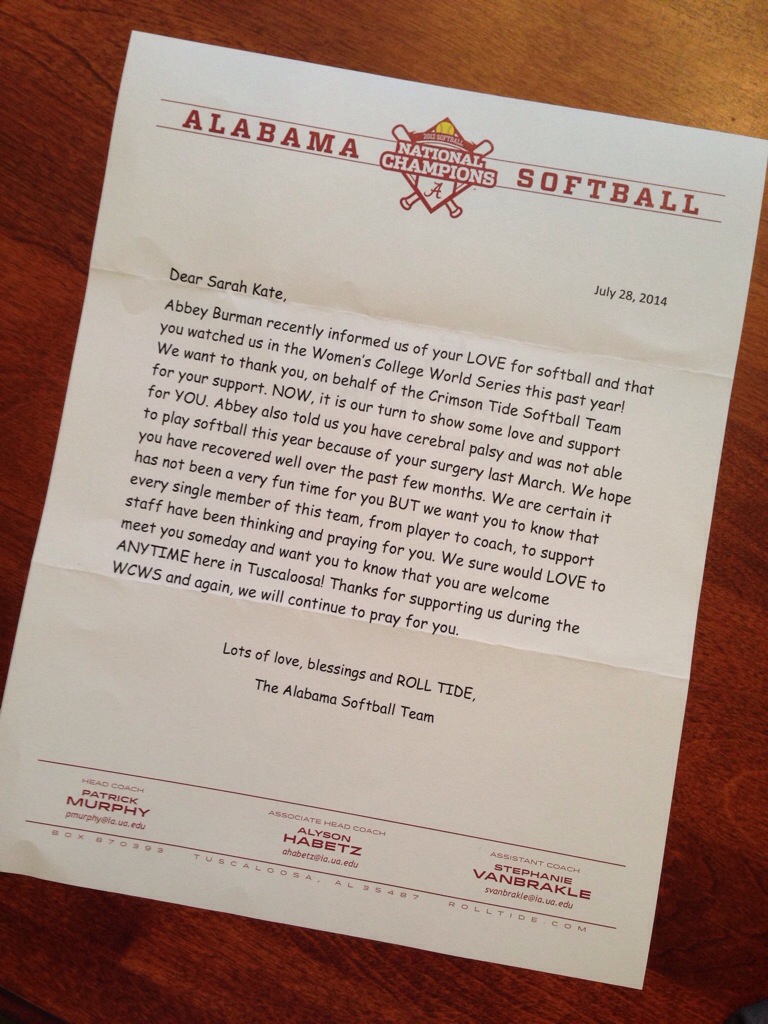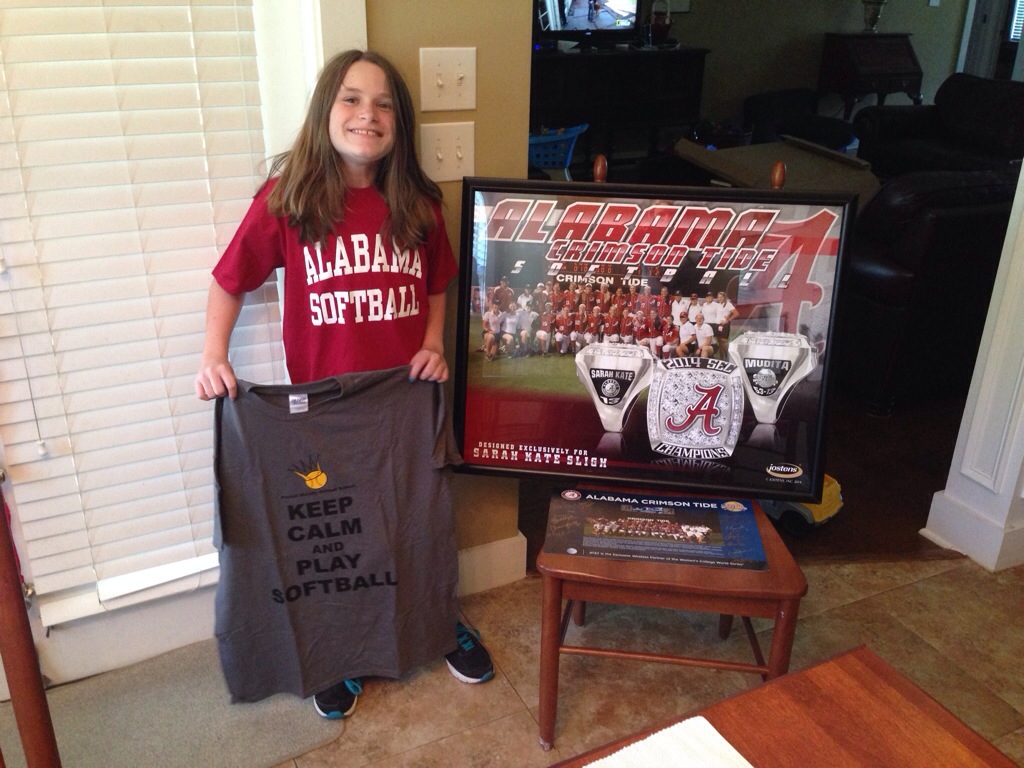 Inside she found a letter from the team, two T-shirts – an Alabama Softball one and a (Coach) Patrick Murphy Softball School one – a signed small poster of the team, a small poster of the 2012 WCWS Champion team, and a giant framed (and personalized!) SEC Champions poster. If you look closely, you can see that one side of the championship ring has Sarah Kate's name and jersey number on it.
WOW. She is over-the-moon excited about it, and I have to admit that it was pretty special.
If any of you have connections with Auburn University Softball and can get them to send Sarah Kate something even better and/or more personal that would be awesome. Because … epic rivalry. And seriously, peeps…two Auburn alumni simply CAN'T send their only daughter off to Tuscaloosa in seven years. We just can't.
Have a great weekend!
This post was inspired by and is linked to Conversion Diary's 7 Quick Takes.