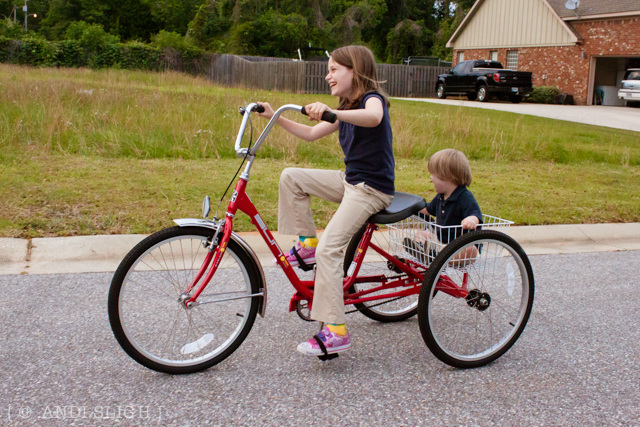 That three-wheeled bike allowed her to ride around the neighborhood, check in with her friends down the street, and just generally be part of regular kid life in a middle-class subdivision. It was a dream realized not just for her, but for me, as well – not an ambitious dream, but an important one, nonetheless.
The surgery took that freedom away for awhile.
For the entire summer, she's been stuck at home, waiting for someone to come over or invite her over or something. Gone were the days of jumping on the bike and heading down the street for a few hours, and with them went healthy doses of sunshine and fresh air.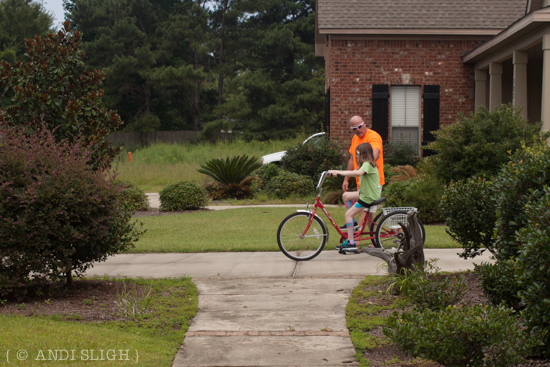 The first post-surgery attempt to ride the bike ended in tears and frustration, and the bike went back into the garage for several more weeks.
On Saturday, she tried again.
She was apprehensive, and, frankly, so was I. But I tried not to let it show and eased her onto the bike, first pushing her slowly then encouraging her to use the pedals and propel herself. At first, her efforts were halting and tentative, but after a few minutes she began to feel more confident, and it showed.
The next day, she emerged from her room and asked if she could ride down to her friend's house at the far end of the street.
And she did.