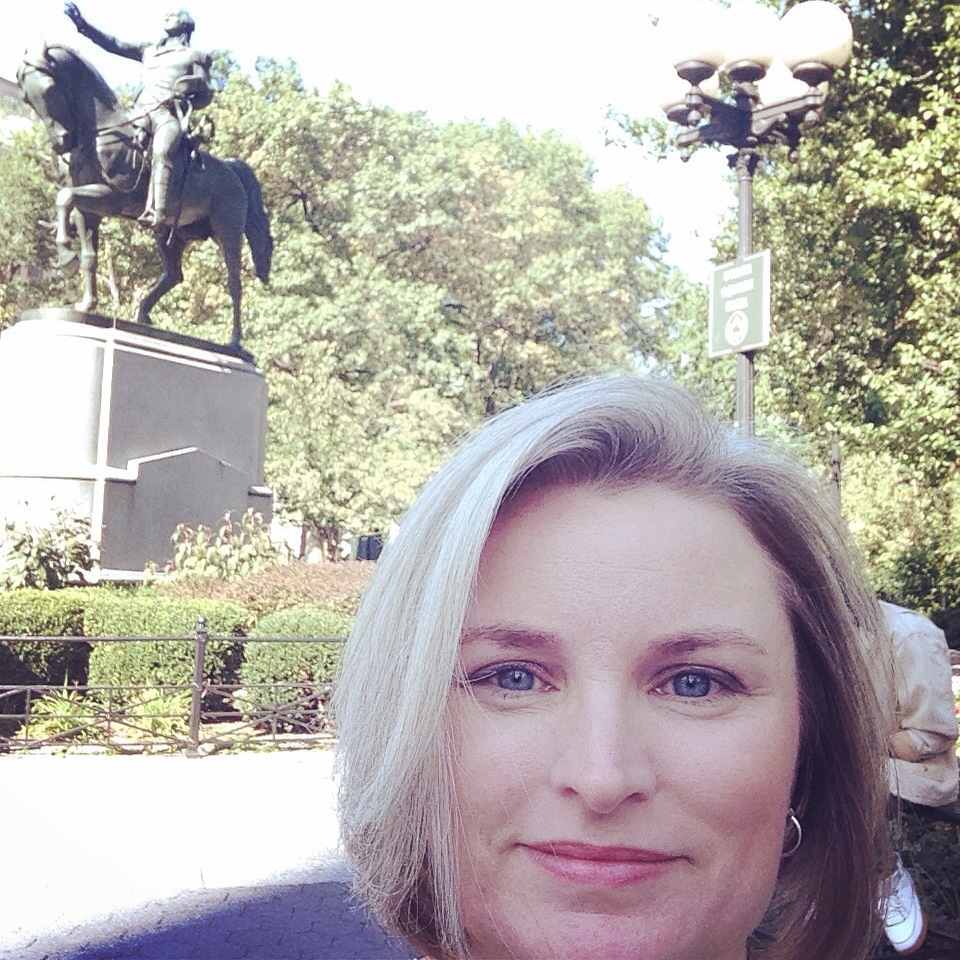 I took a whirlwind trip to New York this week.
I left around 9:00 on Monday morning and flew back on Tuesday, arriving home just after 9:00 p.m. If you follow me on Twitter, you may have seen some tweets from me about what I was doing, but if not, I'll be writing more about it soon – exciting stuff with implications for children with cerebral palsy, autism, diabetes, and other conditions. But for now, I'll just tell you how little advantage I took of my trip (sans children!) to The Big Apple.
Andi's Eleven Ways to Be a Loser Tourist in New York City:
Forego the early morning flight that would have you arriving early enough in the day to have all afternoon and evening to see and do things, because…sleep.
Fly into JFK, because it's a much longer drive into Manhattan than LaGuardia. But you'll see plenty of Queens, and possibly some of Brooklyn, though you don't really know how to tell one from the other, especially from the back seat of a car.
Opt not to eat much for breakfast and choose the flight schedule which doesn't allow time for a quick snack before your connecting flight, insuring that your stomach is so empty by the time you land at 4:00 p.m. that you get a sick headache and your stomach attempts to eat itself.

Supplement your sick headache and cannibalistic stomach with a car service driver who has an astonishing level of confidence in both his driving skill and his car's ability to brake quickly, low-tire-air-pressure-dash-warning-light be damned!

Time your drive into Manhattan to coincide with rush hour and convince your driver to wear iPod earbuds while transporting you. Also be sure to suggest that he take you and your sensitive stomach through the Queens Midtown tunnel, filled with bus fumes, because bus fumes make you instantly nauseous.

When you arrive at your hotel, bolt for the nearest deli for a sandwich and chips. Return immediately to your room, exchange your traveling clothes for the hotel robe, and search for something – anything – to watch on TV while you ease your newly-acquired food into your stomach, hoping it doesn't revolt.

Discover, to your delight, that Apollo 13 is on. Recall that you watched this movie from the beginning the last time you were in a hotel room by yourself, but fell asleep before it was over. Rejoice in your good fortune that you are getting another chance to finish this classic film.

Graciously accept suggestions via text from a friend who just recently visited New York. After mistakenly telling her that you are currently holed up in the hotel room in a bathrobe eating a sandwich and watching a nearly 20 year old movie, talk big via text about how you plan to go out in a little while. Don't do it. In fact, don't even bother to go up to the hotel's rooftop restaurant with a view of the Empire State Building.

Briefly consider getting up early to go run and take in the city. Realize you forgot to pack a sports bra and decide to sleep in instead.

With the one hour you have free before the car service arrives to take you back to the airport, finally decide to do something legit and, based on a recommendation, walk nine blocks down Park Avenue to Union Square Park. Take a quick selfie and walk back.

Lazily take a photo of the "Welcome to New York" sign at LaGuardia as your plane is doing its departure taxi. Snap one more of Citi Field from the air and text it to your daughter because you think she'll be excited to see one of the landmarks depicted in the cult classic Sharknado 2, which she and you inexplicably love (after all, she went so far as to call you when she got the selfie you took at the Duck Commander headquarters two weeks earlier). Realize when you arrive home five hours later that she never bothered to check her phone.