It's no secret that it's been a rough summer.
Sarah Kate has handled everything like a trooper, but there's only some sunshine you can muster when you're an eleven year old girl cooped up at home being nagged by your mom into doing 45 minutes of exercises three times a day for weeks on end. But she's been a trooper and it's paid off – we can finally see the light at the end of the tunnel. Although she doesn't have a lot of stamina yet, she's able to do most of what she could do before, and her legs definitely look better.
On Monday evening, we gathered a number of friends – ours and Sarah Kate's – for a party to celebrate the end of her rehab. As I said on Friday, she isn't done-done with rehab, but the bulk of it is behind her. We kept it simple – pizza and cupcakes – and the kids romped around the playground, played football in the grass, and got wet in the splash pad (well, one small boy in particular did, anyway…)
Then came the main event.
Sarah Kate was oblivious, talking to a friend from softball, when a pickup truck pulled into the park behind the pavilion, towing a boat.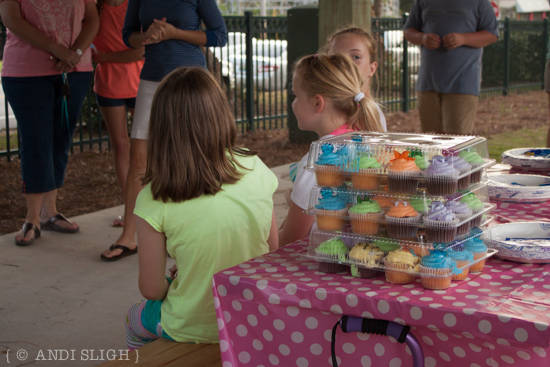 A man got out, walked over with a Mickey balloon, and handed it to Sarah Kate.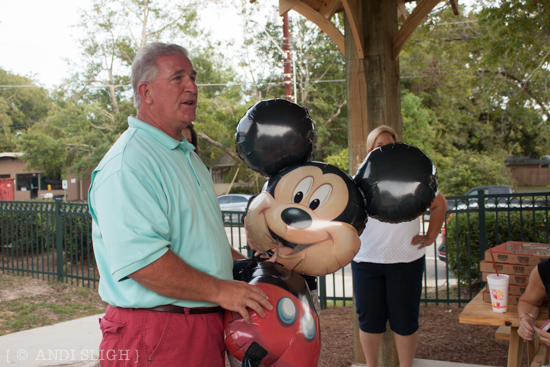 She had talked to the man earlier, but she didn't think much about it – she assumed he was someone her daddy knew from work (because Mr. Andi seems to know everyone in town…)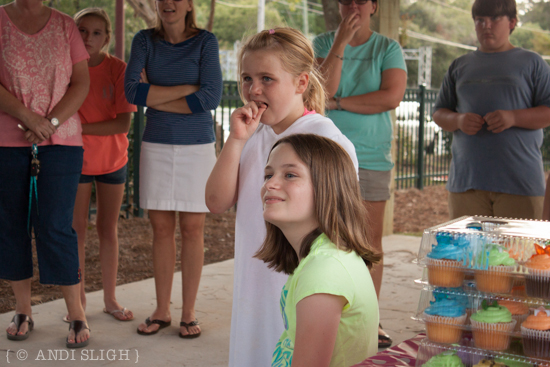 But this man was not a friend of her daddy. He's Mr. Ronnie and he was a representative of Magic Moments, a Birmingham-based nonprofit that fulfills dreams for Alabama children with life-threatening or chronic medical conditions, and he was there to share some exciting news with Sarah Kate.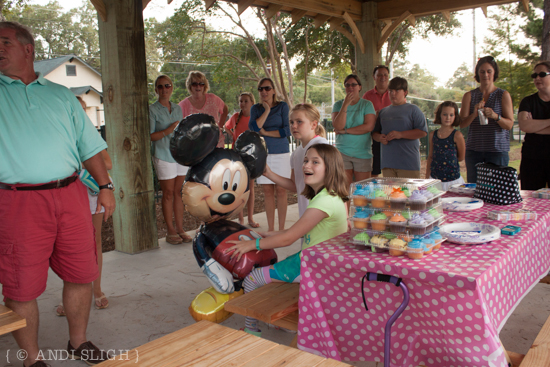 She has been granted her wish of a Disney cruise!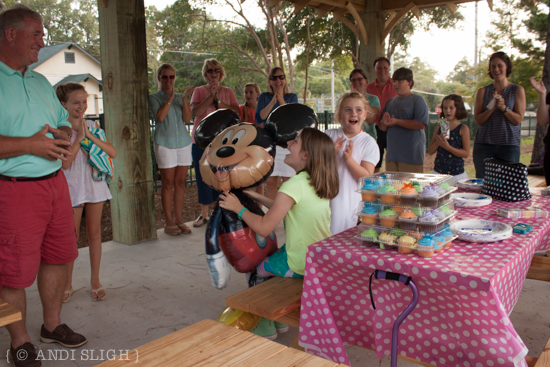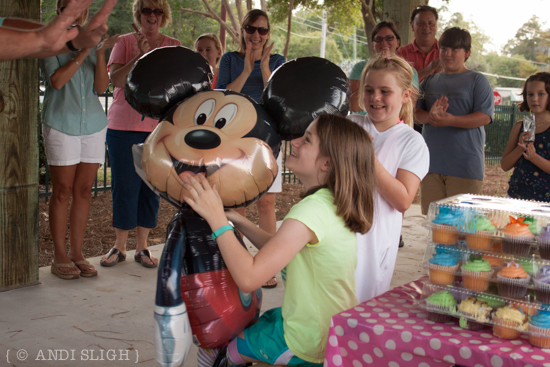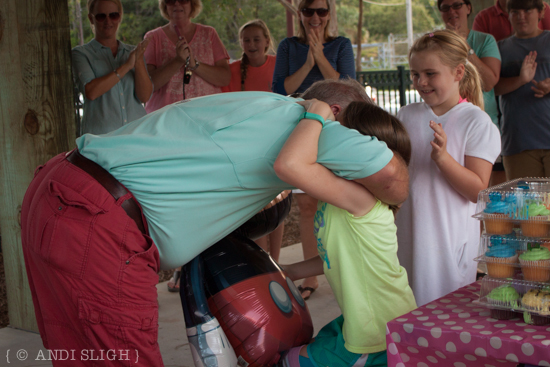 A few months ago, right at the beginning of Sarah Kate's rehab, her physical therapist made the recommendation. We were reluctant at first to fill out an application – weren't there plenty of kids out there who were more deserving? – but she encouraged us. There's a board that decides which children should receive a wish, and they would make that decision without us disqualifying ourselves right out of the gate. So we did, and I heard back from them within just a few weeks.
Mr. Ronnie escorted Sarah Kate to a small "cruise ship" (Mr. Ronnie's boat), where Mickey and a few of his pals waited.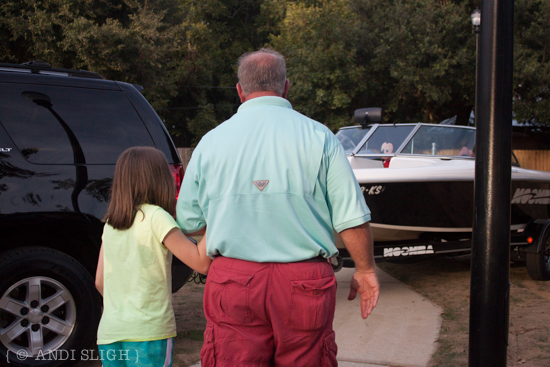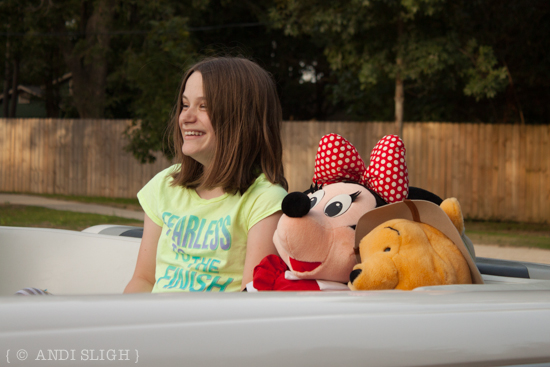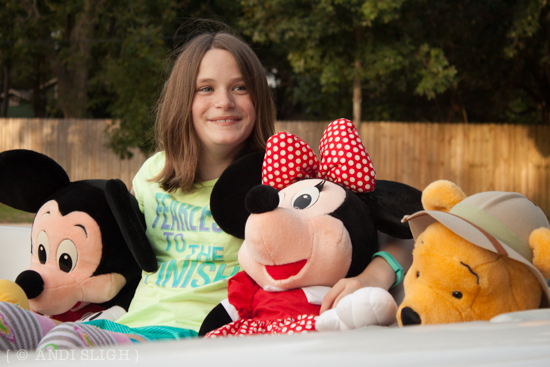 Nathan, of course, had to be a part of the action, but as you can imagine, he was more interested in attempting to drive the boat off the trailer.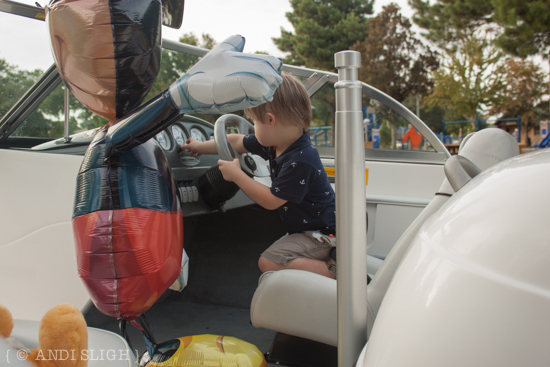 Once on board, Mr. Ronnie shared with Sarah Kate all the details of her upcoming trip (mom, dad, and little brother will get the chance to go, as well). And do you know what's going to make it even better? The cruise sailing dates are timed to coincide with the cruise my dear friend Katie and her family will be on, so Sarah Kate (and the rest of us) will have a friend on board.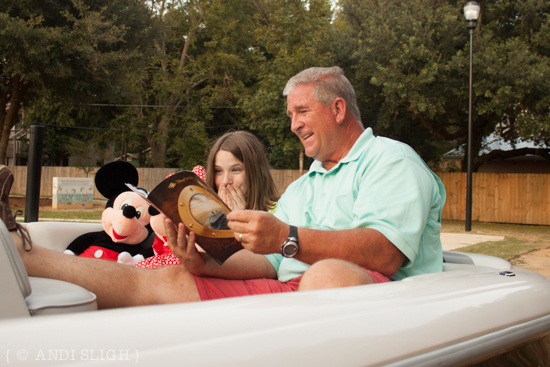 I was so excited for her, but I have to admit that the whole thing was tough for me. I can't help but feel like we're not deserving of such a generous and wonderful gift. But I have to remember that it's not about me. It's about Sarah Kate and her having just a few days to relax and be a kid, and for us to support that by being relaxed ourselves.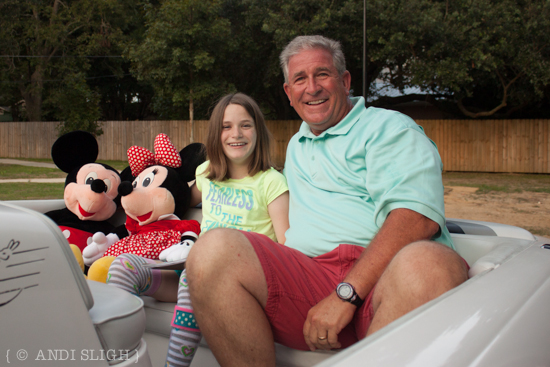 If you'd like to learn more about Magic Moments, visit their website, and if you know of a child who is a resident of Alabama that could be served by Magic Moments, please take a few minutes to refer them.