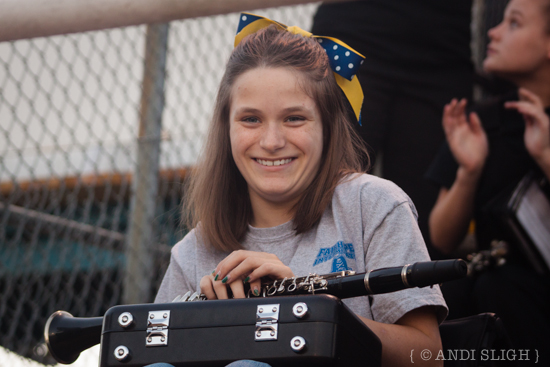 Sarah Kate made her band debut on Friday night.
The sixth, seventh, and eighth grade band students were invited to participate in the pre-game spirit tunnel and first half pep music at the Mayberry football game. Participation wasn't mandatory, so I was glad Sarah Kate wanted to join in.
Things got off to a rocky start.
Before we ever left the house, Sarah Kate was on the verge of tears, apprehensive about standing on the field with her clarinet. She was afraid she would drop it, break something, fall, or [fill in the blank eleven-year-old band horror]. Mr. Andi was out of town, but my mother-in-law, Charlotte, came for the weekend and between the two of us we managed to calm her down. The experience was the opposite of the start of softball, when I was a wreck and she was very nonchalant about the whole thing.
The next hiccup came when I went through the dozens of ribbons she has to put in her hair and discovered that she has several colors of blue, none of which were the school color of royal blue. We went with navy instead, assuming that mixed with the gold it would be close enough. Unfortunately, we discovered too late that the opponent's school colors were navy and gold…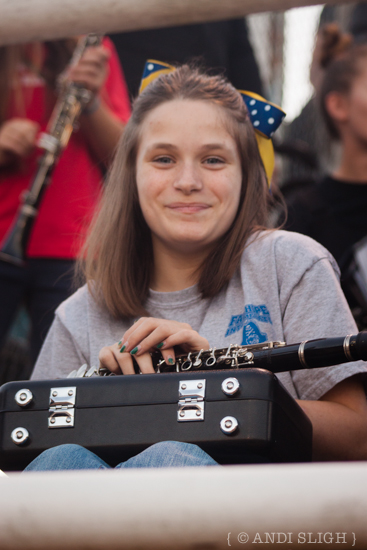 At the stadium, we met hiccup number three: an incredibly steep decline at the band member gate. Sarah Kate definitely couldn't walk down it, and the wheelchair wasn't especially safe, either. The gatekeeper looked like she wasn't going to let us in (Band Members Only!), even for a moment to help her, but about that time Sarah Kate's band director appeared and we were allowed to pass (with a guarantee that we would return from whence we came and go pay to get in like everyone else).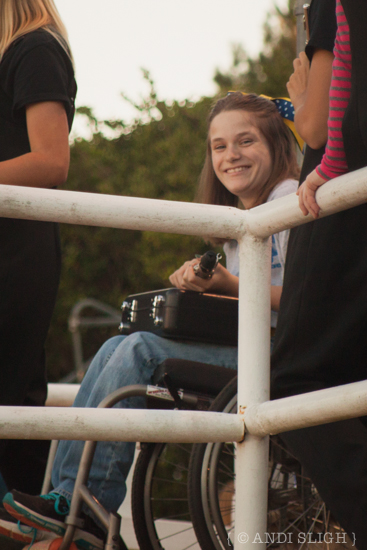 The woodwinds were lined up across the bottom few rows, so they just let Sarah Kate stay in her chair at the end of the row. The clarinet section leader, Emily, seemed to take a shine to Sarah Kate, helping her get warmed up or whatever it is that school band people do.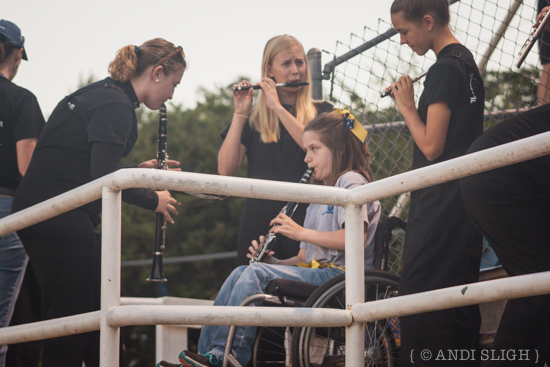 When it came time for the spirit tunnel, Emily had Sarah Kate hold both of their clarinets in her lap while she pushed her onto the field.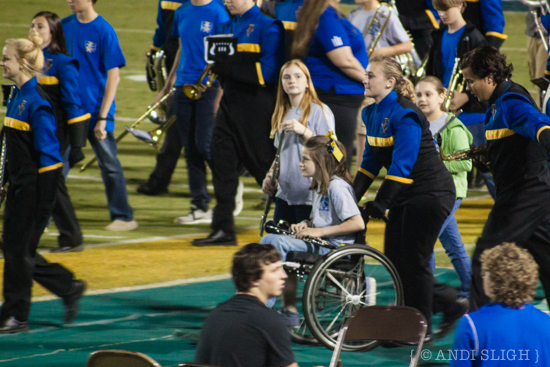 Sarah Kate had a great spot – right next to the cheerleaders and Pirate mascot. She didn't actually play while the team ran out, because the sixth graders hadn't learned the fight song, but she told me that she held her clarinet and moved her fingers without blowing so she "wouldn't look like an idiot."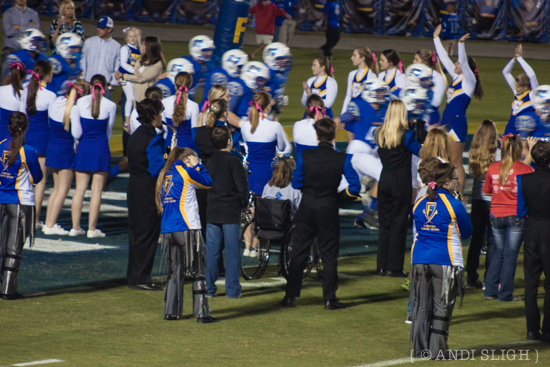 At the end of the first quarter, I eased back down to the band section of the bleachers to check on her. She was wearing a sweatshirt I'd never seen before and smiling and chit-chatting with great gusto. When she spotted me, she waved wildly – a vast improvement over the pre-game apprehension.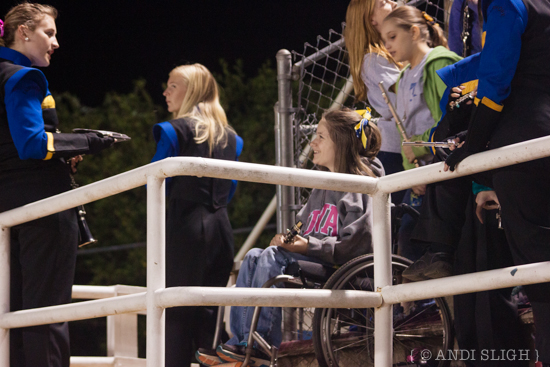 A wheelchair isn't exactly compatible with marching band, of course, but she has almost three years before she needs to be able to play in formation. It's possible, too, that she could have the opportunity to be "in the pit" and avoid marching altogether. Of course, she also has almost three years to change her mind and ditch band completely.
One of my biggest worries as she approaches the teen years is how difficult it will be for her to be included fully – not just to be known and liked, but to truly find "her people," the ones with common interests that will be her close friends. Friday night's band debut was just one half of one football game on one night in one season, but when I collected her at the end of halftime and saw the genuine joy on her face, I was encouraged.
Sarah Kate may find her tribe, after all.
——-
Don't forget! If you'd like for me to share a photo of your "buddy" here on the blog for Down Syndrome Awareness Month, share it on my Facebook page by noon ET tomorrow, October 29 with your child's name. No Facebook? Shoot me a message here and I'll let you know where you can send your photo. Photos will be up on Thursday!