Were you wondering last week how I managed to get so many photos of Sarah Kate at her band debut with Nathan in tow? I did not, in fact, become incredibly capable of multitasking and managing Nathan in a crowd, as you might (almost certainly not) have guessed. My friend, Shelton, who is infinitely more fun and laid back than I am, offered to keep him while we went to the game.
Shelton has three boys of her own – sixth grade on down – and they (especially the middle and youngest) LOVE Nathan. According to her, they were over-the-moon excited about his visit. I dropped him off at 5:30 p.m. on the dot and tried not to squeal the tires on my way out of her driveway.
So we made it to the stadium and Shelton started texting me the sweetest, most adorable cell phone pics ever. The boys clearly were having a LARGE time.
This one is my favorite – Nathan looks like Little Brother.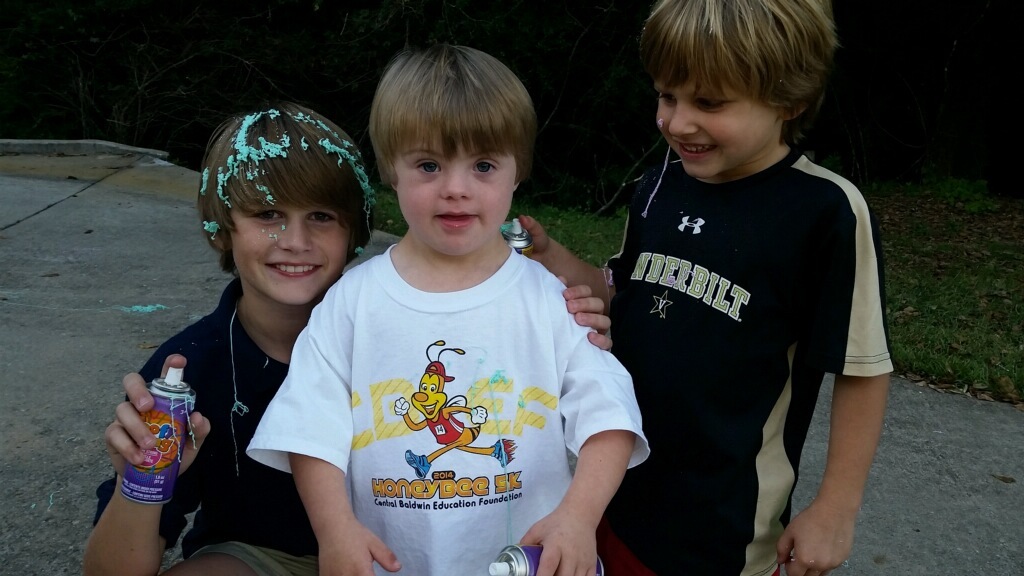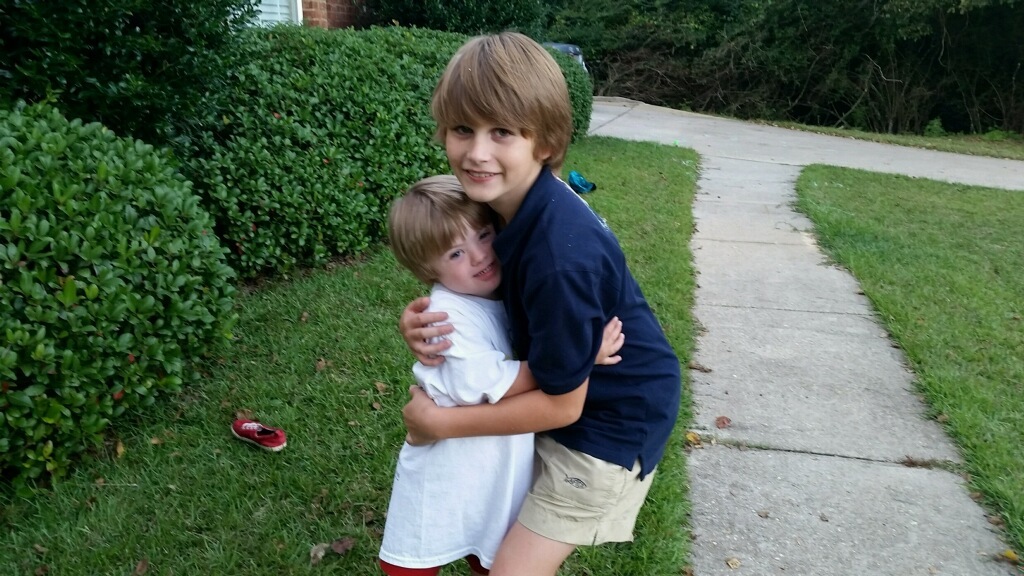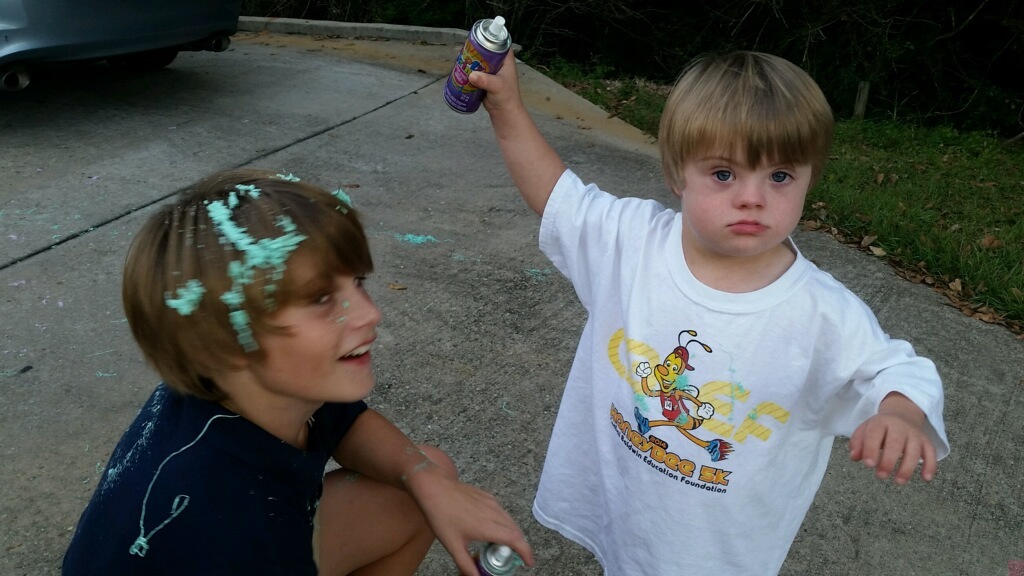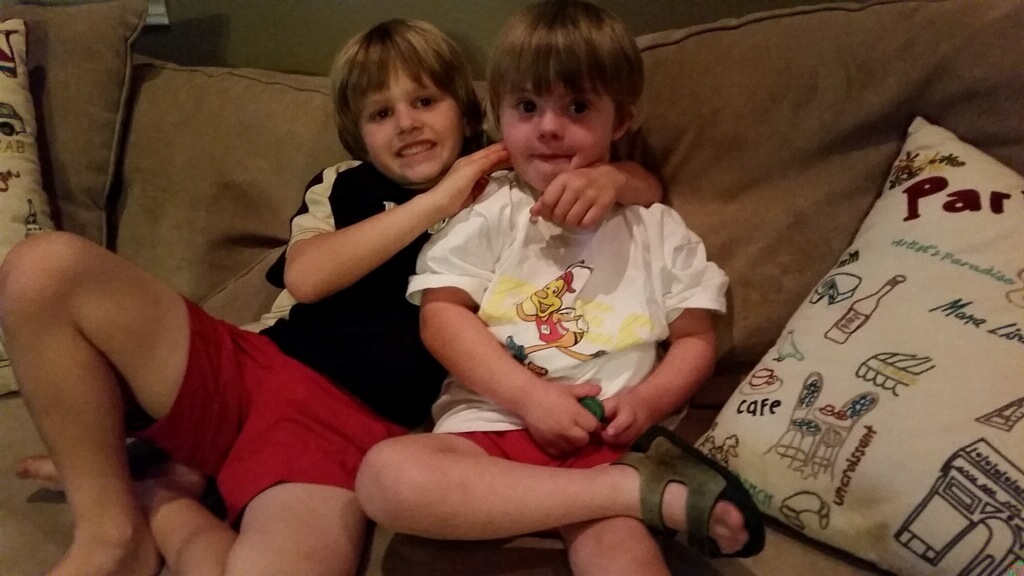 The downside of sending Nathan to Shelton's house is … they are Bama fans. That isn't something I ordinarily would hold against them, but I do draw the line at having him drink out of Bama cups and teaching him to say "Roll Tide." I already have one child who's been tempted to defect – I don't need two.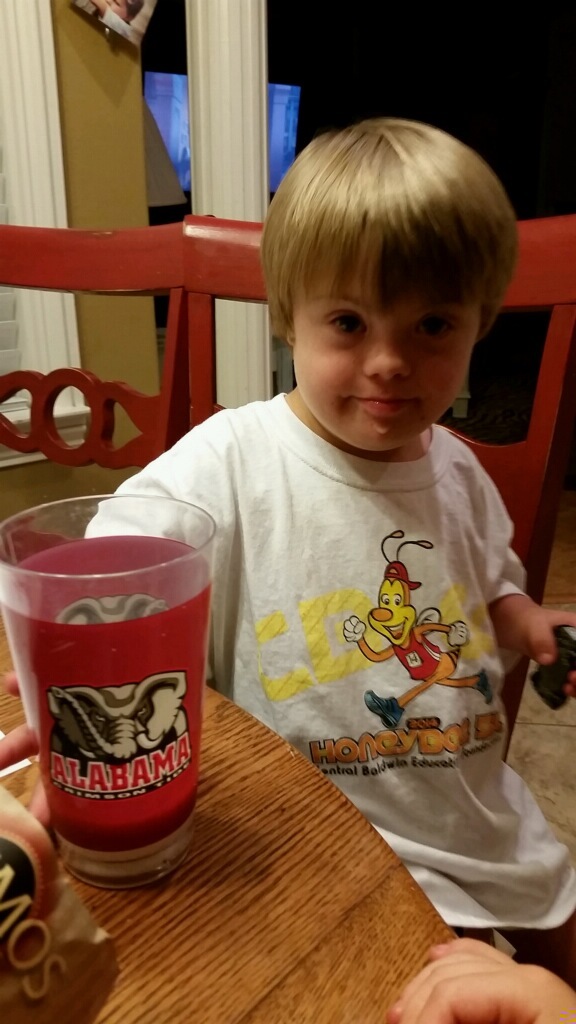 Halloween is tonight (WOOT!) so I thought I'd do a little #FlashbackFriday. Sarah Kate and Nathan will continue their annual tradition of having coordinating costumes – Superman and Wonder Woman – as they have the past three years (basically since Nathan was old enough to go). Ironically, we dressed him as an angel for his first Halloween. An ANGEL. BWAHAHAHAHAHAHA….
You guys are totally on board with another Frozen snippet, right? How about a carefully laid out case that Frozen is just a Disney-fied reboot of The Shining? Before you go WHA? and skip to the next snippet, go read it. I'd posit that Frozen is at least as much like The Shining as the fairy tale it's supposed to be based on, and Disney has deviated before – The Little Mermaid was way different from the original Hans Christian Andersen tale.
Hmmm…..
I finally got on board with Doctor Who, and I took Sarah Kate along as my companion (Whovians, see what I did there?) I've been hearing about it FOR.EV.ER but when Haley shared a link to this great Beginner's Guide to Doctor Who I figured I'd give it a go. Mr. Andi loved the classic series when he lived in Australia in the 80s so it had that going for it, too (though he's completely disinterested now).
I used the one-off method, starting with "Blink" but instead of jumping into Series Five after the first four episodes she recommended, we went back to the beginning. Sarah Kate joined me after "Blink" and we've watched at least one episode together (and usually two) every day since we started. She's right at the age where it terrifies her but she wants to keep watching. 🙂
I will admit that those early episodes in Series One had terrible special effects (2005, low budget!) and the cheese factor was exceedingly high – it's unlikely I'd have ever made it past the first few if I had started there – but what everyone says about the series is right. The show got better around mid-series one so now we're primed to keep going. Do you watch?
Speaking of Stuff You Can Watch on BBC America, I'm looking for someone – anyone! – who  is a fan of Orphan Black. I'm not sure how I even heard about it, but I started watching when the first episode aired in 2013. I think it's fascinating and the actress who plays the protagonist on the show, Tatiana Maslany, deserves an Emmy. She is AMAZING! I have never found another soul who watches it, though, and therefore no one to hash it out with. Do you watch? If you don't but are curious … it's free on Amazon Prime!
Have a great weekend!
This post was inspired by and is linked to Conversion Diary's 7 Quick Takes.