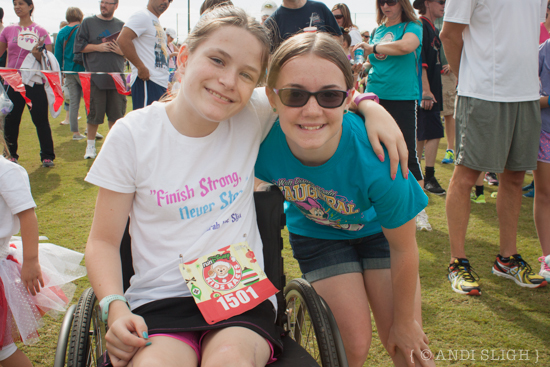 Seriously, folks. I don't even know what to say anymore.
Sarah Kate made a return to Walt Disney World this past weekend to attempt the Kids' Mile for the second time (Spoiler: she finished it). If you need to get caught up, read my original blog post about the first attempt here or go watch the video that RunDisney produced about her here. And of course, in between the two she had both femurs broken intentionally.
Unlike the last time, when we showed up on race day I was confident she could do it. A few weeks earlier, however, it was a different story. She had insisted she wanted to and would be able to do it, but she was only able to walk about one-third of a mile without a break.
We started training in the neighborhood: we would bring the chair and she would walk as far as she could, then use the chair to take a rest (still moving forward), then get back out and walk some more. She covered a mile each time, but a lot of it was using the wheelchair. I figured we could use that same strategy on race day if we had to, allowing her to finish the mile with a combination of walking and rolling.
But then…last Tuesday she walked a whole mile.
And on Wednesday, she did it again at running club. So on Friday, we loaded the car and headed south for Disney Wine and Dine Half Marathon Weekend.
This time, her friend Emma (daughter/stepdaughter of Steve and Katie) pushed the wheelchair-as-sag-wagon. They stretched a little in the start corral – Sarah Kate wearing her new shirt with what has become her personal slogan: Finish Strong. Never Stop. While we waited for the start, a man came over and asked me if Sarah Kate was "the girl from the video" and after chatting with us for a moment, asked if he could take his son's photo with her. Like she's a celebrity or something. 🙂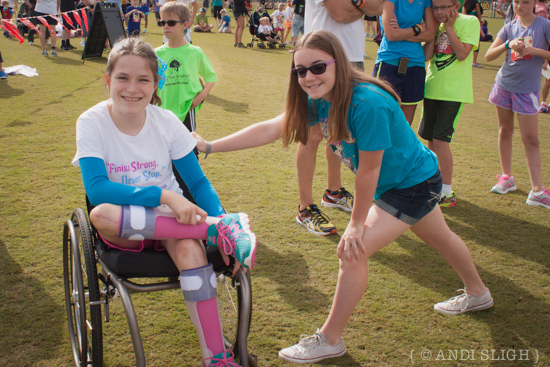 The first third or so of the course was across grass and packed gravel, which was a little tricky.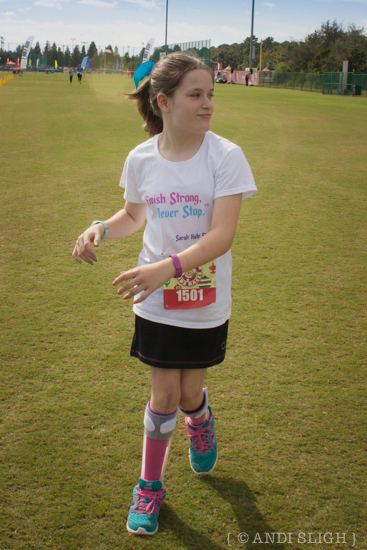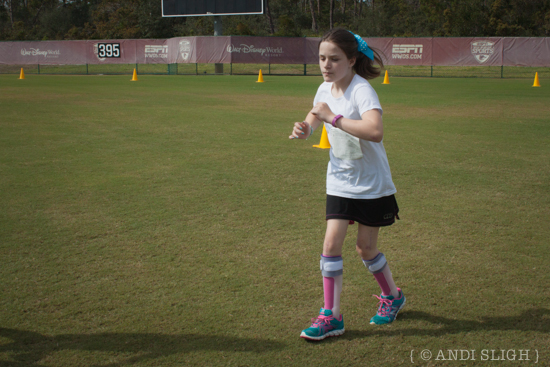 Sarah Kate started out fine, but then asked to push the chair to steady herself. She didn't take any breaks, however – just kept moving along at her own pace.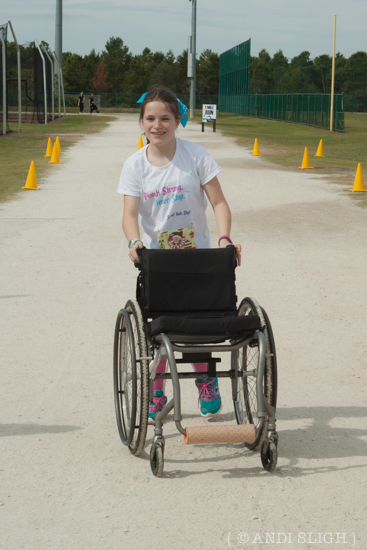 When we reached the half-mile point, Steve (navy shirt) and Gabe (neon green shirt) were waiting to cheer her on.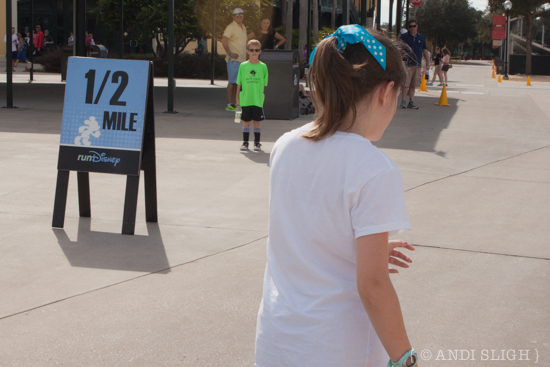 As were a bunch of random people that we didn't know.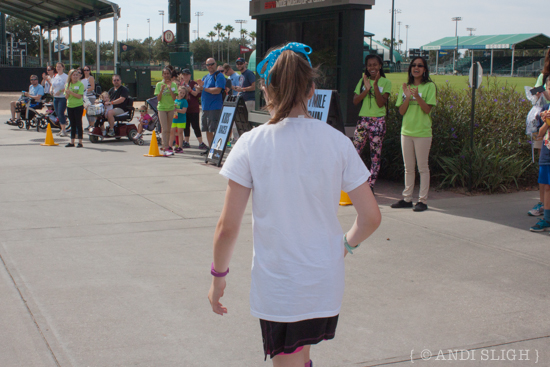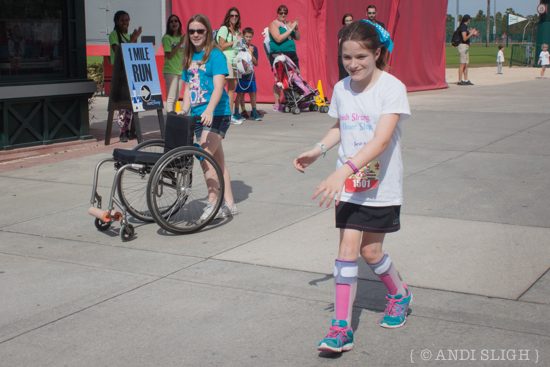 A few minutes later, she wanted some music, so I played her requests: Don't Put Dirt On My Grave Just Yet by Hayden Panettiere and Eye of the Tiger by Survivor. Once she reached the three-quarter mile marker, we saw an old friend up ahead: Bob Hitchcock of Disney. He had a few people with him, including a cameraman, and they filmed her briefly and walked alongside her.
Around that same time, we could hear the voice of Disney race announcer Carissa Bealert in the distance … and she was talking about Sarah Kate. We learned later that Carissa was telling the spectators Sarah Kate's story and encouraging them to wait for her.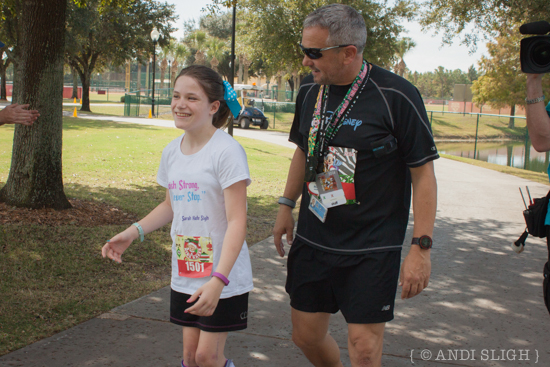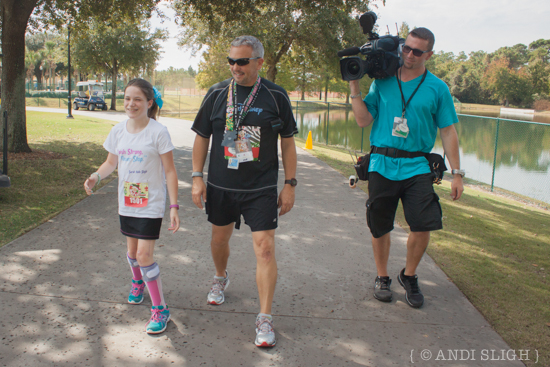 When Sarah Kate reached the track for the final 200 meters of the mile, Bob and his entourage went on ahead of us. We could hear Carissa announcing that Sarah Kate was about to enter the track. As she came around the south end of the track, a Disney cast member named Shannon was waiting to direct her toward the finish – a cast member using a wheelchair similar to Sarah Kate's, to be exact.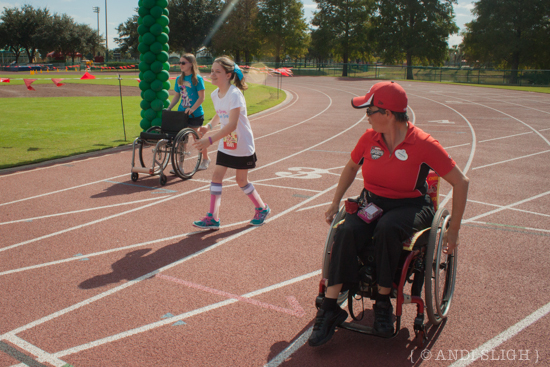 With 100 meters to go and the cheers of the spectators to encourage her, she picked up the pace.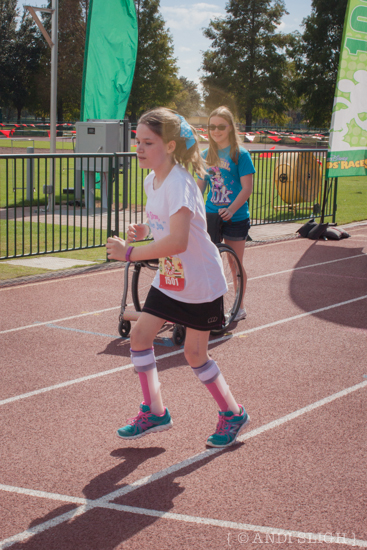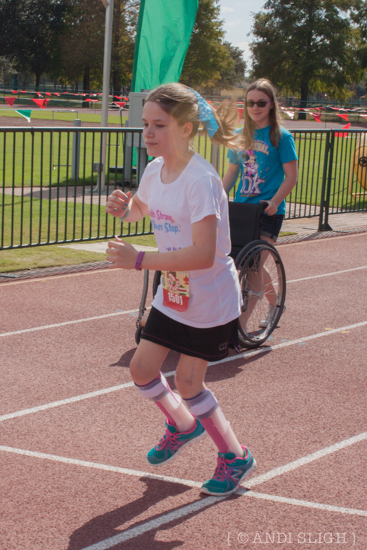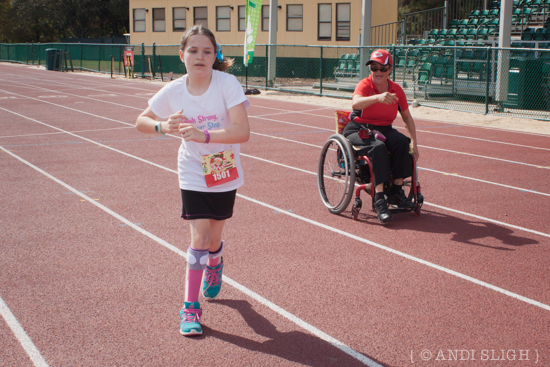 She had her own cheering section, but they were hard to spot because they weren't the only ones cheering (and I am unbelievably disappointed that this picture is blurry, as it's the only one I got of her personal supporters).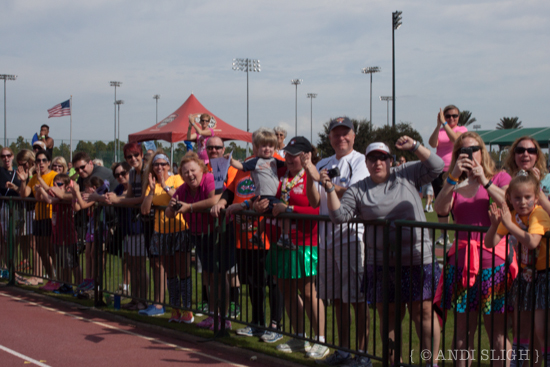 The race staff and volunteers came to the finish line to greet her.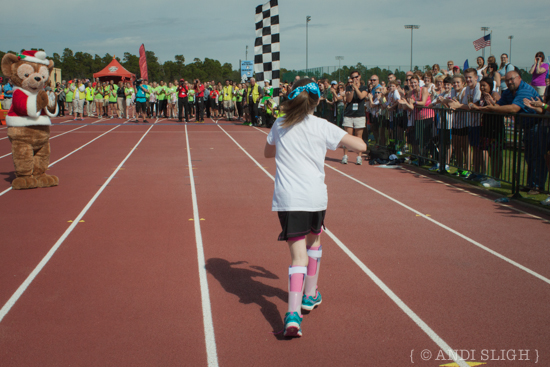 And Duffy the Disney Bear joined her for the final stretch.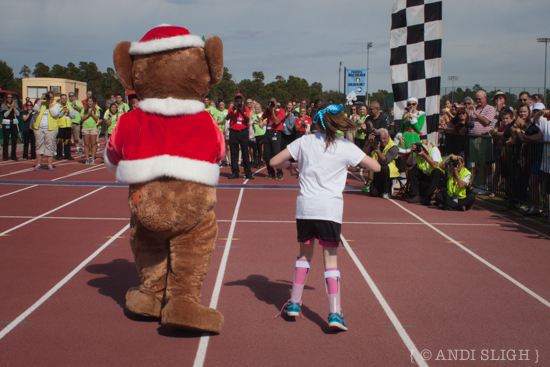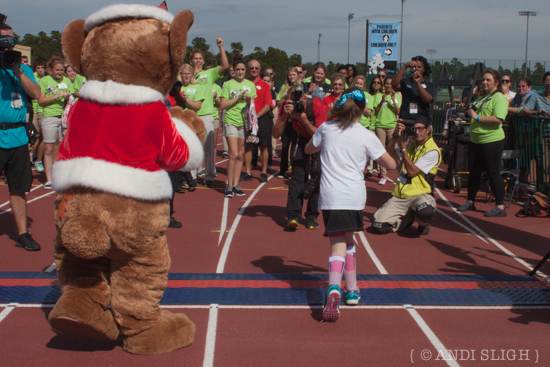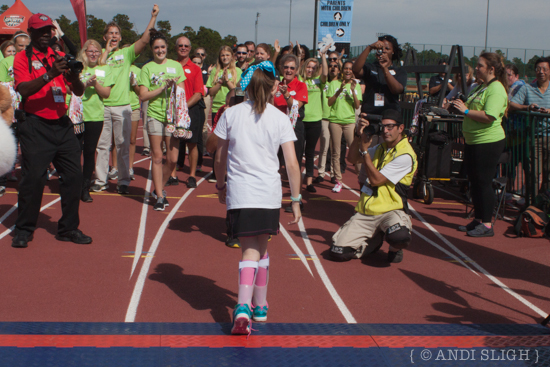 A sweet volunteer named Bailey awarded her medal (and someone else gave one to Emma, too, for supporting Sarah Kate).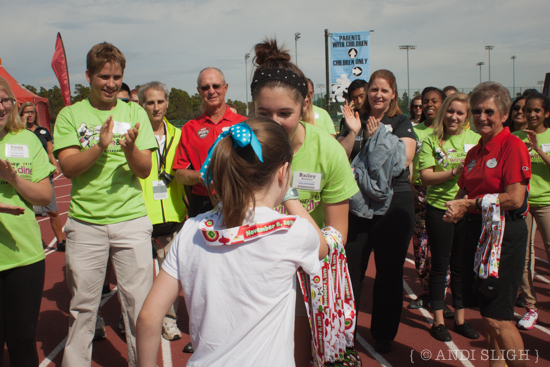 And then Bob and his crew swooped in for her post-race interview. How weird is it to type that? Really, really weird.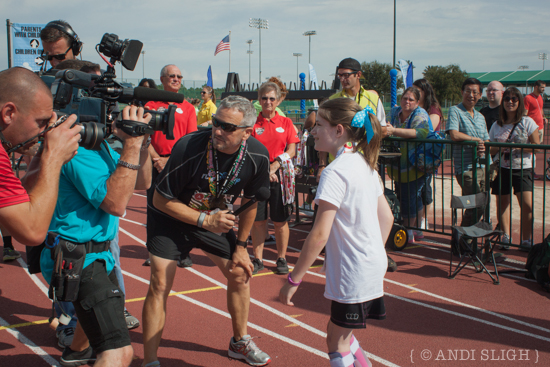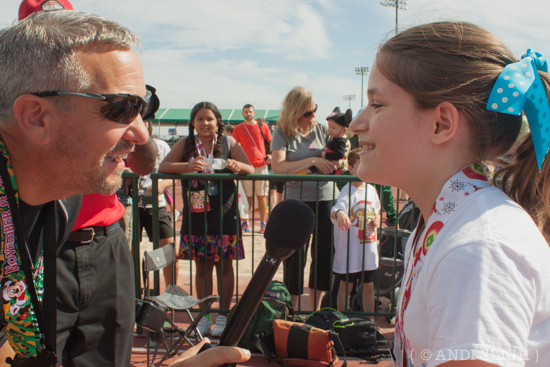 And a hug…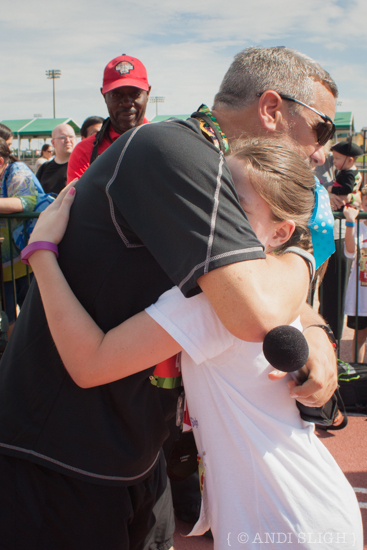 And another one from Carissa for good measure…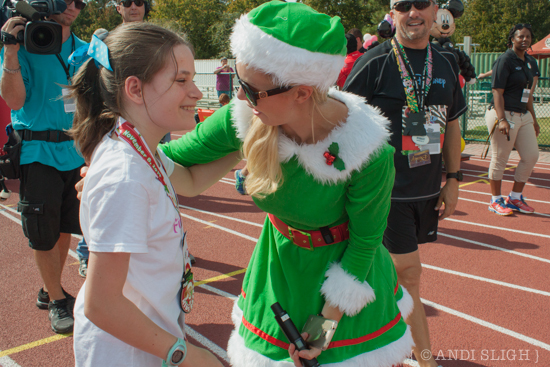 And finally…we made it out of the chute to visit with our wonderful, supportive, ROTE friends who cheered her on the way they always do.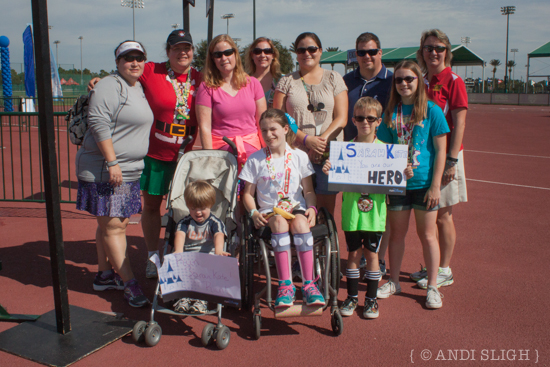 I've asked Sarah Kate if she would like to write her own blog post about the experience, and she seems willing. We hope to have that up either on Thursday or next Tuesday; I also have photos and a recap of Nathan's race to share. In the meantime, take a couple of minutes to go watch the new video update on Sarah Kate that RunDisney posted after the race this weekend.