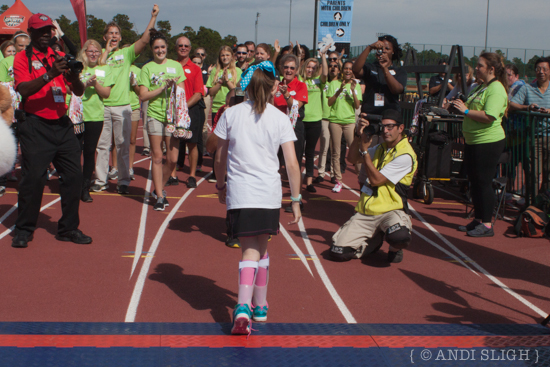 There's no doubt that the two videos RunDisney produced about Sarah Kate were meant to inspire people. The marathon and half marathon are on many people's bucket lists, and with good reason: they present a challenge, within reach of ordinary people, that require a lot of hard work and willpower to complete. The #WhyIRunDisney video series features many people with unique stories and challenges, and not all of them are related to disability.
I saw it in comments after the February race, again when the first video came out in June, and once again when the second video was released last week – people stated that seeing what Sarah Kate accomplished made them realize that they should get their butts off the couch and get moving. People were inspired to start, to keep going, to continue to the next level … all because of a young girl, the last place finisher of a one-mile fun run.
But not everyone saw it that way.
A few folks – adults with disabilities themselves – grumbled that it was "inspiration porn" (if you aren't familiar with the term, go read Explaining Inspiration Porn to Non-Disabled People by Cara Leibowitz). Many people in the disability community are frustrated by internet memes portraying people with disabilities doing ordinary things, usually paired with inspirational quotes (though I have to point out that the inspirational quote paired with Sarah Kate's videos – "Finish Strong. Never Stop." – was something she actually said, in her interviews for both videos, because it's been her mantra for years).
I get it, I really do.
As Sarah Kate indicated in her blog post last week, she was surprised by all of the attention she's received – it was "too much" – because she doesn't understand why so many people care about her just being herself. Some people with disabilities believe, as the author said, that "inspiration porn" reinforces the notion that their disabilities are tragedies to be overcome, rather than just a different way of being, reducing them to caricatures rather than real people.
As the non-disabled mom of two children with disabilities I have a foot in both worlds, so I can see both sides.
I'm the most unlikely distance marathon runner in the world, because I have fibromyalgia and I'm lazy, yet I've completed seven marathons and even more half marathons (somewhere between 15-20…I've lost count). Sarah Kate has helped me finish all of those seven marathons and quite a few of the half marathons; I kept pushing because I've seen her push so many times. But it's no secret that I despise the pedestal people tend to put us on, and the frustration about "inspiration porn" is drawn from a similar thought process.
I went back and forth on it for awhile, until a few days ago when it dawned on me that maybe Sarah Kate's story (and others like it) shouldn't be viewed as either/or, but as both/and. Can Sarah Kate's story be both inspiring AND inspiration porn? I think her story is just her story – how it is interpreted depends on the audience.
For people who are struggling with a particular hardship (and make no mistake, even Sarah Kate would describe the events of the past seven months as a significant challenge) or people who've let their inner voices convince them that they can't do something, a young girl who set a goal and did what it took to achieve that goal can be the spark they need to put their heads down and power through.
For parents with young children who've been diagnosed with cerebral palsy and who desperately want to know what may be possible for their child in the future, Sarah Kate's success can become their goal, and when they are old enough, the goal of their children – Daniel Velasquez is a frequent topic in our house.
Sarah Kate's story will be wasted on many people, because they won't see the whole person, only the disability. But it won't be wasted on all of them, and for those whose eyes are open to the reality – that Sarah Kate is an ordinary girl, facing an extraordinary challenge head-on, setting a goal, and achieving it – she may, indeed, inspire them to do and be more than they would have otherwise.
What do you think?