As I mused last week, Sarah Kate has reached the age now where I feel like, more and more, she needs to be the one telling her stories. It shouldn't just be me, because I'm not living them the way she is (although one astute reader gave me a great reason to keep going). So on Tuesday I told you about the Kids Mile in my own words, but today you're going to hear it straight from the horse's mouth – unedited and uncut.
Take it away, Sarah Kate.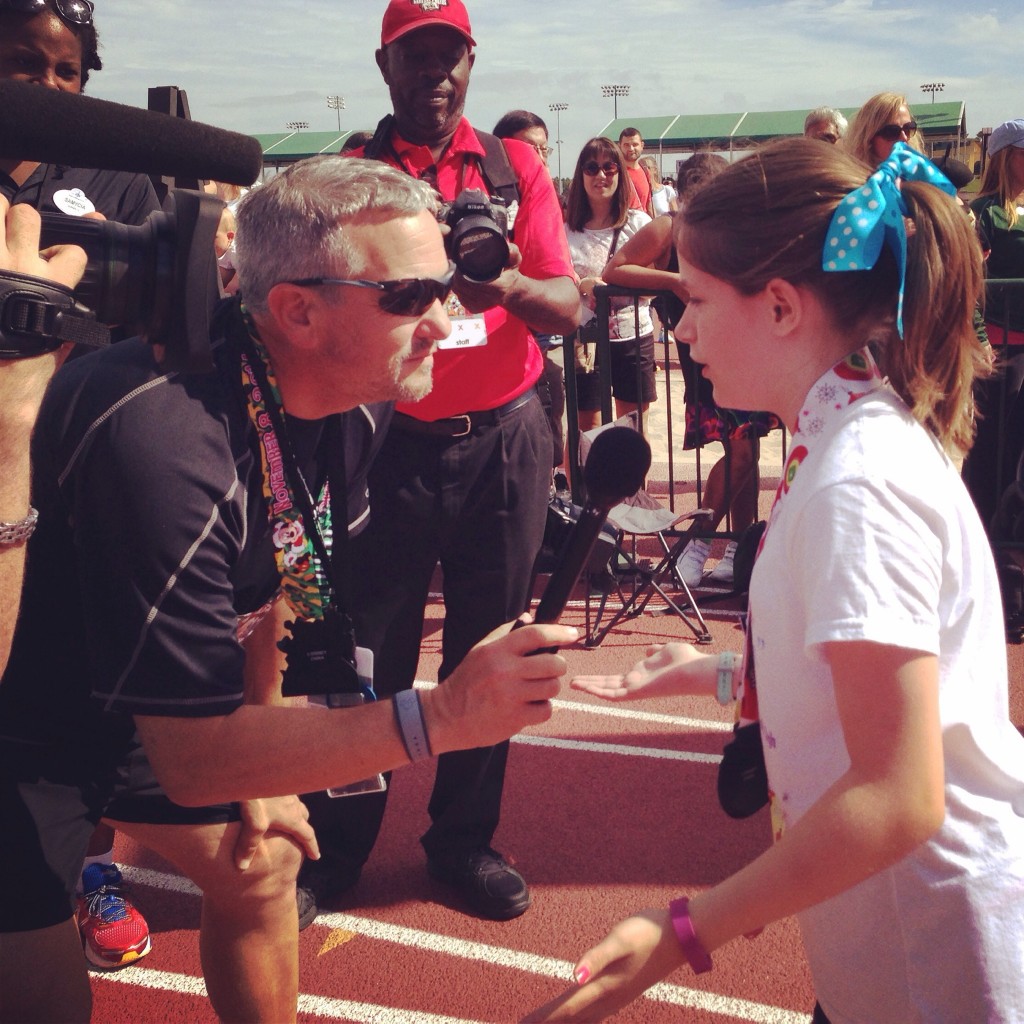 ——-
A few weeks before the race I didn't think at all that I would be able to run the Disney Mile. I trained the entire two weeks before to make sure I was able to do the whole mile. The day of the race I was 100% sure I could do the entire thing. Before the race, I stretched my legs and warmed up to make extra sure I was ready. I began the race behind everybody else, as usual trotting slowly along.
Most of the first part of the race was on grass and on gravel which kind of threw me off balance and I had my doubts but I pushed the chair to make sure I didn't fall. When we finally reached the flat, even concrete I let go of the chair and started walking on my own. My legs started to hurt at about the halfway mark. My mom played some music for me to help keep me going.
As we passed the 3/4 mile mark we could see everyone waiting for me and we could hear the announcer saying that the people should stay because there was a "special runner" coming soon. Feeling happy that all those people cared and were using up their time while waiting for me to finish the race I felt more confident.
We neared the track and I knew I would be able to make it to the finish. One of the cast members who was in a wheelchair like mine cheered me on and rolled beside me which lifted my spirits. I was only 100 meters away from the finish and everyone who had waited for me to finish all cheered me on. Duffy was standing near the finish and when I trotted by him, he jogged along side me to the finish line. It was the happiest moment in my life, I was still in the middle of rehab from major surgery and there I was running a mile and still feeling strong after.
The comments left on the video were really nice but it's too much, all I have been doing at the Disney races is just doing what I love to do. It's inspiring to know that so many people know who I am and want me to keep running.