Last week, the para at Nathan's preschool hinted broadly that I needed to bring my camera to the preschool Christmas program because Nathan had a key part. I was … concerned. We're talking public preschool here – neither private nor parochial – so that pretty much meant no Jesus, and the primary secular Christmas character is Santa Claus. Never mind that we've decided not to do Santa anymore – I didn't think Nathan was up to it.
BUT! The patron saint of preschool Christmas programs (i.e., Mrs. Angie, the preschool teacher) was interceding for us. Nathan was not, in fact, the man in the red suit (though he does have a nice round belly), but Rudolph, the Red-Nosed Reindeer.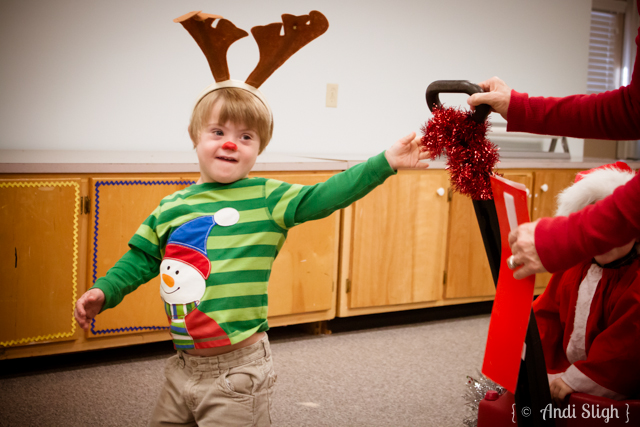 Tremendous sigh of relief.
Nathan got to play the part of the kid with a little bit different look who had a unique gift bestowed upon him at birth. Perfect fit. I don't foresee him saving Christmas one day, but it's certainly possible he'll go down in history (possibly as the kid who was bitten by the largest number of fire ants simultaneously and survived!)
He started out strong. He jingled his bells during "Jingle Bells" (though there was a brief wardrobe malfunction) …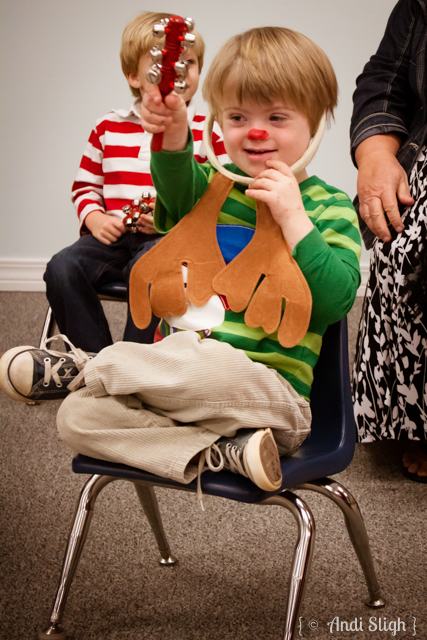 … and he tapped his red nose during the Rudolph song.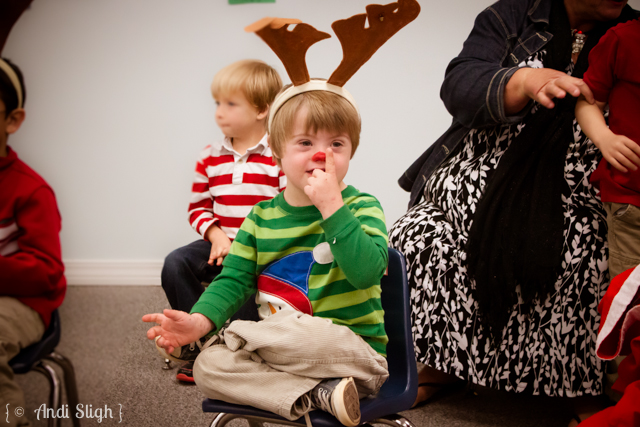 I considered the program a success based solely on the fact that he was not attempting to bolt from the lineup like one kid who was in the row behind him (who, I might add, was not the only escapee – in fact, he wasn't even the only one I caught on camera).
Clearly, I have incredibly high expectations for my youngest child. 🙂
After those first two songs, he pretty well let the rest of the gang do the heavy lifting. I guess since he was the most exalted reindeer – he was, after all, the one that made sure Santa made it to his ultimate destination (in this case, the last chair on the right) – he figured he'd already put in his time and he was done.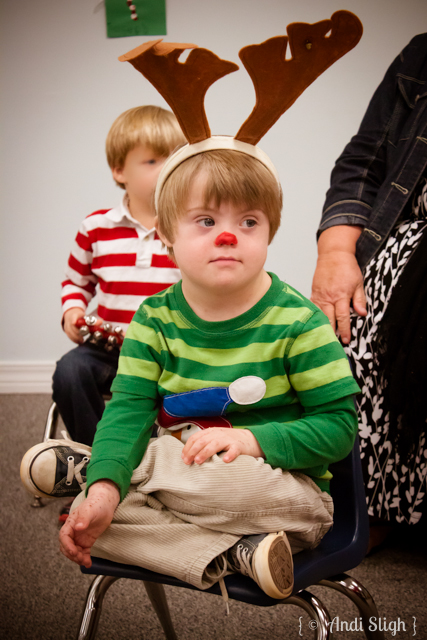 Near the end, all of the children were expected to stand up. He was, in a word, reluctant to do so. Since I was sitting directly in front of him, I gave him a stern look when he refused to cooperate and started The Count on my fingers. He sorta-kinda acted like he was going to stand up, but I could see the wheels turning just as surely as if I were watching an old cartoon of Wile E. Coyote. He called my bluff: he knew I was never going to go through with Three in the middle of the program in front of all those people.
When the grand finale arrived, each child was called up one by one by Santa to take a bow (or curtsy, in the case of the girls). Nathan was All About the Bow.
Which isn't surprising at all.