At long last, it has arrived!
Two months and a hefty co-pay after we started this process, Sarah Kate is now the proud owner of her very own, not-a-hand-me-down, well-fitting custom wheelchair. You've seen the old (loaner) chair in photos when we were at Disney and at her band debut but I thought a closer look might be in order so you can REALLY appreciate the new one.
See that footplate? Orange pool noodle and chevron duct tape.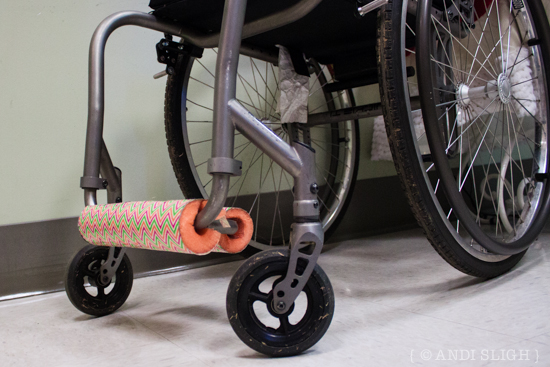 Sarah Kate's therapist, who rounded up this loaner chair for her, adjusted it as much as possible but there was just no way to raise that footplate enough for her feet to rest flat. Since it was too big, it was also a little top-heavy – not normally a big deal, but with a backpack hanging on the back? Not good, and it didn't have anti-tip bars to keep it upright, either.
The seat back was also a very basic sling type – not supportive at all. I forgot to take a good photo of it, but you can sorta-kinda see it in this pic from a couple of months back: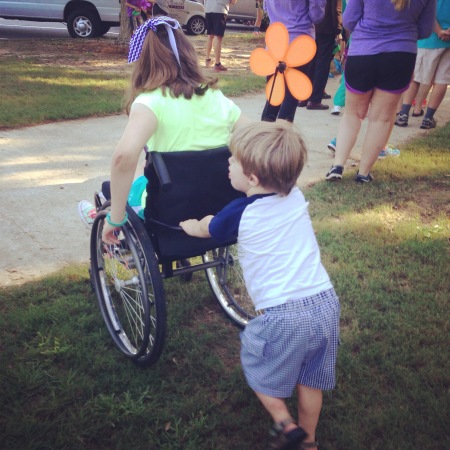 But the new chair? Lumbar support! Perfectly positioned footplates! Custom color chosen by Sarah Kate herself!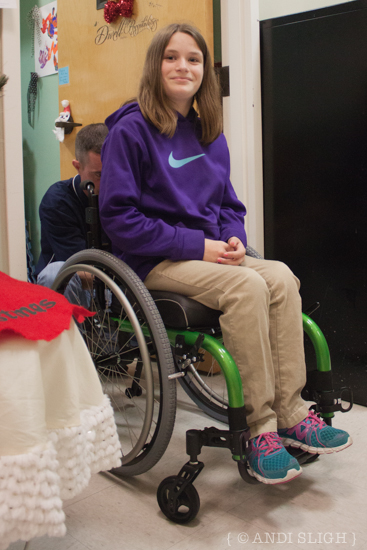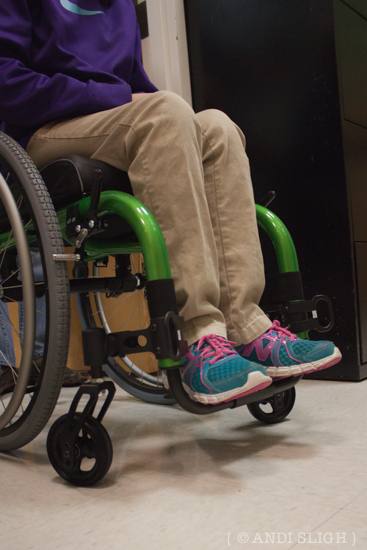 Colin from National Seating and Mobility spent a little time making adjustments here and there and showing us how to do things like break it down for traveling. After that, it was time for a little road test. Or hall test, anyway. 🙂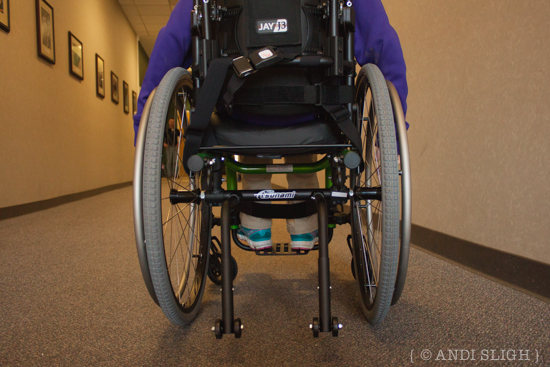 How's this for a comfy-looking seat and backrest? Worlds better than the square cushion and basic rectangle sling she had before…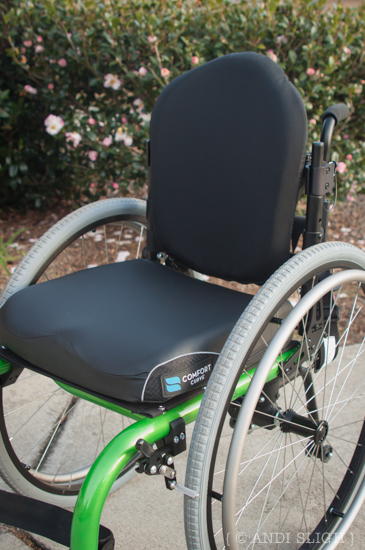 I think she looks like a wheelchair model, don't you? 😉 I kid! Mostly…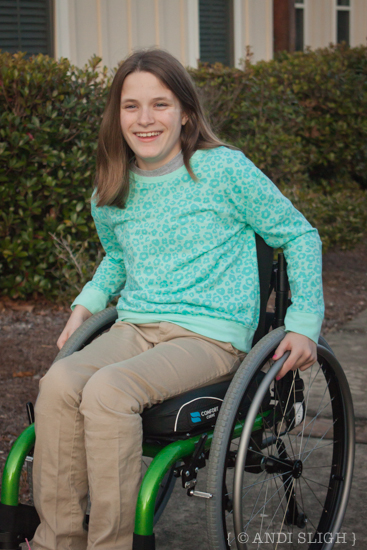 I'll be honest – I'm still not super happy about the chair. A trip Walt Disney World or a football Saturday at Jordan-Hare Stadium are one thing, but school is something else. For so many years, I drove the car line, deposited her at the school entrance, and drove away. It was a given that Sarah Kate walked. She may have needed a little help every once in awhile, like on field trips or during fire drills, but she was independent.
The wheelchair is hard for me to swallow, and yet … I'm the one who pressed for it. I want her to walk (and run!) on her own, without need for an assistive device. But what I want more is for her to be independent, and for those times when walking isn't practical, I don't want her to be stranded or dependent on someone else. The wheelchair will take care of that issue.
But accepting the chair feels like accepting an indefinite regression.
So I guess I have a love/hate relationship with the chair. I'm grateful for it and glad that we have it, but I hate that we have to have it. It's not that I have a problem with wheelchairs, it's that we made it almost twelve years without one.
Does your child use a mobility device? How do you feel about it? Tell me in the comments!
——-
The Deets on the New Chair:
Make/Model: Ki Mobility Tsunami ALX
Color: Granny Smith Gloss
Options: Bolt-on Push Handles, Transit Option, Adjustable Height Rigidizer Bar, Aluminum Angle Adjustable Footplates, Pneumatic Rear Tire with Airless Insert, Rear Anti-Tip Bars, Velcro Adjustable Calf Strap
Seat Back: Jay Products J3 Mid-Thoracic
Feel free to ask me if you want to know what any of that means. I have a vague understanding of it all. 🙂