I don't want to write about the news that broke this week about prenatal blood tests, but I've written about it so much in the past that I feel obligated. Once upon a time, I expressed cautious hope that prenatal testing for Down syndrome would give women more time to make thoughtful decisions, rather than rushing into abortions under duress. However, I also expressed fear that many more babies would be aborted.
I hate to say I told you so…
It dawned on me this week that I need a second blog with a pen name for all the things I can't post here. I can't say why I can't post them (obviously!), but I definitely need an outlet for some of that stuff.
This video is beautiful and raw and uplifting to my spirit. I hope you enjoy it as much as I did. When the guy in the plaid shirt pulled the sheet off his mannequin, my heart sang.
The Holderness Family is at it again (of course)! I love to watch them, but boy, do they make me tired!
While I'm on a roll with videos, Mr. Andi and I watch this scene from Four Christmases about once a month. When we were first married, we were like Tod and Margo from National Lampoon's Christmas Vacation, but after a few years we became more like this couple:
Years ago, before my sister and brother-in-law got married, we played Taboo – us vs. them. The game went down just like this clip. One of the more memorable clues was when I guessed "Tom Cruise" based on Mr. Andi's clue "used to be good looking but isn't anymore." It was epic, and was the only time in my adult life when I actually enjoyed playing a board game.
Sarah Kate and I have made it through the first four seasons of Doctor Who and have only one David Tennant episode left. I'm not sure I can deal with the Doctor played by anyone else, and she agrees. But the writing seems to be getting better and better, so we're moving forward with faith that all will be well.
It will, won't it? Please, Whovians, tell me it will!
Many years ago, a friend called me late one night for help. That night and the next few days are etched in my brain – a whirlwind of hastily-packed boxes, a meeting with a judge, a protection order taped to my fridge, and hiding her car in my dad's barn. My friend had been abused by her husband. She was fortunate in that she had the support and resources she needed to leave and start over, but not all women do.
You can help domestic violence victims in your community by donating your no-longer-used wireless devices and accessories to HopeLine from Verizon. HopeLine from Verizon was established to help victims of abuse feel safer and less isolated by giving them access to emergency or support services, employers, family and friends.
HopeLine phone donations given locally benefit victims of abuse within that geographic area. Phones and accessories can be donated at any company-owned Verizon Wireless retail store or by mail (you can print a postage-paid label here). Click the snowflake to learn more.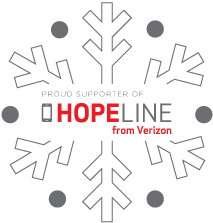 Have a great weekend!
This post was inspired by and is linked to This Ain't the Lyceum's 7 Quick Takes.