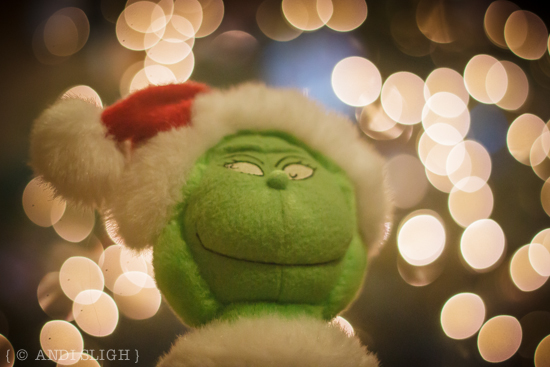 Mr. Andi and I have decided: it's time for Santa to go.
After nearly twelve years as parents, with one four-year-old and one preteen, you'd think we would have made this decision a lot sooner – or at least that we would feel some pressure to keep the ruse going for a few more years. But no, we don't feel any pressure to keep going – I just wonder why it took us so long.
So why are we ditching the man in the red suit? For starters, the whole idea is a little bit creepy. One night of the year, a random stranger dude sneaks into the house while they are asleep, and leaves things for them. Often, this random stranger leaves candy. Candy is delicious, but … our kids are supposed to know not to take candy from strangers, right? Mixed message right there. But never mind all that – let's do a little Sligh family flashback:
Sarah Kate, who is not now and never has been a fearsome child, who happily chats it up with strangers, who is at ease in front of a microphone and a camera, and considers almost nothing worth getting upset over, was TERRIFIED of Santa, and it wasn't just one Christmas in 2004. When she was little, I couldn't even push the stroller in the vicinity of the mall Santa without her Freaking. Out.
Oh, but she was little! you say. Let me present Exhibit B from 2010, when she was a couple weeks shy of eight years old:
Does that look like a child who's happy to be sitting on Santa's lap? (Sarah Kate, not Nathan!)
By 2011, she had learned how to mask the look of fear, but … still no smiling.
In 2012, she managed to give me a smile, but … notice she isn't sitting in Santa's lap this time, either. Also, recall that the whole Santa gig was up in 2011, so by the time this photo was taken she'd already known The Secret for nearly a year.
But still, you may wonder why we're making this decision now, when Sarah Kate is past "Santa age" and we only have Nathan left. It all started when I was talking with some friends recently about the Santa tradition. A couple of us don't recall ever really believing in Santa when we were kids, while others told how they (or people they know) felt betrayed and lied to when they learned The Secret.
The conversation moved on to the relatively recent Elf on the Shelf phenomenon. We never got on board the Elf Train, largely because I am lazy and had no interest in coming up with grand schemes for the wretched creature (now that I've heard stories about what a nightmare the Elf has been for some families – kids who feared the Elf, kids who freaked because someone touched the Elf, kids whose dog ate the elf, and so on – I'm really glad I didn't do it!) But laziness wasn't the only reason we never had an Elf.
Santa was never a prominent character in our Christmas story, so no Elf was needed.
We've always had Santa in our family, but we've never made a big deal about it. Several years in a row we visited the Santa at Bass Pro Shops, but the main reason we went was for the other activities and entertainment. The Santa thing would last a couple of minutes, but our family would be in the store for two hours or more, just having fun. Santa's biggest impact was on Christmas morning when the kids found three unwrapped presents under the tree, though they also had a few wrapped presents from us, too.
In our home, the three unwrapped gifts have always been symbolic of the three gifts that the Magi brought to Jesus. A few years ago, we added the story of St. Nicholas to the symbolism of the three gifts – the real St. Nicholas heard of a man too poor to afford the dowry for each of his three daughters to marry. On three separate occasions, St. Nicholas threw a bag of gold through the window of the man's house at night. We intend to continue this tradition in our family, because it reinforces our faith and values to our children.
But what's the harm in Santa?
I think it depends on the child. I remember the Christmas that the Santa Myth was first confirmed for me, though I'm pretty sure I suspected long before that day. My parents wouldn't let me get up to see my presents because they, um … weren't finished putting them out yet. 🙂 I wasn't traumatized so for me it was no big deal, and while Sarah Kate may have lived in fear of sitting on Santa's lap, I don't think revealing The Secret bothered her all that much, either – no sense of betrayal or confusion that we could see.
But Nathan isn't like Sarah Kate.
The fact is that he's both cognitively and emotionally different from his sister. He's never been into Santa all that much, and we don't know if that's because we haven't made a big deal of it or because he doesn't understand it. What we do know is he's very much a creature of routine, which is common for people with Down syndrome. We're concerned that if we portray a visit from Santa as something that is Real that happens Every Year that when it doesn't happen anymore it could be difficult for him.
We don't think it's worth the risk.
Are we anti-Santa? Not at all.
As far as we're concerned, Santa is a tradition some families enjoy, a character in movies and songs, and a way to talk about the real St. Nicholas. We don't talk about him in our house (though we do talk about St. Nicholas), but when we put the tree up this year a few Santa ornaments may make the cut. Nathan's preschool Christmas program is on Wednesday, and the hints I've received strongly point to him playing the part of Santa – we're okay with that, because it's Santa the fun story.
But Santa won't be making a visit to our house.
How do you feel about Santa? Delightful childhood experience, or dangerous precedent?