Sarah Kate's Magic Moment aboard the Disney Dream was last week. I didn't share why I was taking a blog break, because I didn't want to advertise to all the Interwebs OUR HOUSE IS GOING TO BE EMPTY FOR A WEEK! COME ROB US! so … now you know. I asked her to share a bit about her experience today; on Thursday I'll provide my own perspective, including tips on cruising with kids who have special needs.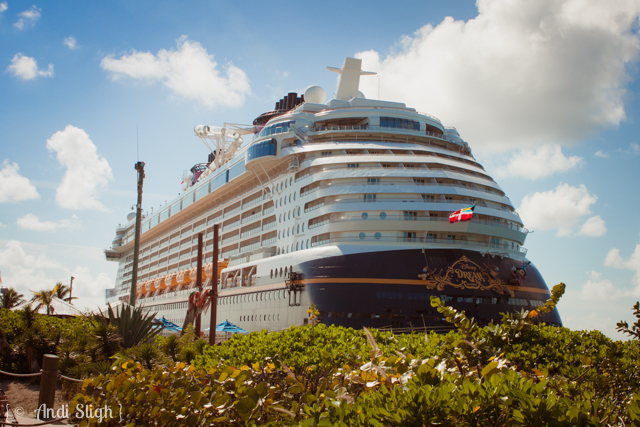 Magic Moments of Alabama, for some of you who don't know, gave me this cruise, and I wish I could tell them thank you in person, but…. I can't. Still, I'm really glad that they gave me the chance to experience a Disney cruise, because it was the best vacation ever!
Now on to the trip itself. Well, first of all, our room was HUGE. You could fit, like, thirty people in there! My mom took me on a short tour of the ship – it got interrupted by the muster drill but we got back on track after. The Oceaneers' Club was where Nathan would be, and it was full of little computers with little Disney games to play. It had different play areas that were themed for different Disney movies, like Fairies and Monsters Inc. and Andy's Room from Toy Story.
The club I was in that was for 11-14 year-olds was called Edge, which is ironic because that is what my 6th grade CCD group at church is called. There were also computers in Edge but the games were more "teenage friendly." There were two TV screens – one could show two different things at the same time, like a movie and a Wii game. They also had tons of games and Disney movies. There were games like Gender Wars – boys against girls trivia – and just regular trivia. And one thing that was cool, they had a GREEN SCREEN ROOM where you could pick a setup – Disney 365, weather, etc. It was like the way in movies they have the camera that shows you what you look like and the main one that tells you what to say.
And OMG, there was FREE pizza and ice cream on the pool deck. Oh, my favorite thing on the pool deck to do was the Aquaduck, a huge water slide that went around the ENTIRE ship. The bad news was, I had to climb an equivalent of about five flights of stairs to get to it, so I only rode it twice.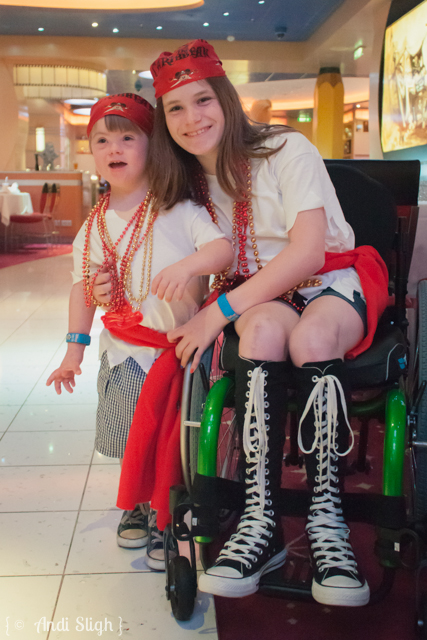 Wednesday was Pirate Night so we got to dress up as pirates and there was a little skit they did with Captain Jack Sparrow and after there was a HUGE firework show. At dinner on Pirate Night, the menus were pirate-themed. The pork loins were called 'Captain Jack Sparrow's Pork Medallions.'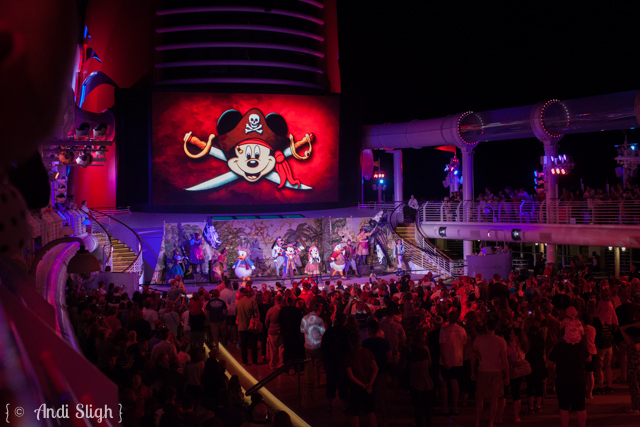 There were three restaurants and every day you went to a different one. On Monday at lunch and again on Thursday evening we went to one called the Enchanted Garden, Monday night we ate at the Royal Palace then Tuesday and Wednesday night were at the Animator's Palate, and Friday morning we had breakfast back at the Enchanted Garden. The waiters that served you kind of "followed you" when you switched restaurants so you always had the same waiters no matter what restaurant you ate in.
The Enchanted Garden was obviously garden themed and at night the walls and ceiling got darker like night. There was a buffet at lunch when we first boarded the ship. The Royal Palace was palace themed – on the walls were paintings of the Disney princesses before and after they became princesses. The words on the menus were written in really fancy writing that was kind of hard to read. The Animator's Palate had screens on the walls where you could talk to Crush from Finding Nemo, and he could actually HEAR you. There was this one lady who was taking pictures of him and he saw and asked her what her name was, then repeated it. :0 Near the ceiling, but still on the walls were colorless drawings of Disney characters and on shelves were clay figures of some of the characters and little "artifacts" like a Scream can from Monsters, Inc.
Now, on to what I actually DID. Monday after the muster drill, I spent all my time in Edge playing Super Smash Bros. Brawl, which is like the best game ever! I won after about 3 tries and then the following days when I played I won. On Tuesday, I went to the pool – and of course was going to die if I didn't ride the Aquaduck – and like I said I climbed the extremely long staircase and rode twice. You rode in a little inflatable 'boat thing' which held two people and hung on for dear life. There were these two parts where you went up and then went down again and then water washed over you and you got drenched.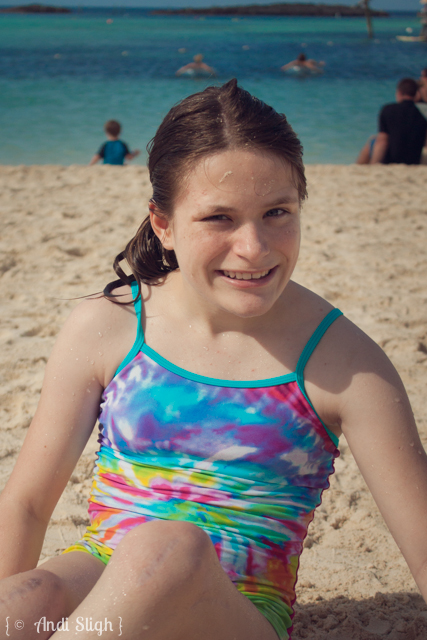 On Wednesday, we sailed to Disney's private island, Castaway Cay – "cay" is pronounced like "key" – and for every piece of land there is at least one beach. I spent the day freezing to death in the water, sleeping in one of the chairs, sitting in the sand, or eating. I had to use a beach wheelchair that was like a chair on a bunch of beach balls. It was the worst thing I've ever ridden in – it wobbled and wouldn't steer straight and someone had to push me, which I hated most, and it was just really uncomfortable. We went back on the ship and later we got to see Captain Mickey and have our picture taken with him. We got to see him along with two other "wish kids" and and their families. The two other families got a cruise from Make-a-Wish. Nathan loved Mickey and enjoyed making "music" on the piano. Because of Magic Moments we also got little gifts every day like chocolate covered strawberries and a fruit and cheese plate, and they also gave us photos of our private meeting with Mickey.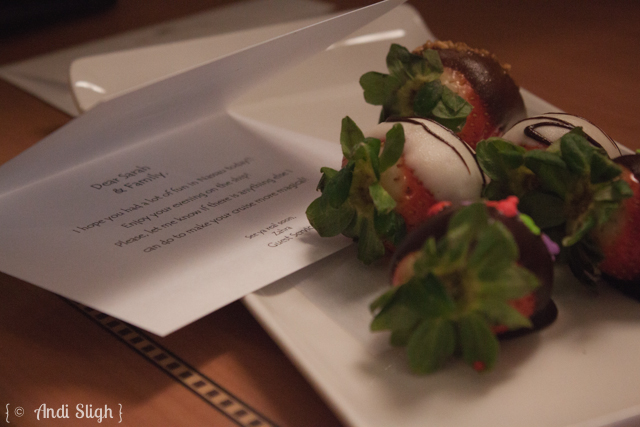 On Thursday, I saw Into the Woods, which was about five different fairy tales and the full stories – Jack and the Beanstalk, Rapunzel, and Little Red Riding Hood – but it's so complicated, you'll have to see it to know what the heck I'm talking about. And later in the day, I saw Disney's Believe show (also, too difficult to explain, you'll have to see it to understand what it is, but it had lots of classic Disney songs).
Our Disney Cruise was the best, and we owe it all to Magic Moments.