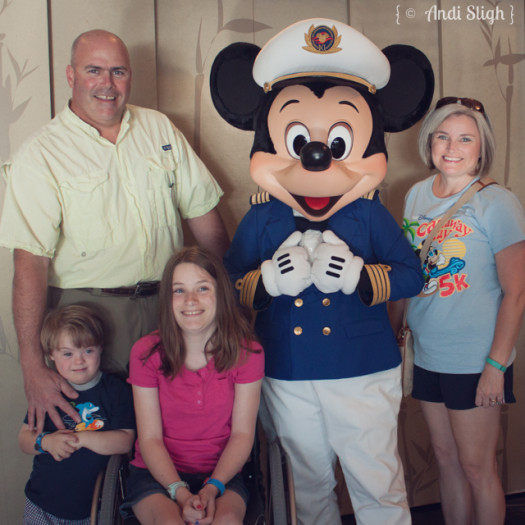 Based largely on Ellen's review of the Disney Fantasy, I felt pretty confident going in that it would be a good experience. What I wasn't sure about was what the experience would be like for OUR family. Every kid with special needs is different, and we have two!
How would a Disney cruise go for our family with two special needs children?
The short answer: near perfection. The long answer? Coming right up! We had the added benefit of having friends aboard with us (the oft-mentioned Katie and her family), which was a special bonus.
Youth Clubs on the Disney Dream
There are five youth clubs aboard the Disney Dream; our kids used three of them: Oceaneer Club, Oceaneer Lab, and Edge. Oceaneer Club and Oceaneer Lab are both for ages 3-12 and are connected by a shared craft and dining area, with the Club geared toward younger kids and the Lab for older ones. When kids are registered, they are given an armband with an RFID chip, and you provide a password that only the staff can see. No kid leaves without their password! You can give your password to others, however (I had Katie's and she had mine).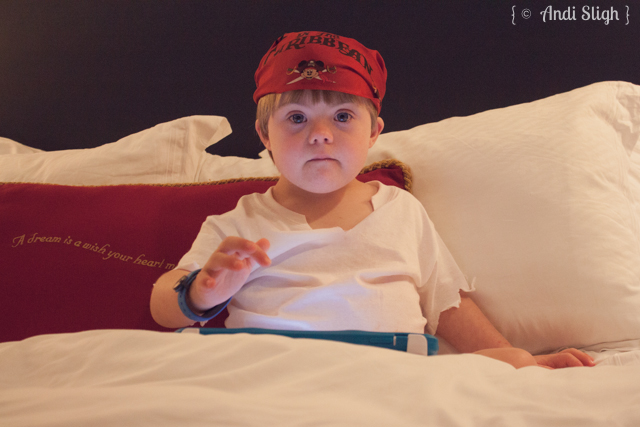 Children are required to be potty trained to participate, which worried me a bit, because Nathan goes potty but we have to prompt him. We figured we'd just send him in a pull-up and check in at regular intervals. When I first registered him, they asked me a few questions (if he had any allergies, dietary restrictions, etc.) – none of what they asked applied, so I said no. When he went to the club the first time, however, they noticed his pull-up and asked me the same questions again. I figured out it was ADA-restricted-speak for "I'm sure there's a good reason why we should let him wear a pull-up in here, what is it?" at which point I said, "Well, he has Down syndrome" and they promptly smiled and made a quick note on his profile. The staff in the clubs aren't able to change kids, so they did expect Mr. Andi and I to check in regularly, but that was a minor inconvenience we had planned on, anyway. As it turned out, Nathan stayed clean and dry whenever he was in the club. 🙂
Edge is a club for tweens 11-14, and is where Sarah Kate spent a lot of her time. The kids are allowed to come and go as they please, but access to the club itself is more limited – a single elevator served it and Sarah Kate needed to swipe her room key to get in. The kids wear the same armbands with RFID chips, and the club was always manned by counselors. She wrote about it here already, so go to that post to find out more.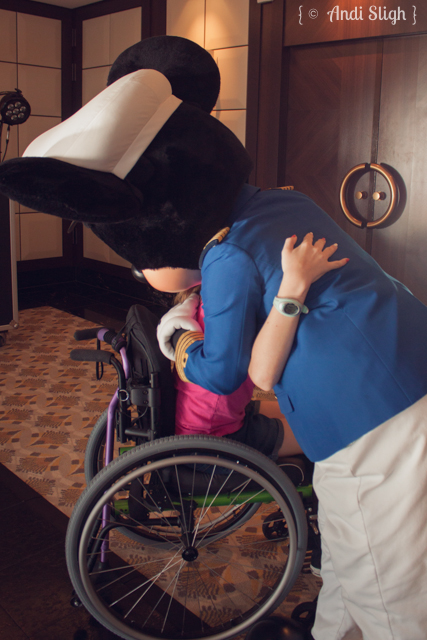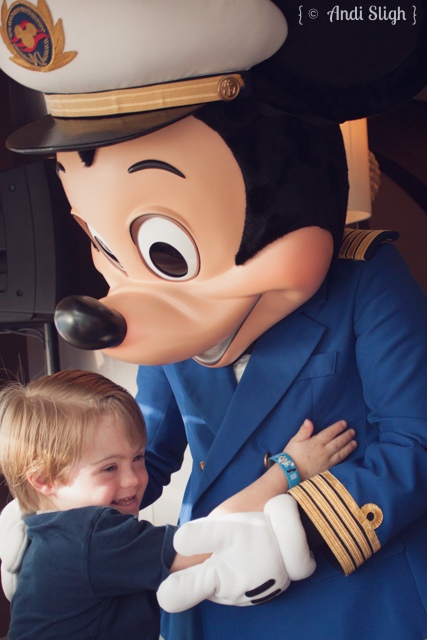 Disney Dream Meals
We didn't have any special requests, because no one in our family has dietary restrictions or allergies, but I feel certain we would have been accommodated if we had. Mr. Andi didn't order an appetizer, soup, or salad any night (unlike yours truly – I ordered everything!) On the second night, he and I ordered the same entree' – steak – but his plate had TWO steaks. I suspect they thought he was a picky eater so they just gave him more of what he appeared to like. 🙂 The servers cut up the kids' food and performed magic tricks at the table between courses, which made what would have been a really long meal with squirmy little ones (read: Nathan – the other kids were great!) bearable.
As for the other meals, we enjoyed them all. Even the quick service pizza was a treat – not just your standard pepperoni and sausage, but also more exotic varieties such as prosciutto, caramelized onion, and blue cheese. Katie, Steve, Mr. Andi, and I also had brunch at Palo, an adults-only restaurant. It was quiet, delicious, and worth the extra money (meals at Palo aren't part of the cruise package). Having said that, I'm not sure I'd do it again. Having brunch ate up about two hours in the middle of the day, not including getting-ready time and dropping-off-Nathan time, which made the day a lot less relaxed than I would have liked. Palo also serves dinner, but we would prefer to have dinner as a family – that was about the only time we got to see Sarah Kate, LOL! – so I'd probably skip it if we went back unless it was without the kids.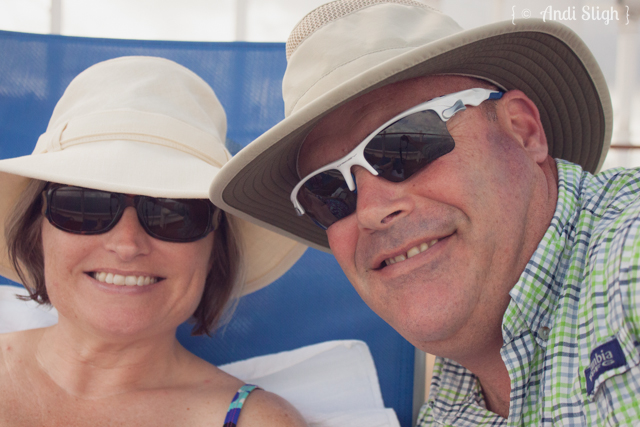 Accessibility on the Disney Dream
Disney has a great reputation for accessibility, both on sea and on land. As Sarah Kate said, our stateroom was ENORMOUS by cruise ship standards – plenty of room to navigate a wheelchair of just about any type. Our door opened automatically with a pushbutton from the inside or a key card from the outside (TIP: don't change clothes in the door's line of sight if your whole family is not in your room – I speak from experience!) The verandah door had a lock at a standard waist-level height, but there was another lock near the top of the door – useful for families with little dudes who are escape artists … ahem. Two things we did notice were different from the typical staterooms are a single, not split, bathroom, and no curtain to separate the stateroom into two zones. Both were non-issues for us but worth mentioning.
There were a few downsides, but mostly stuff Disney can't do much about, such as the elevators. At busy times, such as the start or end of dinner or shows, the elevators became crowded and a few times Sarah Kate had to wait longer than she should have because people either didn't notice her (generous explanation) or just didn't give a crap (less generous explanation) and bolted ahead of her, leaving her having to wait for another one to come (or a third one, or…). Honestly, though, I think it bothered me a lot more than it did her. The other yucky thing was the beach wheelchair – it sucked just as bad as she described. However, I'm not sure what Disney could do about it, and I am thankful they had anything at all. We have nothing at our home beach! 😉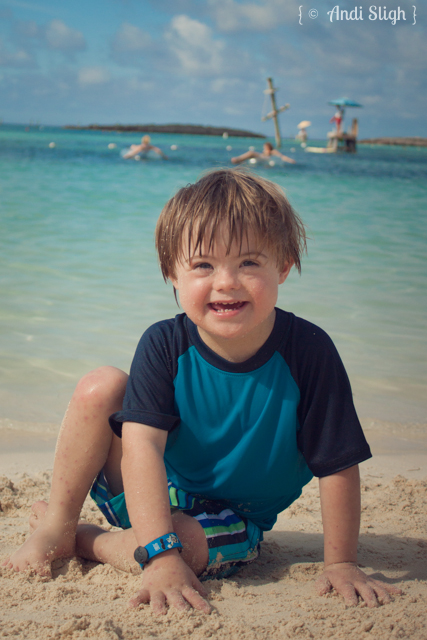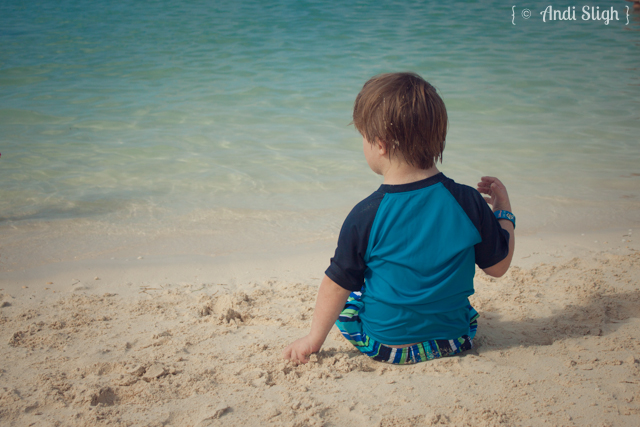 The theaters had plenty of seating for individuals in wheelchairs, and they were also willing to store a chair for you if you wanted to transfer to a theater seat (Sarah Kate did each at different times). On the last night, we decided to sit on the lowest level of the theater (partly because we wanted to be near the sign-language interpreters – they were AMAZING!), and although it was possible, it was kind of a hassle. My guess is that there initially was no wheelchair seating on the bottom so they had to improvise. To reach the lower level meant getting on a regular elevator near the theater entrance, taking it down to the area of the ship where the officers' cabins were, waiting to go through two different water-lock doors that were slow to open and close, then riding back up in a tiny freight-ish elevator without walls (and doing it all in reverse to get back out). If you really really wanted to sit on the bottom and couldn't transfer, it would be worth it, but a transfer would have been much quicker (and therefore preferable) for us.
One small issue we did have was the first-of-its-kind AquaDuck water coaster. Sarah Kate had been looking forward to the AquaDuck and the always-available soft serve ice cream machines for months, and while she did enjoy it, she only rode it twice because it was difficult to reach. The AquaDuck "boasts a thrilling 4-deck drop" but to get to the top to experience it, you have to climb four decks worth of stairs. She made it with the help of her cane, which was run back down to the bottom when she reached the top – once by her friend, Emma, and once by Katie's husband/Emma's dad, Steve, who opted not to ride. Again, not sure Disney has a lot of options but it's worth noting for those of you who might have a kid with mobility issues.
Speaking of the pools, we pretty much didn't use them. Neither Mr. Andi nor I cared much about swimming, and swim diapers weren't allowed, so Nathan couldn't use them. They did have an enclosed splash area on the same deck that he enjoyed which could be briefly closed, cleaned, and reopened in the event that a child created a little brown water at the bottom of the slide. Not that I would know anything about that. 🙂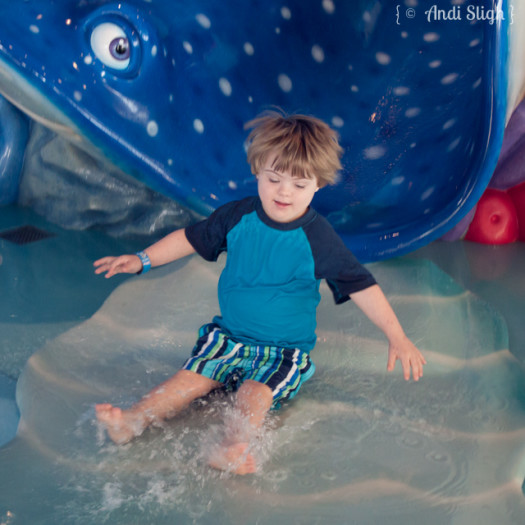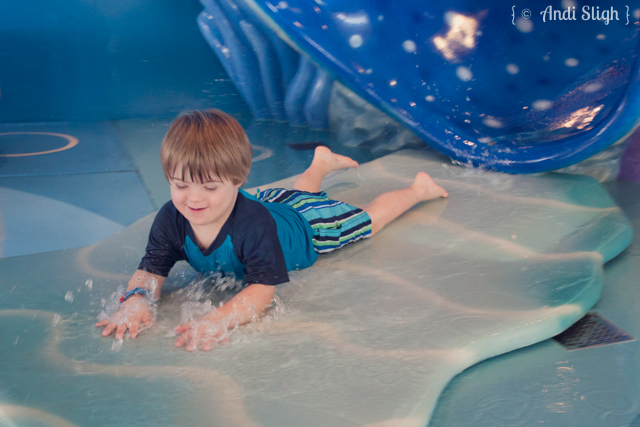 I have lots of other thoughts about our Disney cruise, but I've written a lot already, so I'll dedicate tomorrow's Seven Snippets to my final thoughts on our trip, both onboard the ship and off (including more photos, easy-peasy pirate costumes, our middle-of-the-night fracas with the Winter Garden police department, and how I avoided MAN OVERBOARD!) Stay tuned!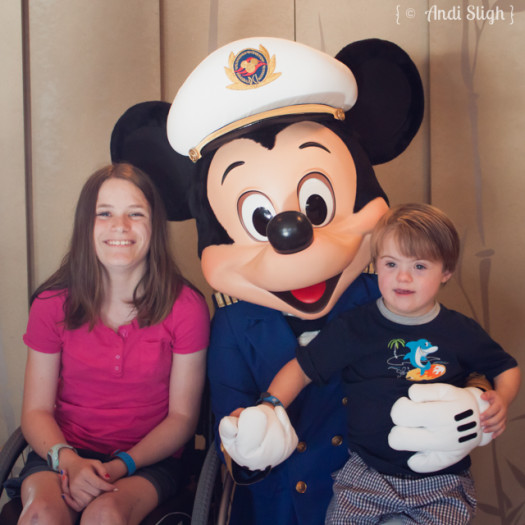 Want to know what Sarah Kate had to say about the cruise? Read her post here.