I'll be honest – when I posted the reader survey a few weeks ago, I wondered if I'd have more than a couple of dozen responses, and I was a little bit afraid of what the responses I did receive would tell me. I know what I think about the blog, but I had no idea if you guys would feel the same way.
Wow. You guys blew me away.
The survey was posted at 6:00 am and the first response was at 6:03. You guys were so complimentary it made me blush, yet you were still willing to tell me what doesn't work for you. Not all of you were in agreement, of course – I wouldn't expect you to be! I especially appreciated hearing from those of you whose politics and/or religion are vastly different from mine – the fact that you are here reading gives me hope for the future in what seems to be a terribly fractured world.
A couple of comments had me scratching my head (Is Nathan's haircut really that bad? – and – I'm not sure what I'm supposed to say about Dr. Park in St. Louis when our only experience is with Dr. Oakes in Birmingham), but others had me nodding along in agreement (I would also love for Sarah Kate to contribute more posts!) I also loved how many blogs you guys listed that you read – many were new to me so I've got some new reading material now!
The comments that made me happiest? Many, many of you used the words "honest" and "honesty" to describe my writing, and that means the world to me. I have many, many (MANY!) faults but honesty and compassion are two of my guiding principles, and I'm happy that you perceive me as an honest person (not to go too far down a rabbit hole here, but it was especially good to hear during a month when I've been repeatedly hassled by someone who refuses to believe me when I told the truth about something).
I discovered a lot of you are like me, but a lot of you aren't.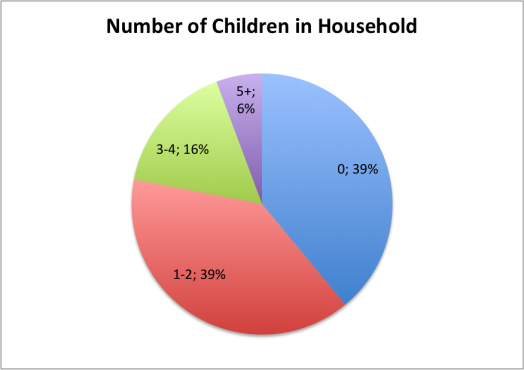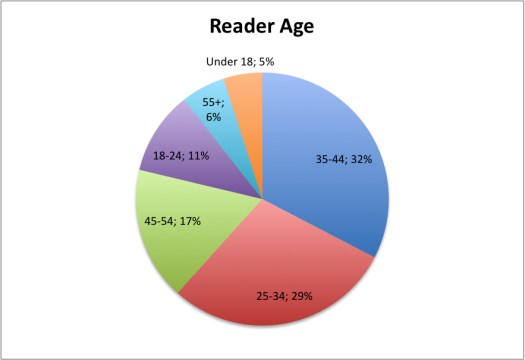 The number of readers in each age bracket was significant, with the highest percentage (though nowhere near a majority) in the 35-44 age range (random factoid: I moved from the 35-44 bracket to the 45-54 bracket while the survey was live). The vast majority of you are female, although there are a few men out there (Hello!), and you much prefer Facebook to other forms of social media, with Instagram a distant second (Yay! I can quit worrying about what a terrible tweeter I am!)
A few of you have your own blog, but most of you don't. Just over three quarters of you are Christian – a little over a third Catholic, one Orthodox (Hello!) and the rest Protestant. A big chunk of you have no religious affiliation, and a few of you are Jewish, Muslim, Mormon, or atheist (Welcome!)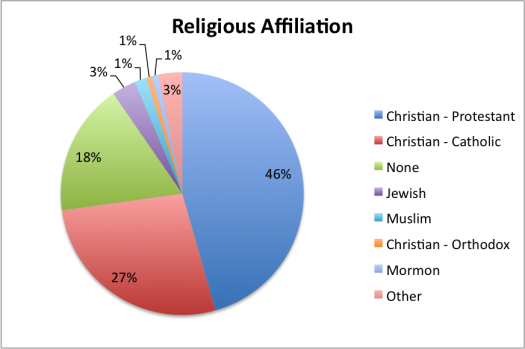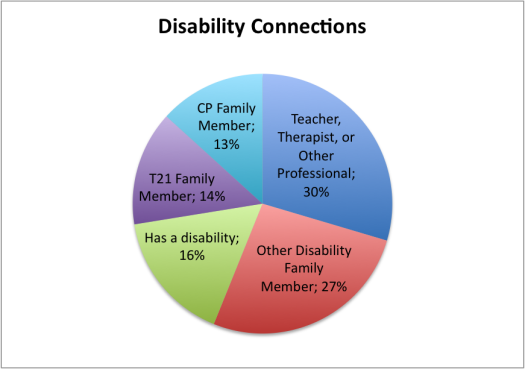 One question I really wanted answered was how you are connected to Disability World, and the answers were all over the place. You are teachers, therapists, and other professionals. You are family members of people with disabilities – as many of you listed "other disability" family member as listed Down syndrome or cerebral palsy family member combined. Several of you checked multiple boxes! Many of you have disabilities yourselves and I am SO glad that you are reading, although I will admit I feel pressure to "get it right" now that I know there are a lot of you out there. 🙂
What topics are your most and least favorite?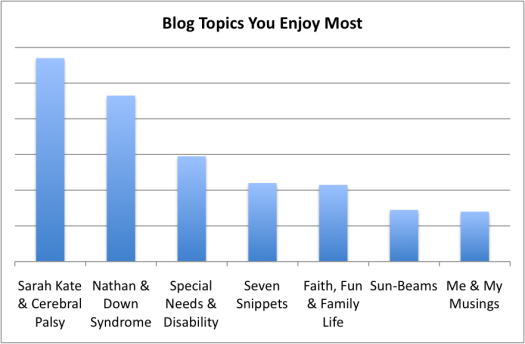 Well, we're in agreement there. The posts about Sarah Kate and Nathan top the list, which is to be expected. She has the edge, which I suspect has more to do with timing than anything – 2014 was a big year for her! We are in talks about whether and how often she might want to post here for those of you (and there were many!) who want to hear more from her.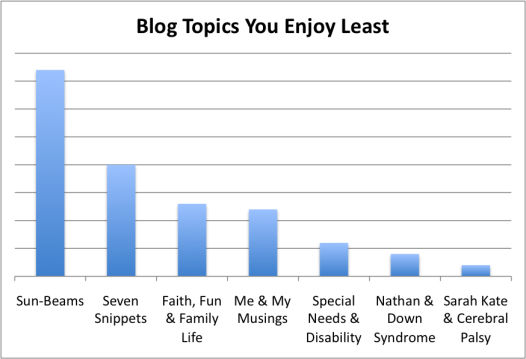 On the other end of the spectrum, I hate the Sun-Beams just as much as most of you do! Hate is probably too strong a word, but it's definitely my least favorite type of post and the one I dread writing the most, even though I spend the least amount of time on them. Effective immediately, the weekly Sun-Beams are going away. However, there are enough of you that like them that I won't discontinue them completely. What I will do is post them less often – roughly once per month, in a different format – and I'll be more intentional about the stories I choose.
Seven Snippets is a distant second for least-liked type of post, but the number of you who responded that it was one of your favorites was more than double (in raw numbers) those who said they don't like it. So… since it's my blog, I'm going to keep them around. 😉 So many of you chose not to even pick three "least favorites" which is so sweet of you because I know I miss the mark a LOT – I seriously love you guys!
Now that the year from hell 2014 is over, I want to get back to doing more of what I love – photographing our ordinary family living an extraordinary life. I haven't picked up my camera as much as I'd like these past several months, and based on the survey responses, you'd like for me to get back to that, too. I don't know exactly what the future will hold for us, but with Nathan starting kindergarten and Sarah Kate starting middle school in 2015, I know it'll be an adventure.
Please come along for the ride.