It's 2015! Also known as the year Marty McFly traveled forward to in the first sequel to 1985's Back to the Future. How much did the film get right in terms of today's technology? Not a lot. For a fun comparison recap, go here.
Call me weird, but I love all of the Rob Lowe DirecTV commercials that have aired this year during college football games. My favorite is the one where he's the creepy guy sitting at the end of the pool lane, but they all make me laugh. It makes me smile that he seems to have no problem laughing at himself. They're also making me want to watch old 80s movies like St. Elmo's Fire.
Speaking of movies, we had big plans to watch Christmas movies during Christmastide. We've watched a few, but mostly we've watched lots of Doctor Who (although, in our defense, some of the episodes have been the Christmas specials). After the grandparents left, the kids took over the sleeper sofa for TV time.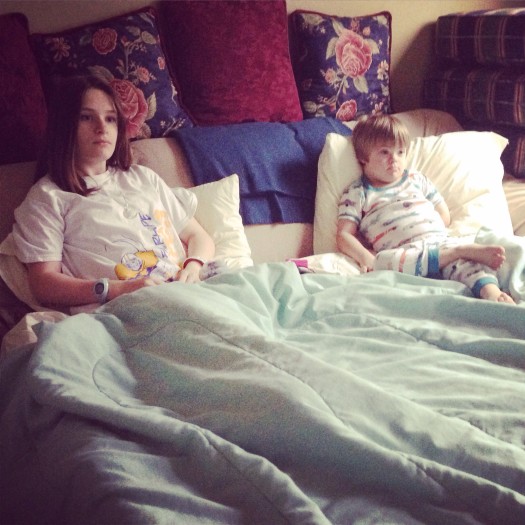 And speaking of Christmas, or more specifically, four Christmases, I don't recommend it. And I'm not talking about the movie (I like the movie, but it's not a family flick, FYI). No, I mean hosting back-to-back-to-back-to-back Christmas with parents/stepparents/in-laws stretching from the Tuesday before Christmas to the Tuesday after. Like in the movie, Mr. Andi and I both have divorced and remarried parents so #FourChristmases has been our reality for a long time. As a natural introvert (albeit one who talks a lot), having guests in the house constantly for that long was exhausting.
DifferentDream.com counted down their top posts of 2014, and guess who had the top post for the year? Yep. It was me. Apparently a lot of people could relate to that guilt that all parents have – but especially those of us who have children with special needs. Thank you all so much for supporting me this year!
Sarah Kate subscribed to the blog by email this week, which I find interesting. Perhaps she wants to be a regular contributor? Or maybe she just wants to know what I'm saying about her to the world? Mr. Andi and my mom and dad have read the blog for a long time, but this feels different. If you'd like to subscribe by email as well, you can sign up here.
Downton Abbey returns this weekend! I can't wait! It's maddening that PBS airs it with a months-long delay, because it's just SO easy to check Wikipedia and know the entire season's story arc well before the US premiere. Not that I know anyone who might do that… 🙂
Have a great weekend!
This post was inspired by and is linked to This Ain't the Lyceum's 7 Quick Takes.