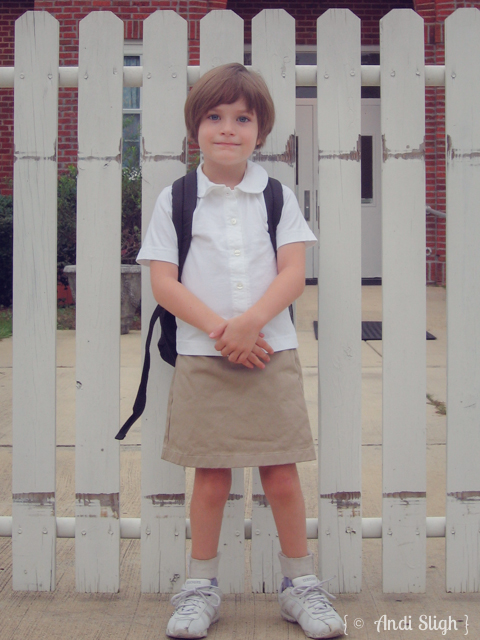 It was Monday, August 11, 2008 – the first day of school, ever, for Sarah Kate. Mr. Andi had taken a job in Mayberry five months earlier, and Sarah Kate and I had moved down to join him at the end of July. Although she had spent a few years in mother's-day-out and preschool programs, she had never done it in Mayberry nor met any of the children who lived here.
After years of worrying, she was finally starting school.
I know a lot of moms who are sentimental about the first day of school, but that isn't me. I didn't worry about my baby being separated from me. Perhaps that's a dubious facet of my personality, or perhaps my baptism by fire into motherhood cured me of separation issues (she did, after all, spend her first 53 days apart from me in the NICU). What I did worry about was how she would do in "real" school, navigating hallways and a larger class size and a lunchroom and … kids who did not know her.
Unlike me, Sarah Kate had no fear.
She declared after "Meet the Teacher Day" that she didn't want me to walk in with her on that first day, and maintained she'd be just fine by herself right up until that first morning. In the end, I did walk in with her, not because she was afraid but because amid all of the excitement she forgot to stop me. She posed in front of the school's white picket fence, confident but impatient, before we walked into the building.
All of the children were lined up, seated on the floor in the gym, arranged by classroom but in no particular order. I snapped a few quick shots of her, marveling at her lack of apprehension. She struck up a conversation with the boy sitting behind her – a sweet boy named Ben whose mom would later become my oft-mentioned friend Dawn. The time came for the kids to head for their classrooms, and she was gone.
Recently, my friend Jenny sent me this article about a young woman with cerebral palsy, studying abroad in Greece. Greece wasn't wheelchair friendly, so the other students with her "found a way." The article itself is a bit hard to swallow – it's the typical Restore Your Faith in Humanity! drivel so common in today's media – but the story behind it reminded me a lot of that first kindergarten class.
Although she had been walking independently for about two years, Sarah Kate had only learned to stand still a few weeks before school started – and at home, under supervision, not in a busy classroom or hallway. Her teacher, Mrs. T, invited Sarah Kate to do a "show and tell" about her AFOs and her walking challenges. Mr. Andi went to school to help out and witnessed her telling her classmates it's hard for her to walk "because I have holes in my head".
Not long after, I went to the school to have lunch with her. At the end of lunch, when the kids were lining up to leave, Sarah Kate dutifully got in line. I saw her stumble and start to fall, reaching out to grab the nearest object, which happened to be the shoulder of the boy in front of her. It's a scene that had played out many times before, and almost every time – if the object was a person – she would still fall because the person would turn toward her when she grabbed them, inadvertently pulling her support out from under her.
But that's not what happened.
The boy never moved. He didn't shrug, turn his shoulder, or even look in her direction. I could tell from his posture, however, that it wasn't because he hadn't noticed her. When Sarah Kate grabbed him, he became motionless – for her – and he stayed that way until she regained her balance. When she let go of him, he continued on with what he was doing before the interruption, as if it had never happened.
Mrs. T cultivated a family in that kindergarten classroom.
Every member of that family knew what Sarah Kate's limitations were, and they knew what they were supposed to do when she needed help. That little boy knew that when Sarah Kate grabbed him, the best way he could help her was just by being still until she could recover on her own. Mrs. T knew what to do to ensure Sarah Kate was fully included, not singled out, and just another kid in the class.
If you're the parent of a preschooler with a disability, you probably dread the beginning of school. In six months, Nathan will leave the cocoon of preschool and join the other kindergarteners at the Big School, and it scares me every bit as much as it did seven years ago – and probably as much or more as it may scare you. But it will (probably) be okay.
Because if Nathan or your child begins his school career with a wonderful teacher like Mrs. T, it will be better than okay.
It will be awesome.