Families are amazing, right? Each family has its own unique history, traditions, and ways of doing things. In our house, we all know the quirky way you have to turn the deadbolt to lock the back door, why a potholder permanently resides in the decorative box next to the fireplace, and where to find the plates and bowls (HINT: they aren't in the upper cabinets).
We also have our own language.
The Sligh family vernacular is uniquely our own. While some of it may have been derived or incorporated from others (and some of it has spread to others), no other family has the same repertoire of language that we have, and I bet your family is the same way.
For instance, do you know what a "hoolie" is?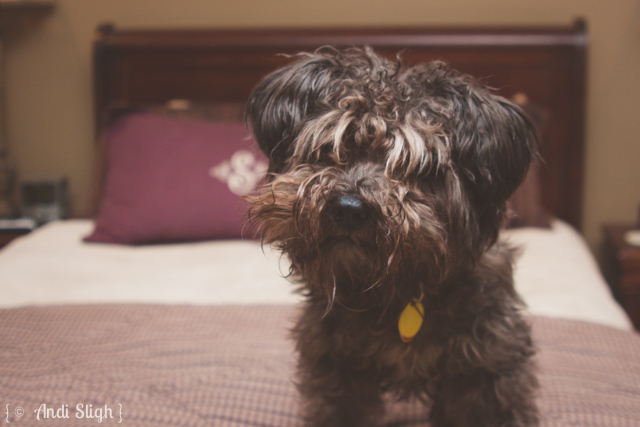 In our family, "hoolie" refers to either of our two dogs, Daisy and Stella (and once also applied to our now deceased dog, Tess). The origin is a little vague but started with a fancy way of saying "hound" ("hoondus") that devolved into "hoolus," of which we determined the plural form was "hoolie". So there you go.
(And yes, I do realize how badly in need of a haircut Stella is…)
Another example? "while-we're-out" isn't a phrase, but a noun, as in "Can we do a while-we're-out?" Back before we had kids, Mr. Andi would tease me because when we would go out to run one errand I would inevitably suggest that we run an additional errand (or two or three…) "while we're out."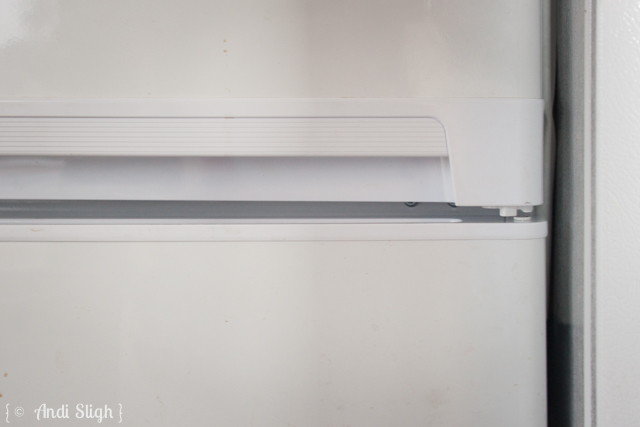 When you see the photo above, what do you think it is? A white refrigerator, right? Not in our house. We call it "the black fridge" because once upon a time we had a black refrigerator that sat in the same spot in our garage that this one now does. When the black one died, this white one replaced it but we'd already been saying "the black fridge" for so long that we never bothered to switch.
(And no, I don't know why I bothered to watermark a crappy photo of a refrigerator…)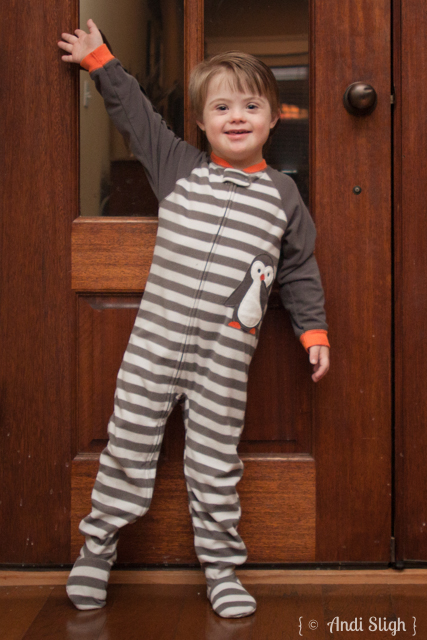 And what kind of pajamas are these? Most people would say footed (or footie) pajamas. Not us! No, sirree. At our house, these are "paddy pajamas". I don't know why – that's what Sarah Kate called them when she was little and it stuck.
Here are a few more oddities in the Sligh Family Vernacular:
Amazable – a blend of amazing and incredible, coined by my sister when she was about Nathan's age and used in my extended family, as well
Honk/Honks – a slightly nicer way of saying that something sucks; has since been picked up by others, including most of the regulars in my Disney running group, ROTE (I suspect some of them don't even know the origin)
Barking About Trash – when our dogs (or others) bark randomly at other dogs in the neighborhood; coined by our nephew when he was little in response to Mr. Andi's brother saying the dog was "talking trash" to the other dogs when she was barking
Super Hooge – An extra large Dr. Pepper from (insert fast food restaurant here), shorthand for "super huge Dr. Pepper"
Quadruped Locomotion – Walking the dog(s), coined because Daisy got excited every time she heard one of us saying the word "walk"
Zah – short for pizza, which is one of Nathan's favorite foods; it was one of his earliest words but he could only say one syllable in the beginning
Now it's your turn to tell me what's unique about your family language. I know you've got some quirkiness you want to share. 🙂