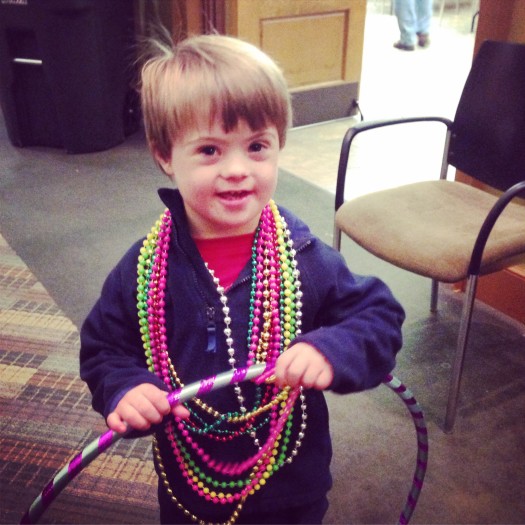 — 1 —
How did you spend your Fat Tuesday this year? Sarah Kate and I spent it up in Birmingham at her rehab doctor's office. Since the kids get Monday and Tuesday off for Mardi Gras, we scheduled her six-months-since-the-last-visit checkup. Dr. Mendoza said Sarah Kate looks better now than she's ever seen her, which is absolutely true. She's not back to her best, but the surgery was definitely a success. Barring unforeseen setbacks, she's off the hook until next year.
Although we weren't very festive on Fat Tuesday, we did hit one of the local parades last Friday night. Nathan's preschool teacher is in the krewe that paraded that evening and made sure to throw him a little something special. He didn't enjoy it as much as the first dental visit the day before (seriously, you never what is going to weird him out a little), but Sarah Kate loved it, as usual. I also discovered a new flavor of Moon Pie: Salted Caramel. Nom. Nom.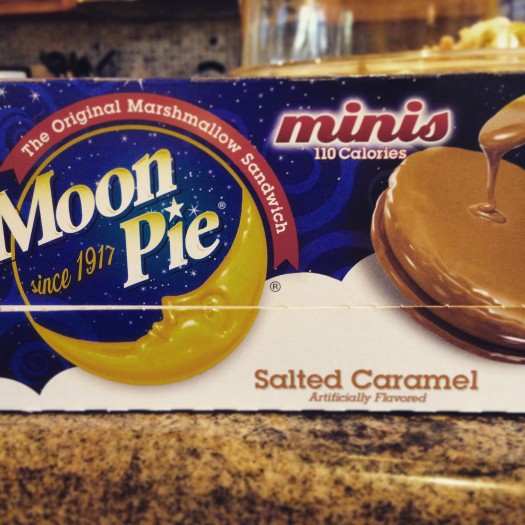 But enough about Mardi Gras, what about Lent? Are you doing anything creative or sorta-crazy for Lent this year? Mr. Andi and I decided to give up meat, which will absolutely be a sacrifice. Knowing it would be tough, we decided we'll take advantage of the Sunday Loophole to squeeze in a burger here and there. 🙂 We love our Big Green Egg so I guess we'll be using it to whip up portabella burgers, fish tacos, and (if we're feeling splurge-y) tuna steaks. I'll be pulling out my baked ziti and tuna casserole recipes, as well, but I welcome any meatless dish ideas you want to share…
How about a confession? Mr. Andi and I got tickled during the Ash Wednesday Mass, which was completely inappropriate and doubly unfortunate because we were sitting on the front row. The choir members went ahead of us to receive their ashes, and many of the men are (for lack of a better description) old and bald or balding. The lady dispensing the ashes (is that what you call it?) made MUCH larger crosses on their foreheads than on those of the ladies.
In case you don't remember, Mr. Andi is seriously lacking in the hair department, which means he has a broad expanse of forehead or, as he put it, "a generous blank canvas" for her to create her ash masterpiece.
Seriously, y'all. That ash cross was ENORMOUS.
On a sweeter, less sinful note, Nathan was uber-proud of his ashes. He goes up in communion line every week and you can see on his sweet little face how badly he wants that host (and once, he took matters into his own hands, literally…). When he walked up on Wednesday and actually got the same ashes everyone else got, he was beside himself. He kept pointing to each of our heads and grinning. ADORBS.
Sarah Kate is going to be on an episode of the Mouse Chat podcast. We recorded it on Wednesday night (I was there, too, FYI). This week marks one year since her triumph at the Princess Mile and Chris, one of the hosts, invited her on to commemorate the event. He was there that day and came up to us right after the race to introduce himself. Unlike the last podcast she appeared on, this time she didn't rat me out. I'll post the link when it's live.
Mr. Andi built me a cool console table last week. We have a TV, DVD player, and the Wii in what we call "the front room" – it's basically a catch-all room and also includes my "cloffice." We've had an entertainment armoire in there but it was way too big and dark in that small room – I've had it since 1994 when TVs were a lot bigger than they are today.
I'd been looking for something I could use instead and he had the great idea of using discarded power pole cross arms to build a console table with shelves. It worked great! The legs of the table are whole cross arms and the top is planed sections of cross arm. The photo doesn't do it justice, but it is REALLY cool.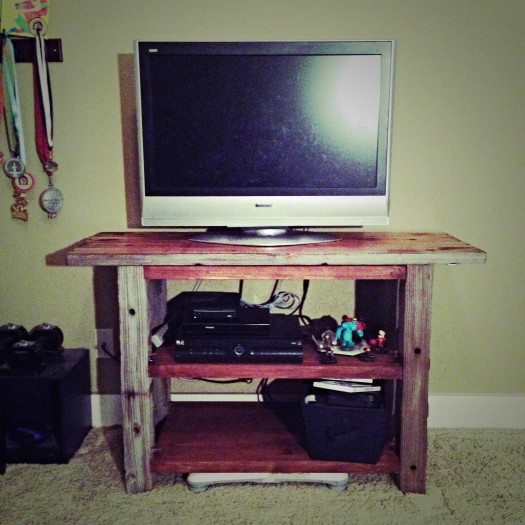 While he was on a carpentry roll, he also upgraded my desk. I've had an old sofa table in my cloffice for years and while it was passable, it didn't reach all the way to the ends of the closet, giving me very little workspace, and the legs got in the way of accessing the lower shelves. He fixed that up for me in a jiffy, and hung this awesome pocket file organizer on the inside of the door. We'll be replacing all of the wire shelving with wood later on, but so far I think it looks fantastic, and more importantly, it's functional.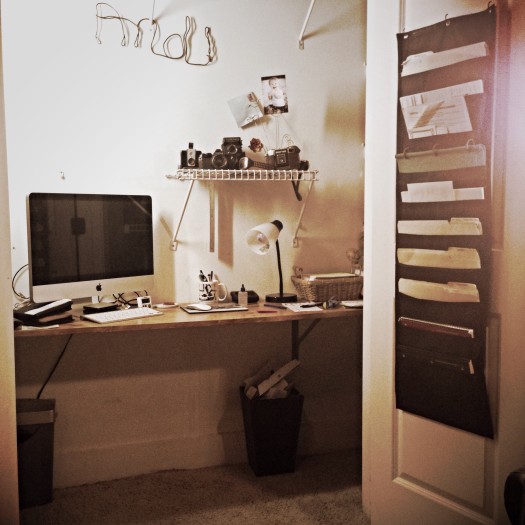 Have a great weekend!
This post was inspired by and is linked to This Ain't the Lyceum's 7 Quick Takes.