— 1 —
Did you think I was done talking about Mardi Gras? Me, too. We were both wrong. Last Friday morning, my car started making a horrid metallic screeching sound – not when I applied the brakes, but just minding my own business driving down the road.
Knowing I was headed to Birmingham the next morning, I drove across the bay to Mobile to the dealership, crossing my fingers nothing exploded on the way and that I didn't have to sell a vital organ to pay for the repair. Five minutes after taking the car back, the service manager emerged with these in his hand: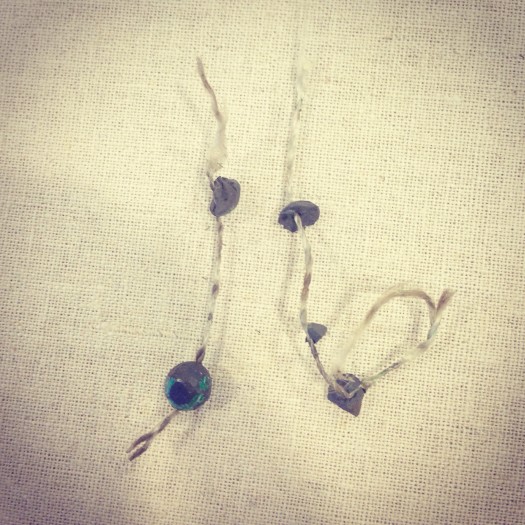 Mardi Gras beads. In the brake rotor.
Speaking of Mardi Gras, how is your Lent going? Mr. Andi and I have survived our first week-plus of meatless days, and it actually has not been as hard as I thought it might be. I'm sure I'll be sick of fish, eggs, beans, and cheese by the time Easter rolls around, but so far so good. I miss meat – oh, how I miss meat! – but I believe I can survive. Check back with me around Palm Sunday…
Sarah Kate has been invited to throw out the first pitch on Opening Day of softball again this year. I appreciate that they still remember her and want to include her, even though her softball playing days are probably over. Unfortunately, I don't think she's thrown a softball since last year's Opening Day ceremonies so it may be a total fiasco.
We're about to buy a new mattress, and I think asking you, my blog readers, to advise me is THE BEST way to choose one. Okay, maybe it isn't, but researching mattresses on the Internet is giving me a headache. We are WAY overdue but, as you can imagine if you followed the blog at all last year, our budget was pretty tight in 2014 so sleeping well fell to the bottom of the priority list. Do you have a mattress that you love? We've always had innerspring but I keep hearing great things about memory foam.
One big issue that's been holding us (me) back from a new mattress is the size. We've always had a queen size bed. Once upon a time when we didn't have a boy who woke up in the middle of the night nor a dog that slept with us (and when neither of us … ahem … snored), we thought couples with king size beds were just SAD. I mean, what the heck? Your significant other would have to be So! Far! Away!
Nineteen years into marriage, however, I think I'm ready to upsize, but Mr. Andi is resistant. Any queen-to-king conversion stories out there you want to share?
While I'm asking advice on mattresses, I might as well go for shoelaces, too. Nathan wears athletic shoes to preschool and they are ALWAYS untied. Like, I'll see they are untied WHEN WE ARRIVE AT SCHOOL and will tie them in the car while we're waiting for the doors to open. When the doors open and I walk around to get him out of the car they are UNTIED AGAIN. I've tried double-knotting but he pulls on them and that just leads to a giant knot with laces hanging out of it.
Suggestions welcome.
How to freak out your kids' grandmother: Let her open her inbox to find an email about Mardi Gras beads and mattresses, ending with a photo of her four year old grandson with a dog twice his size and a message saying that you're adopting the dog.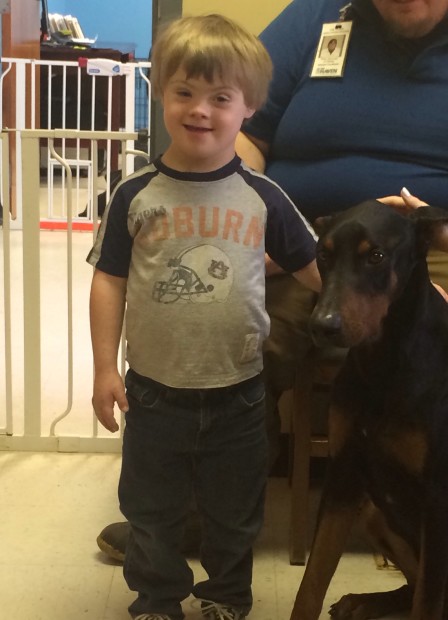 Now I must dash because I'm expecting a call from my mother in 3…2…1. (Nana, if you're still reading…don't worry, we don't really have a new dog.)
Have a great weekend!
This post was inspired by and is linked to This Ain't the Lyceum's 7 Quick Takes.