A few weeks ago, we sold Sarah Kate's softball gear. We kept her glove and her first bat as memorabilia, but the other bat, her helmet with the giant "Kat" sticker, and the gear bag went to a first-time player – the daughter of a friend of a friend of mine. I was sad to see it all go, glad someone else was going to be able to use it, and relieved that I wouldn't have to see it anymore when I pull into the garage.
Sarah Kate's softball playing career was likely over.
But she wasn't quite finished with softball altogether. Just like last year, the league asked her to throw out the first pitch on opening day.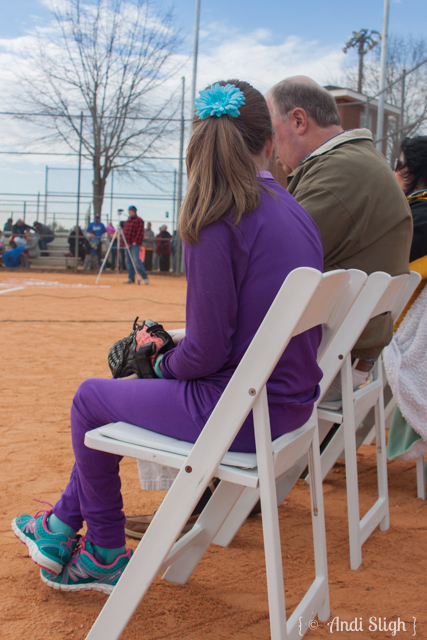 She sat next to the mayor in one of the chairs lined up for the "dignitaries" as they called out each team's name and introduced the players. When I saw the recipient of her old gear run out onto the field, I leaned over her shoulder and pointed the girl out.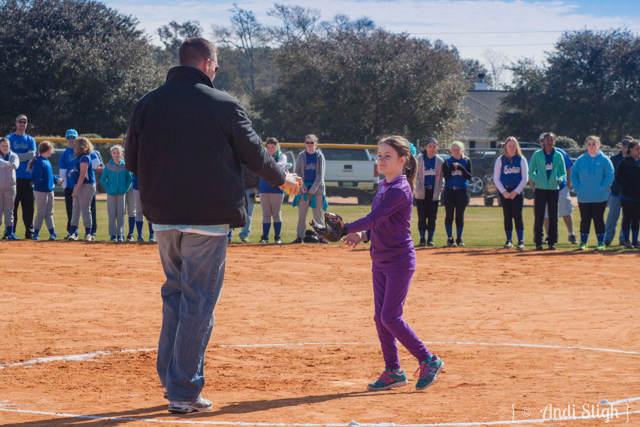 Then her time came. This year, the mayor served as catcher, and she took the ball from Mr. Mike, her former coach's husband who was the emcee.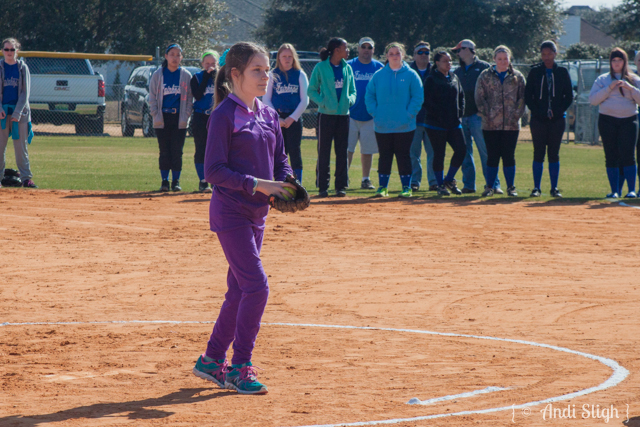 I couldn't help but recall, as she stepped up to the line designated for her, how last year she almost lost her balance before the throw and had to check up for a moment. This year she looked much more steady – and much older.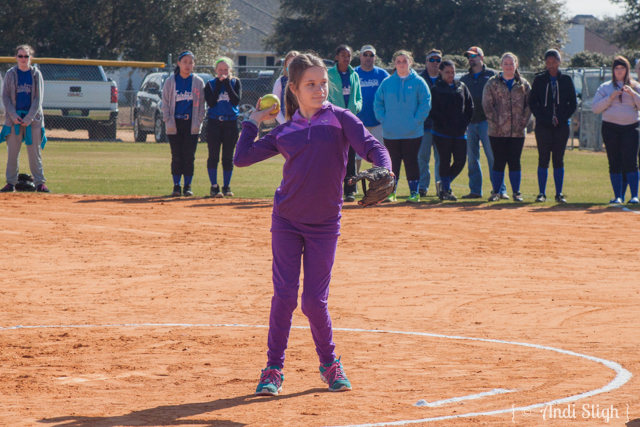 No stumble. No unsteadiness. And no diving catch from the mayor. 🙂 It was an overhanded throw, which technically isn't a softball pitch, I guess, but what do you expect from a girl who's only fielded, never pitched?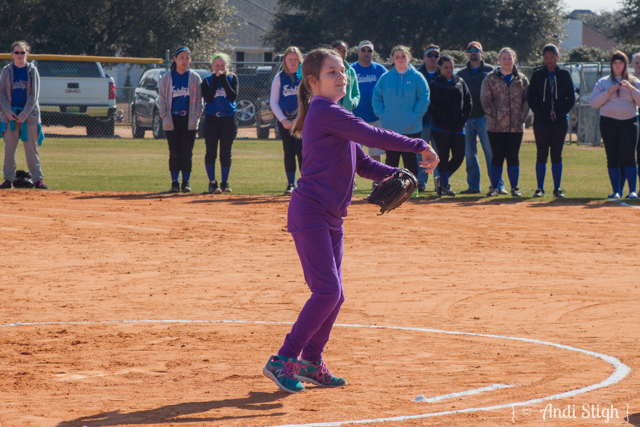 And just like that, it was over. She did well, the opening ceremonies ended, and this year's spring softball teams hurried off to play their first game. Sarah Kate posed for a photo with the mayor.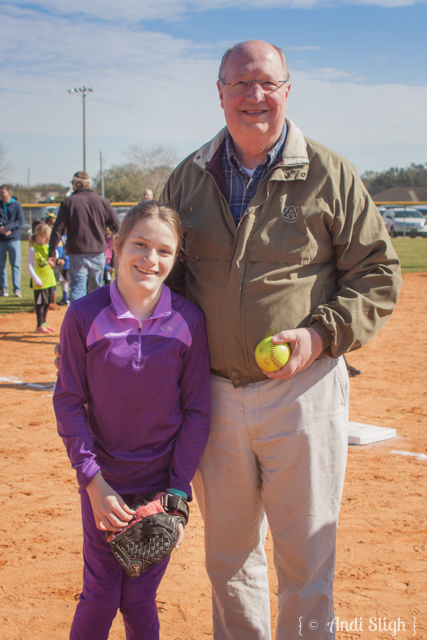 And then for another one with the mayor, Coach Charli (league president and her former coach – the one who dubbed her "Kat" way back when), and Mr. Tom, parks and rec director.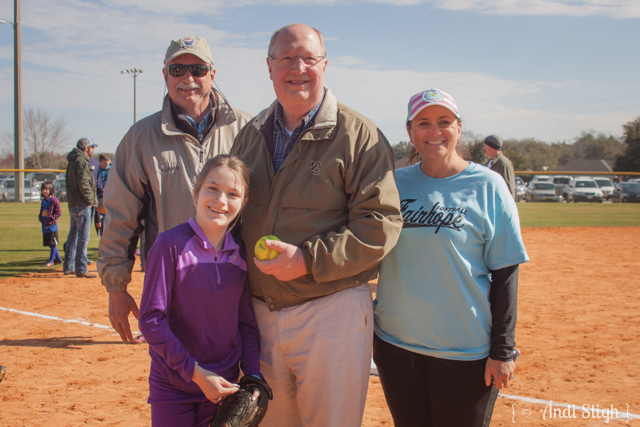 And then, as we were making our way out to the car, a lady came rushing up to us with two girls in tow. She introduced herself as Julie, the mom who bought Sarah Kate's gear, and the two girls were her daughters. As it turned out, they hadn't had a chance to get a new sticker for the helmet yet, so "Kat" would be playing on opening day…and she was on Coach Charli's team.
How awesome is that?
But it gets better, because I found later that afternoon that "Kat's team" won both of their opening day games.
——-
Wondering what the "Times Two" meant in today's post title? Well, there's someone else that hasn't forgotten Sarah Kate – a guy named Chris Sharps. Shortly after Sarah Kate's epic Disney race a year ago, a man came up to us and introduced himself as one of the hosts of the MouseChat podcast. We chatted with him for a few minutes then went on about our day.
Then a few weeks ago, he contacted me to ask if Sarah Kate and I would be willing to be interviewed for MouseChat, with the episode set to air the week following this year's Disney Princess Half Marathon Weekend. Of course we said yes! You can find the episode with show notes here or download from iTunes here.