— 1 —
Hey hey! I'm writing these Snippets on Thursday evening, crossing my fingers and saying a few prayers that FRIDAY will be the day that – at long last! – no one in this house is sick. It's been a long, long, long, long week of fevers, headaches, hurling, and other unmentionables.
Nathan did go to school on Wednesday, and he seemed fine (he actually still feels fine, but once his sister hit Wave Two of the plague on Thursday I kept him home just to be safe). Feeling fine, though, and being tired are not mutually exclusive. I picked him up at school, drove about three blocks, glanced back at him and saw this: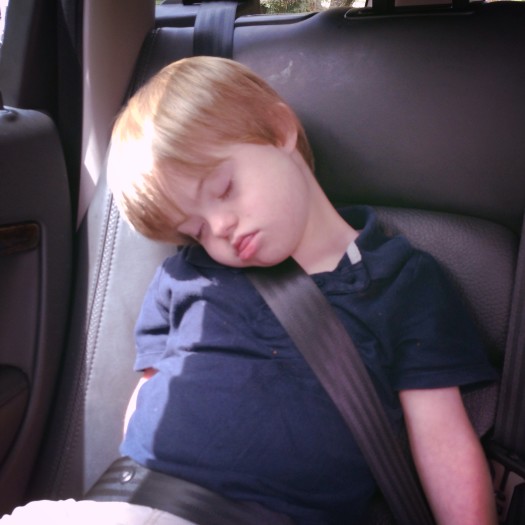 At least he made it into the car, unlike that other time.
(And just to be clear, because I've gotten the question a couple of times before, he IS in a booster seat. Our car has integrated boosters so they blend.)
At the start of our week-long bout with the plague, Sarah Kate and I perused ye ol' Netflix and decided to try out the pilot episode of Once Upon a Time. We decided we liked it enough to keep going, and as of this writing we're all the way through Season 1 and a few episodes into Season 2. I am officially mad at all of you who watch this show and never told me about it.
Kidding, of course, but we do like it. The special effects are pitiful and the dialogue is pretty cheesy at times during the flashbacks, but it's a lot of fun and definitely different. I appreciate that even the "evil" characters have some depth to them, but NOT enough to excuse their evil doings.
(Note to my mom: I know you have Netflix. Watch the first three episodes. Trust me.)
We all have to be well by Sunday because that's Feast Day and, let me tell you, after many long weeks of this year's meatless Lent, Mr. Andi and I are oh-so-ready for a big ol' hamburger. Or steak. Even a chicken finger would be nice. Although last Sunday's Feast Day didn't turn out so hot – the food was delicious going in around 4:00 pm but not so hot later on … in the middle of the night.
As a result of The Great 2015 Meatless Lent Commitment, hereafter Five Guys shall always be equated in my mind with lenten sacrifices. I've had a Five Guys burger Every. Single. Sunday. during Lent this year, and Mr. Andi has eaten it every Sunday save one. Little Bacon Cheeseburger – ketchup, mustard, lettuce.
But moving on from our family's stomachs, our family joke o' the week is to express our devotion to each other by saying, "F U," which I promise is not nearly as bad as it seems. Recently, Nathan started spontaneously telling us he loves us. A few days ago he was smiling at Sarah Kate and he started speaking and, as he usually does, he was taking his sweet time with each syllable. We thought he was saying letters, as he'd been spelling his name not long before, when he said F…..U…..C…..
We all held our breath as he turned and looked at each of us, a twinkle in his eye. Then it dawned on me: "F" wasn't "F" but sounded more like "of" which is how he sometimes pronounces "love."
F-U-C = Love-You-Sissy
Have you seen Simcha's post on prom? Can I possibly get an amen on that one? Call me an old fuddy-duddy if you want, but she makes a lot of sense.
Have a great weekend!
This post was inspired by and is linked to This Ain't the Lyceum's 7 Quick Takes.