— 1 —
Who cleans up the kitchen after dinner at your house? At our house, it's Mr. Andi. It's been a longstanding deal that I cook and he cleans up. For some reason, however, pot lids are anathema to him, or something. Whenever I cook something that uses a pot lid – including the crockpot – the lid never makes it into the dishwasher. Ever.
Thanks for all the mattress and shoe lace suggestions last week – both issues have been resolved. I bought these laces
for Nathan, and so far, so good. He has taken his shoes off, but I have not had to tie them and neither has the school so that's a vast improvement. I may even buy some for myself for running shoes.
As for the mattress, we upsized to a king memory foam – it's a Sealy Optimum something or other and it was delivered a couple of days ago.
The first problem with upsizing to the king mattress of course, is that now I need all new bedding. I ordered some cheap sheets and a plain white down comforter from Amazon to get us by, but I need a duvet cover, shams, and a bedskirt. I have a beautiful fabric picked out to recover the bench I have in my room at the foot of the bed but finding all the rest to go with it is giving me a headache. Bonus issue: we added risers to the bedframe and finding a bedskirt with a 20-21″ drop is proving very difficult.
The other problem with upsizing to the king mattress is we don't have a bed or even a headboard and that's a pretty large expense I'm not ready for at the moment. What we did instead is use the old one from our queen sleigh bed and put our tall bedside lamps on the bed-edges of the nightstands to fill in the space. I actually don't think it looks too bad.
Enough about the bed…Nathan finally buckled his own self into the car! Unfortunately, he will only do it in the front seat, which is not where he actually is allowed to ride. We park at the side door of Sarah Kate's school to wait for her to come out since she has the chair to take back and forth each day, so most days he'll climb up front and sit with me while we wait. A few days ago, when I got out to load the wheelchair, he buckled himself in nice-as-you-please. Like I was going to let him sit in the front seat with no booster. Stinker.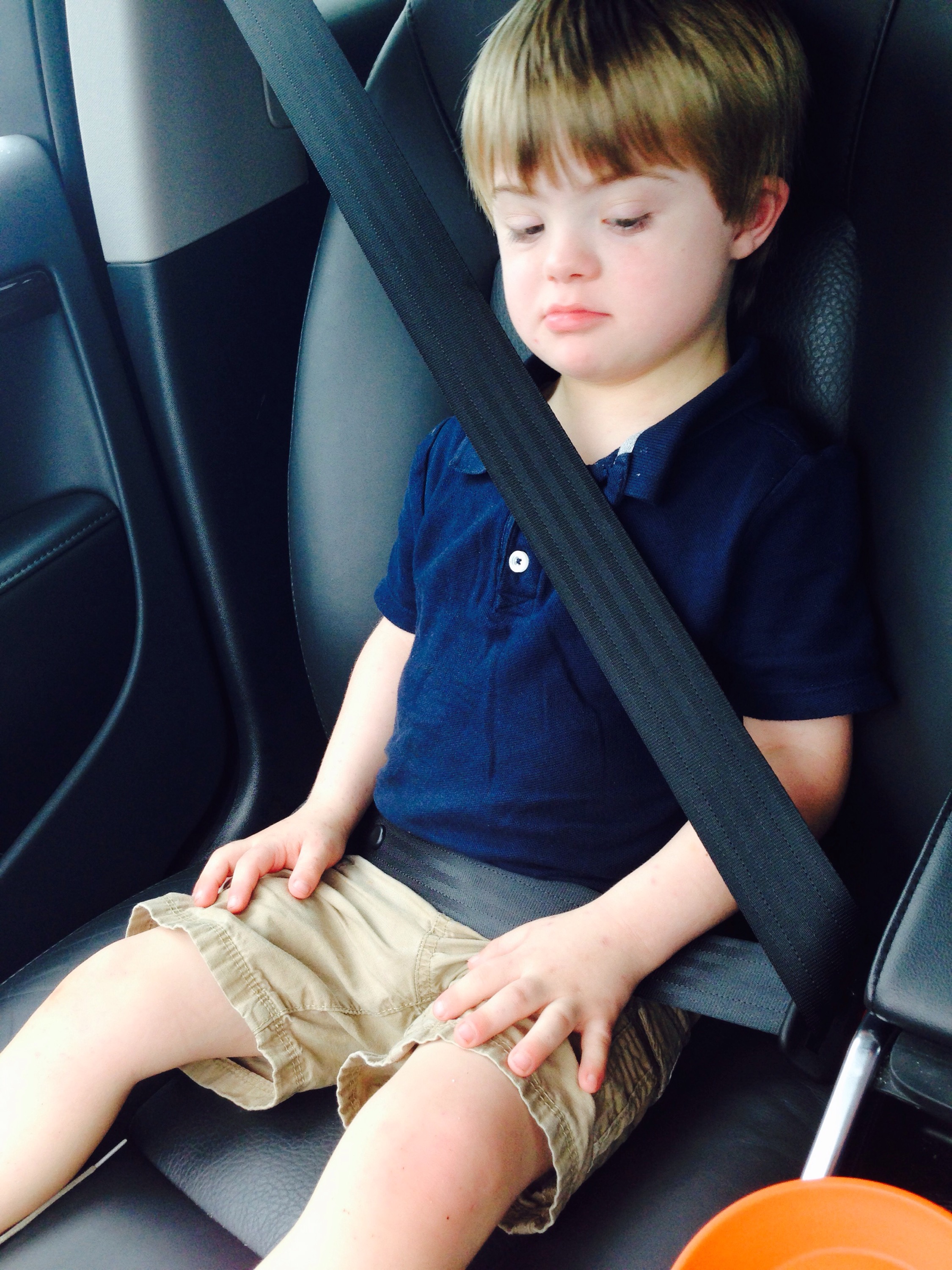 Did you see this great story about Maroon 5 and Christopher Warren, a little boy with Down syndrome? Very sweet.
Does a lack of meat contribute to writer's block? Because I seriously got nothin' today with these Snippets. Perhaps my 2015 Lenten Discipline was too harsh and I need a cheeseburger…
But seriously (as if denying myself a cheeseburger isn't serious), Mr. Andi and I are missing our meat right now. I asked him the other day if he felt like giving up meat was too much of a sacrifice, to which he answered, "Well, if the point is to do something that continually reminds me of Christ's sacrifice, IT'S WORKING!"
I am not certain if the answer was a yes or a no. 🙂
Have a great weekend!
This post was inspired by and is linked to This Ain't the Lyceum's 7 Quick Takes.