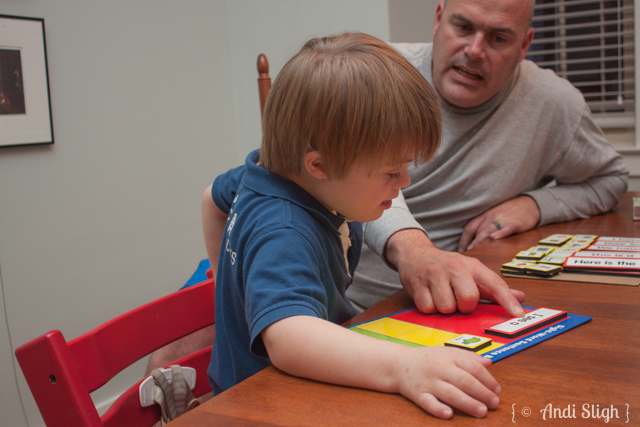 On Tuesday, I shared a few details about the birthday boys, including my favorite gift that Nathan received – a magnetic sight words sentence set. I was uber-proud of him for picking up on the words so quickly, so on Tuesday morning during breakfast when he asked me to play the game with him, I obliged.
And shot some video (note his fave book next to him on the table). 🙂
I couldn't wait to show his SLP at school!
Normally, we just pass the kids off to the paraprofessionals at the door, but that morning I asked if I could run in for a second to see Mrs. Melanie. She was in the back, talking to the two preschool teachers in the office.
I proudly pulled out my phone and showed them the video above. I eagerly awaited the praise Nathan was sure to receive for his excellent performance. I'm not unrealistic, mind you – I know what The Deal is (and as much as every mom of a special needs kid wants/expects that her child will be The One Who Is Exceptional and Exceeds the Expectations, I know we can't all have The One…and I'm okay with that). But in my mind, beginning reading before kindergarten is A Really Big Deal.
And briefly, they seemed to think so, too.
But then, in the blink of an eye, there was talk of assessments and kindergarten expectations and individual word recognition and before I knew what hit me I was walking out with a list of sight words to work on that every kindergartener will be expected to know by the end of the first semester in December.
Sigh.
I don't blame them. They want Nathan to succeed – that's the reason he's with them five days a week for six hours at a stretch. Unless he ends up being The One, the day will come when he falls behind his peers academically, and they want him to get as much of a head start as he can now so that maybe – just maybe! – it'll be enough, at least for awhile.
Every milestone he reaches, then, is something to celebrate, but not for too long, because we have to strike while the iron is hot, lest he fall behind. But what does that mean for his mom?
It means that even the wins are bittersweet.