It's been a big week for Sarah Kate, and it ain't over yet.
Fresh off of Monday evening's performance, Tuesday evening Sarah Kate came face-to-face with the sheriff. Each of the area schools was invited to nominate a student for the local Optimist Club's Youth Appreciation Award, given to students who are outstanding achievers in areas that are not typically recognized (i.e., sports and academics).
Sarah Kate was chosen from over 900 students to receive the award for her school, and all of the area award recipients and families were invited to attend an award ceremony. Each student was hosted by a different community leader, who presented the award and read out loud the nomination letter from the student's school.
Sarah Kate's community leader was our sheriff!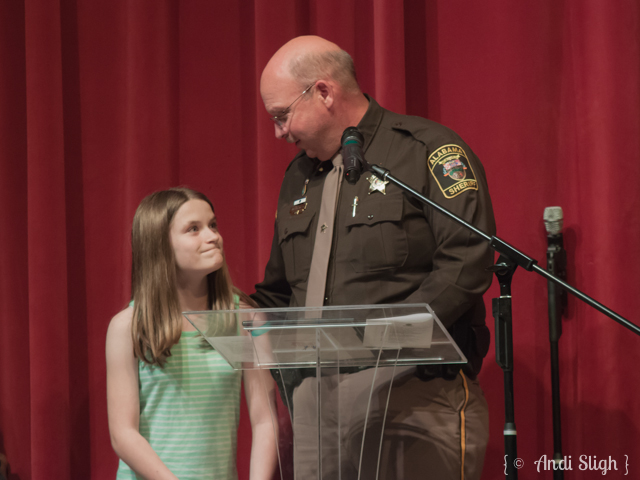 We were seated along the aisle on the second row, and I could tell that Sarah Kate seemed nervous, waiting for her turn. She leaned over and told me, "I don't want to do this!"
I wasn't sure why that would be – after all, she didn't have to sing or anything! – so I quizzed her find out what was wrong. She didn't want to have to walk up the ramp onto the stage because she was afraid she might fall. I was relieved to see that they actually HAD a ramp (one of the community leaders has ALS and is in a wheelchair), so we considered the steps which had a rail, but that would have entailed a lot more walking because there were a half-dozen Dogwood Trail Maids lined up on both sides of the stage.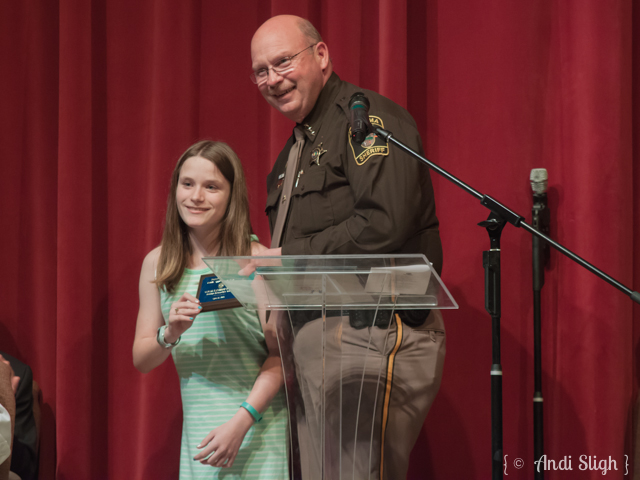 In the end, she made it up the ramp easily and after the presentation the sheriff escorted her back down to her seat.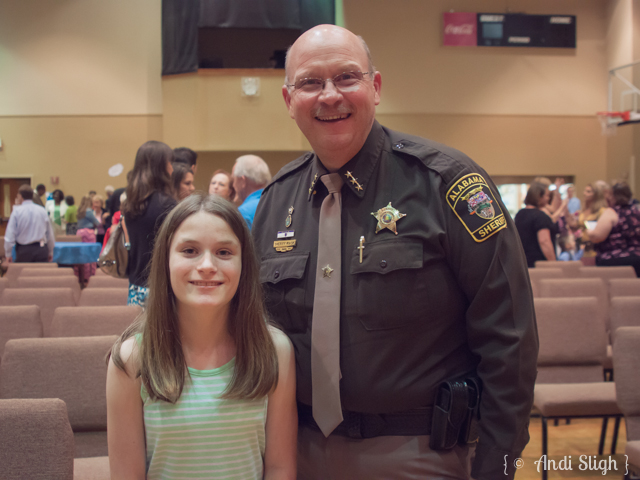 When we got home, I asked Sarah Kate if it made her feel special to receive the award. She replied, "Not really." I was a bit taken aback, so I asked her if she felt like the other kids at the event were special, to which she enthusiastically agreed with me that they were.
She just didn't think she was one of them. 🙂