— 1 —
Remember two weeks ago when I posted the old photo of my dad with our pointer, Gus? Well, I was going through some old family photos this week – looking for some quirky ones to frame and hang on the wall – and found a few more of Gus (and even a couple of Matt), including this gem of my mom, taken years before I was born: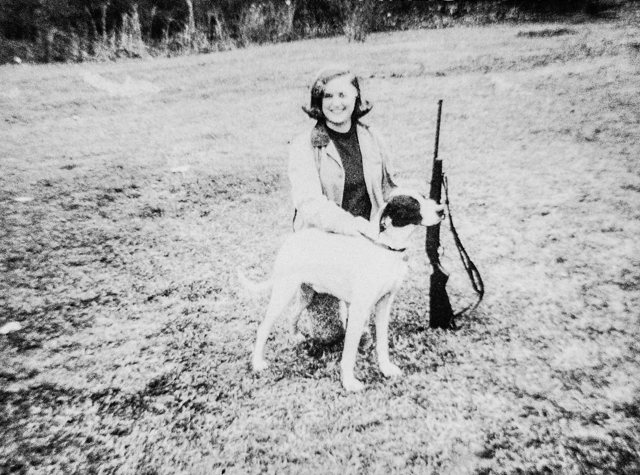 Once I finished wading through my own family photos, I moved on to Mr. Andi's family, and found an awesome one of his grandmother, wearing a grass skirt, dancing with a dog.
When I showed it to him, he was all WhatTheHeck – he'd never seen the photo before. The reason we have it is because after his grandmother died we helped clean out her house, and I came across a bunch of old albums. He wasn't interested in them, as they were mostly filled with photos of strangers with no names – she and her friends wrote letters to soldiers during World War II – but I was fascinated so I swiped a few.
We think the grass skirt was a gift from an unknown soldier who served in the Pacific. If I'd had any way of finding out who those soldiers were, I'd have tried to track their families down.
How is your Holy Week going? We went to a Christian Seder at our parish on Monday night, where Sarah Kate got to read All the Child Parts because despite encouragement to "Bring your families!" we were the only ones who did and Nathan isn't old enough to read. But she did great. 🙂
At said Seder, Nathan discovered a love for lamb and, since Mr. Andi and I both gave up meat for Lent, ate his portion, both of ours, and a few extras that got passed down to him. He With the Sensitive Stomach did not fare so well 12-15 hours later at preschool, and I had to pick him up early. 🙁
On Wednesday, I brought filled Easter eggs to Nathan's preschool at the end of the day for the Thursday egg hunt, only to discover that the egg hunt had already been held that morning.
#HolyWeekFails… but considering our history, I'll take it.
Speaking of giving up meat for Lent – DON'T. It started out all well and good and everybody was happy but let's just say that I don't plan to eat pasta, eggs, or fish again anytime soon, and Mr. Andi is right there with me. In fact, I've got a big slab o' brisket from the actual meal part of the Seder that I brought him and froze. I plan to get it out this weekend, nuke it, and eat it for breakfast.
But, hey! As Mr. Andi said, "if the point is to do something that continually reminds me of Christ's sacrifice, IT'S WORKING!"
Indeed.
Looking for a delicious, easy, meatless, simple meal idea for this Good Friday (or anytime)? I made this soup earlier this week and I. Love. It. You only need four ingredients:
3 cans black beans (I used seasoned, but it's your choice)
16 oz tub of fresh salsa (buy it in the deli at your local grocery store)
2 tsp cumin
1 clove minced garlic (I used 1 tsp of the jarred stuff)
Throw it all in a pot – don't even bother to drain the beans – and let it simmer for 15-20 minutes. Ladle out 1-1/2 to cups into a blender, puree it, then add it back to the pot and let it cook a few more minutes.
If you've ever read my 14 things, I don't need to explain my decision not to go on the Mayberry Intermediate School field trip this week to New Orleans (if you haven't, #2 and #14 should make it pretty clear). However, my gain was Mr. Andi's loss or, as I prefer to think of it, having him go was a win-win for everyone! Kidding. Sort of. But they did have a good time. And I didn't have to ride three hours on a charter bus.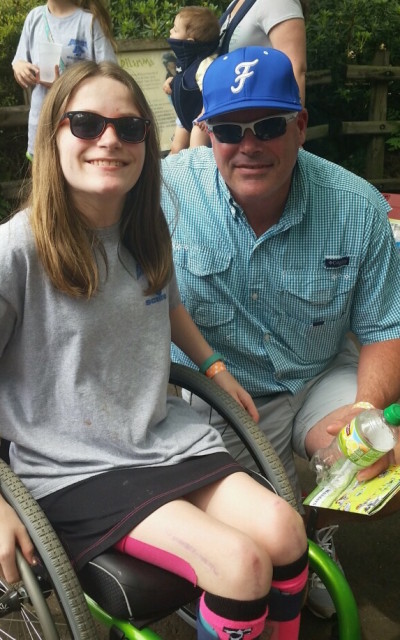 And finally…this is my life:
But I probably don't use near enough Clorox.
Have a great weekend!
This post was inspired by and is linked to This Ain't the Lyceum's 7 Quick Takes.