— 1 —
Apparently, Nathan loves going to speech. Or loves his speech therapist, Caitlyn. At least, that's what I thought until yesterday. We drive past the building where he goes to speech multiple times a day, and this week he spontaneously starting pointing at it and we would have the following exchange:
NATHAN: Mom. Mom. Mom. Mom.
ME: What is it, buddy?
NATHAN: S-beech!
ME: You want to go see Miss Caitlyn?
NATHAN: ESS!
I explained to him each time that couldn't go to speech right then, but he would go another day. On Thursday, he switched tactics. Instead of pointing to the building, he asked for and signed "book" while we were driving down the road.
ME: What book, buddy?
NATHAN: Chruck!
ME: You want your red truck book?
NATHAN: Um… S-beech!
ME: You want Miss Caitlyn's truck book?
NATHAN: ESS!
Nathan's reward for working hard in speech for the past few months has been a truck book. I don't know anything about the book other than it's a truck book, he loves it, and he works for it. On Monday, you better believe I'll be asking Miss Caitlyn to share the deets on that book. Maybe I can use it as a bribe for going potty…
Do you love LEGO? I did as a kid and both of my kids do, too. They have a great program for soliciting ideas for new LEGO sets from fans, and a young girl named Kendall recently shared with me an AMAZING project she created, which includes a variety of wheelchairs, service dogs, walkers, and even forearm crutches! She has one year to obtain 10,000 votes in favor of her project, and if that happens LEGO will review it for possible creation. If her set is chosen, she will receive 1% of the profits, which she has pledged to a service dog fund she has created.
Go check out her project (and vote for it!) and learn more about her quest to fund service dogs by visiting her Facebook page.
Sarah Kate and I are about midway through season three of Once Upon a Time, and since we're too late to move to season four and it isn't available streaming yet, that means we've almost reached the end of the road (for now). We're still eagerly awaiting the streaming of Season Eight of Doctor Who, as well, so we're going to need something new to watch soon. Any ideas for a mother-daughter duo who are fans of both Doctor Who and Once Upon a Time?
Once we discovered Nathan has (some) ability to sight read, my mom decided to make Nathan a book of people and places that he knows well. Most of the pictures she needed I already had or could take easily, but she wanted photos of him at school, which I didn't have because I drop him and pick him up at the door each day without going inside. A few days ago, I asked his teacher to send me any she had, and these are two of the ones she sent.
First, we have what I believe is George Washington… doesn't he look thrilled?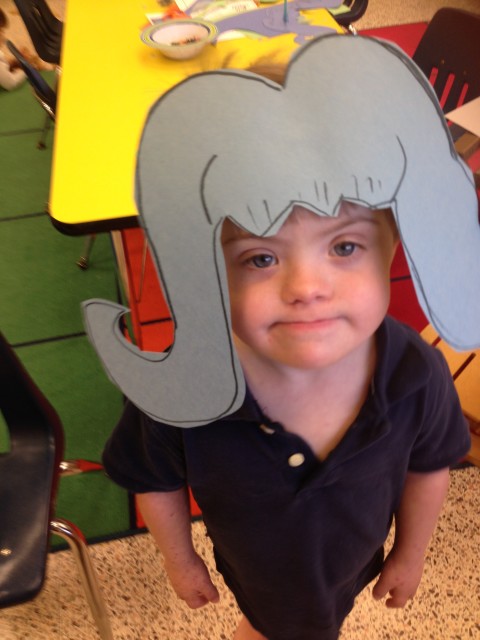 And then there's snack time. I'd bet that's a pretty good representation of what school is like for him.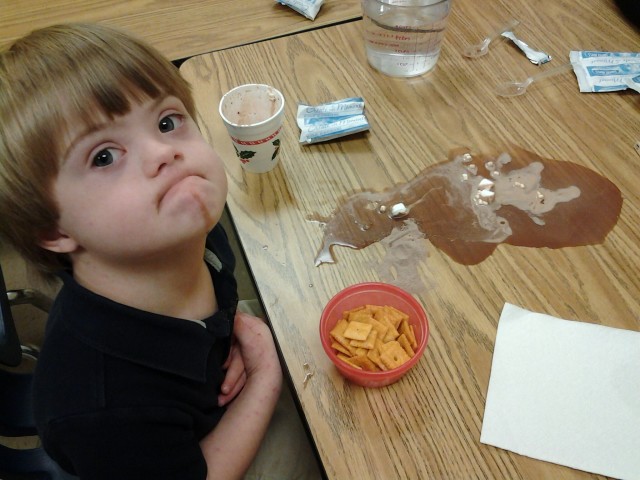 Mr. Andi has been at it again. Sometimes I forget how lucky I am to have a husband that has the confidence to pretty much try anything if he can purchase the parts and pieces for the project at Home Depot. His latest creation? A crate for Gabi, painted to match the living room decor and to fit in the dead space behind the sofa. Bonus: it gives us an additional surface to use for drinks and remotes and whatnot, much like a sofa console table.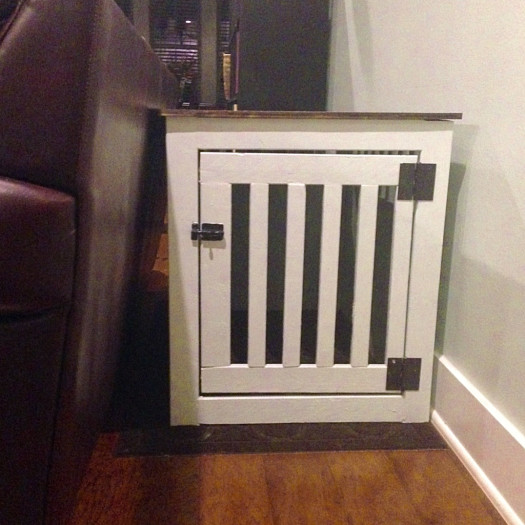 It's not obvious in the photo, but the crate is painted to match the wall color. Plan from ana-white.com
Did you notice the new font that I tried out earlier this week? If you answered yes, then…you are a liar. 😉 I had plans, but as usual, they went awry. Too many moles to whack, I guess. I did try out a few fonts for another website, however. Somehow over the past several months I have fallen into part-time freelancing in web marketing and design. It's so much fun that (usually) it doesn't feel like work. Turns out I have some marketable skills people are actually willing to pay money for… who knew?
We have a big weekend planned, which I'll photograph and blog about next week. Cross your fingers that the weather holds out, as we've been looking forward to it since the fall and a nasty thunderstorm would be The Worst.
Have a great weekend!
This post was inspired by and is linked to This Ain't the Lyceum's 7 Quick Takes.