— 1 —
We've noticed something odd about the kids. Nathan knows directions, but Sarah Kate doesn't. She's twelve and has lived in the same small town for nearly seven years (six of those in the same house), but she couldn't give you directions to the school she's attended for three years that's a mile from our house. We can get in the car and drive for ten minutes and she'll have no idea if we are still in Mayberry or not.
Nathan, on the other hand, recognizes when we are near places he's been, without actually having to be in view of them. He's barely five (and, of course, the other obvious reason why he shouldn't be good at directions). I'm not sure what to make of it.
What do you guys think of the font that I use for headings on the blog? I like it, but I have never loved it since I redesigned the blog at the end of 2014. If you notice the headings look different in the next week or so and you have an opinion, let me know. I may test out some new ones.
Sarah Kate's first show choir performance will be tomorrow, IF the weather cooperates. Mayberry has a big(ish) Earth Day event at the park down by the pier and they'll be performing at the opening. She has a solo! It's not a big solo, just a few lines from "Don't Stop Believin'" but I can't wait to see how she does.
Speaking of inclement weather…WOW. We've had nothing but rain All. Week. Long. with no end in sight. Rain and thunderstorms along the gulf coast are quite common, but we're more likely to get a big frog-strangler in between hours of sunshine than days and days and days of gloom and storms. It makes me want to take long naps every day. And who wouldn't want to nap with a sweet thing like this?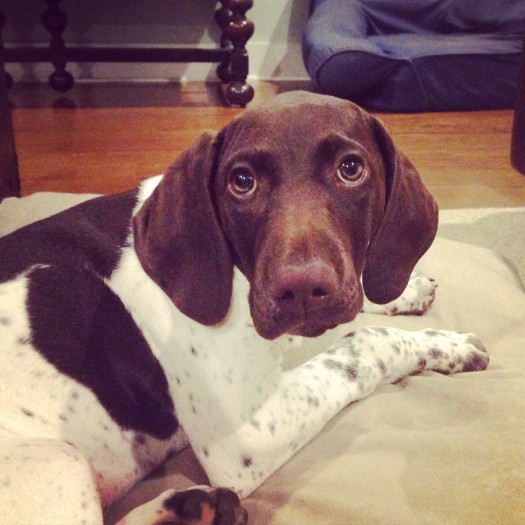 Unfortunately, three month old high-energy breed puppies and staying indoors for days on end Do. Not. Mix. Last week was Whackamole Spring Break, this week is Whackamole Pup Gone Wild.
Since desperate times call for desperate measures, I sucked it up and took The Wild Ones out for a walk in the not-raining-now-but-there's-standing-water-everywhere-and-it-could-start-again-any-moment. Two of us returned with sopping wet shoes and the third with giant wet paw prints.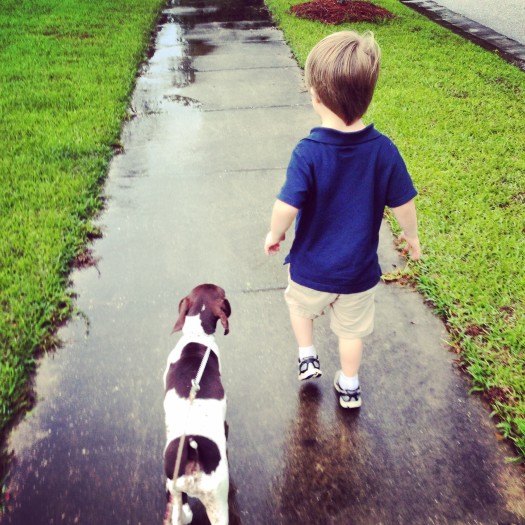 But we lived to fight another day, so…
I'm going to attempt to go out shopping for some new clothes today. Some friends pooled their funds and got me a Loft gift card for my birthday, knowing that if they went with Old Navy or any other place I shop that also sells kids' clothes I'd probably buy something for the kids instead of myself. Very thoughtful, right? Sadly, my birthday was … ahem … back in January so I'm way overdue for a little shopping excursion.
But if the weather is bad again, Whackamole may thwart my efforts to end the cycle of looking like I've completely thrown in the towel.
Do you have a kid with special needs in north Atlanta? My friend Melanie McGriff is the clinic director of Kid's Creek Therapy in the Johns Creek area and they are offering some great summer camps and clubs for kids with special needs (participants don't have to be patients of Kid's Creek). Melanie's family lives in my hometown and I've known her husband since I was Sarah Kate's age. They're great people and I have no doubt these camps and clubs are fantastic. Visit their website to learn more (and forward the info to a friend!)
Have a great weekend!
This post was inspired by and is linked to This Ain't the Lyceum's 7 Quick Takes.