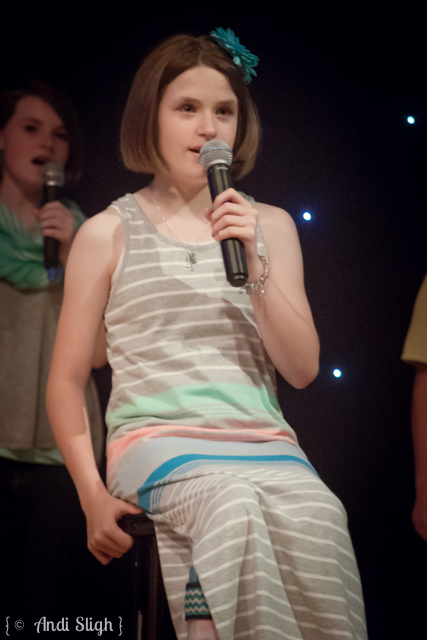 Several weeks ago, when I picked Sarah Kate up from show choir practice, she was bubbling over with enthusiasm. She had decided to audition for a solo in the song "Don't Stop Believin'"! I had a flashback to the first day of show choir practice, when she almost didn't go – there were tears (her) and frustration (me) and maybe a little bit of come-to-Jesus speech combined with a pregame pep talk – before she changed her mind (again) and decided that yes, she did want to do it, after all.
I offered cautious encouragement: Yes, Sweetie, you should absolutely try out. If nothing else, it'll be good experience. You may not get this solo, but the more you practice the more likely it is that you'll get one down the line.
And then she got it.
And a few weeks later she performed it for the first time.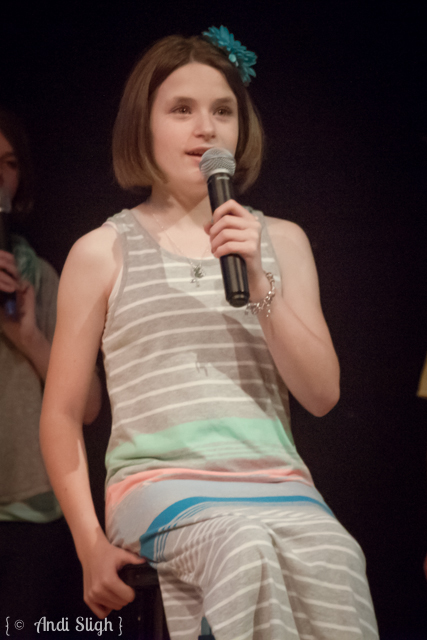 What's amusing about her newfound talent as a singer is that when she was little? Couldn't carry a tune in a bucket. Completely tone deaf. She couldn't sing Jesus Loves Me or The Itsy Bitsy Spider or any of the other preschool staples in a way that was even pseudo-recognizable.
Not kidding at all. She was terrible.
And then there's all of the other obvious reasons why it was unlikely she'd ever take the stage – much less in a show choir with actual choreography. The choreography was basic, but when your muscles don't do what you want, no choreography is simple. And when parts of your brain don't work – don't exist other than in a liquified state, if we're being honest – concentrating on doing one thing makes doing other things at the same time even more of a challenge.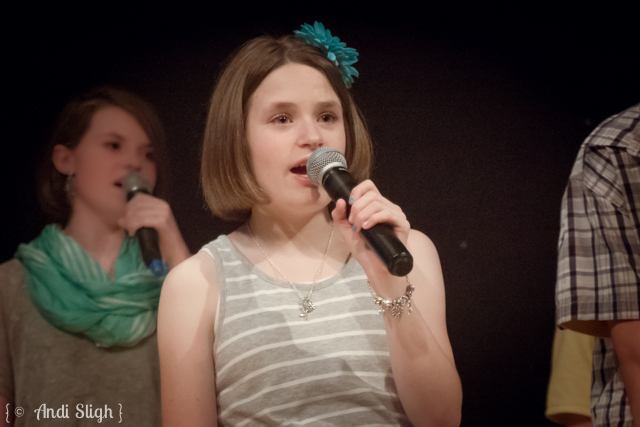 Last Friday night was the combined season finale for both of the show choirs. It was a nearly two-and-a-half hour affair, and Sarah Kate fell and injured her back the evening before at the four hour dress rehearsal. But you'd never have known it to see her on the stage.
Her first solo – Don't Stop Believin' – was a challenge, but not in the way you might expect. The boy who sang the male solo has some unknown special needs (unknown to me, I mean), which unfortunately became an issue during the performance. He has a wonderful voice and we've seen him perform before (he even had an acting part in an ESPN special awhile back), so I assume he was overly tired or something. Whatever the issue, he could have been a major distraction to her, but she didn't react and kept right on singing…just like a pro would do.
And the rest of the group did the same thing.
(Thank you, inclusion advocates for paving the way…)
It's hard to believe that just a few months ago, Sarah Kate wasn't sure she wanted to sing with the group at all, and last Friday not only did she sing with them, but she had a solo, and not just one solo, but two. She never ceases to amaze me.
She's just a neat kid.